Go about doing good in January: Jelly Bellies, Jillee Bean, and One Little Match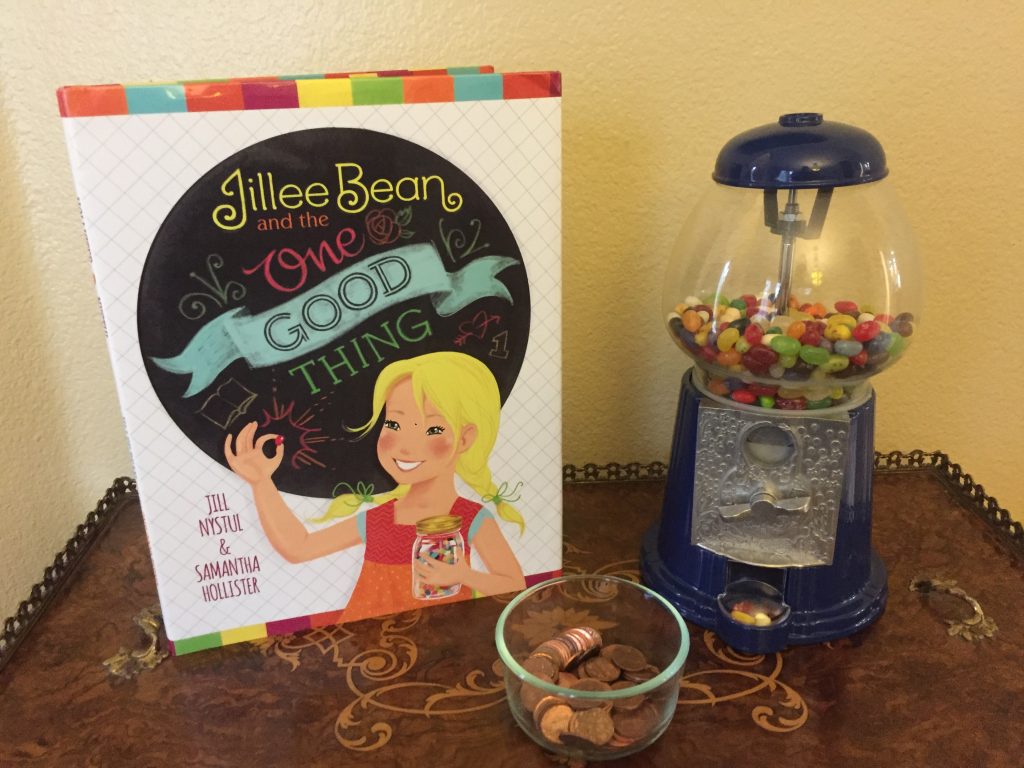 At the start of each month, I love to set out a few of our favorite books for that month. Because Nate and Hunter's birthdays are this month, I set out the jean belly machine. I bought this machine for their wedding open house, because their colors included navy blue, and Nate loves Jelly Bellies.
Jillee Bean and the One Good Thing, by JIll Nystul and Samantha Hollister, tells about a young girl who is discouraged when she compares herself to a friend and feels she falls short. Her dad invites her to focus on doing one good thing at a time. He promises her one jelly bean for every good thing she does. She decides to fill up a jar with jelly beans. What do you think she does when she gets to the top of the jar? You'll have to read and find out!
The illustrations in this fictitious tale are bright and cheery, the story rhyming and cute, and the moral encouraging: don't compare yourself with others, but rather focus on serving others one moment at a time. Great lesson!
"I Feel I've Done Some Good Today"
On January 2, 2018, a great man died: our Prophet, Thomas Spencer Monson. His life was FULL to overflowing with good deeds! In fact, his funeral was today. It was beautiful. His life reminded me of my scripture study this morning.
I was reading in the Book of Mormon. I read Moroni 7:13:
But behold, that which is of God inviteth and enticeth to do good continually; wherefore, every thing which inviteth and enticeth to do good, and to love God, and to serve him, is inspired of God.
Then I read 1 Nephi 6, one of my favorite chapters, and I pondered verse 4:
For the fulness of mine intent is that I may persuademen to come unto the God of Abraham, and the God of Isaac, and the God of Jacob, and be saved.
These two scriptures made me think of this line from "The Living Christ" about the Savior: "he went about doing good (Acts 10:38), yet was despised for it."
I considered how that's really all I hope to do and to teach my children to do, and that this is a great measure of success: if we can simply "do good" like the Savior did, every day, all the days of our lives!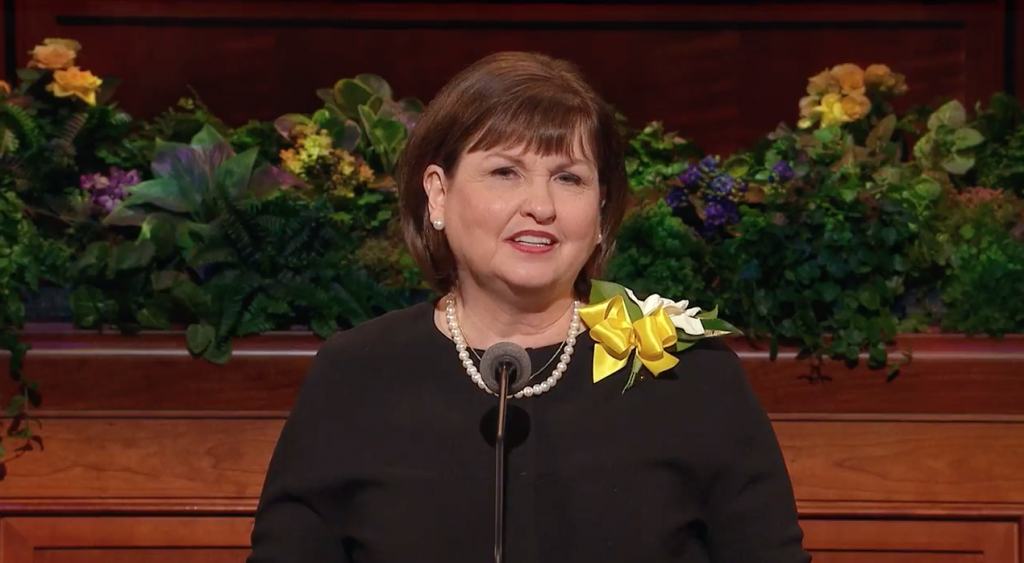 That is exactly what President Monson did, long before he was called to serve the Lord in an official capacity. I loved how his daughter Ann Dibb said, in her funeral talk, "Although he was a prophet, my father knew he was not perfect, and with all his heart, he humbly relied on and tried to be like our Lord and Savior, Jesus Christ." In speaking of a photo of himself that he saw, " 'I know that guy. He tried his best.'…He loved the Lord, and he loved people…In The Two Gentleman of Verona, William Shakespeare wisely wrote, 'They do not love who do not show their love.' My father understood this well and showed his love for others by following the Savior's example….'He went about doing good, for God was with him.' My father spent his entire life serving others." She shared about how "she was privieged" to go with her father on visits to elderly, sick, and others. I love how she remembered what he smilingly said to her once after they visited someone, "Ann, I feel we've done some good today!"
What an excellent example of nurturing love and service in a child!
He loved to serve. Ann finished, "We do not have to be the president of the church to notice another's need and paint a bright spot on our souls….Our simple acts of service can be also be answers to prayers, and we can carry on this legacy by serving others."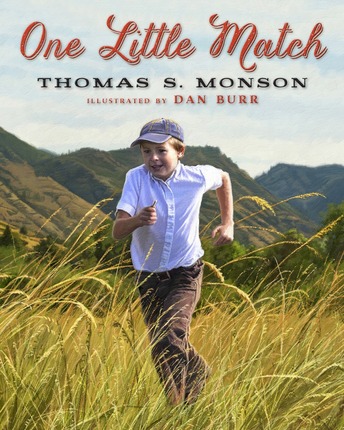 One Little Match
Another book I have on disply this month, in honor of President Monson, I also have set out the book, One Little Match by Thomas S. Monson (illustrated by Dan Burr).
I love that such a great man whose life is filled with years of Christlike acts would publish a story about a childhood mistake. This book recounts how he and his friend started a fire that could have destroyed his and his neighbors' homes simply by striking one little match. Talk about humility!
I love this story for many reasons, but I especially love it because President Monson, as his daughter mentioned in her eulogy, believed in each of our ability to change and improve and overcome mistakes. We are not our mistakes! Children do and will make mistakes. Our mistakes can become stepping stones to becoming more Christlike. Just think of President Monson! This is a lesson that I have learned as a mother. We must forgive and help our children to forgive themselves and to help them see their limitless potential. We ALL can learn so much from their mistakes!
I love President Monson. I know he was a prophet of God. His words and example have changed my life over the years. I am grateful for his and his family's sacrifices that allowed him to serve me and the millions of others around the world who benefitted from his love and dedicated service. I will miss his humor and his smile, his optimism and his storytelling. I look forward to meeting him and his life in the next life and thanking them in person for all they have done.
---
---