God's World at poetry club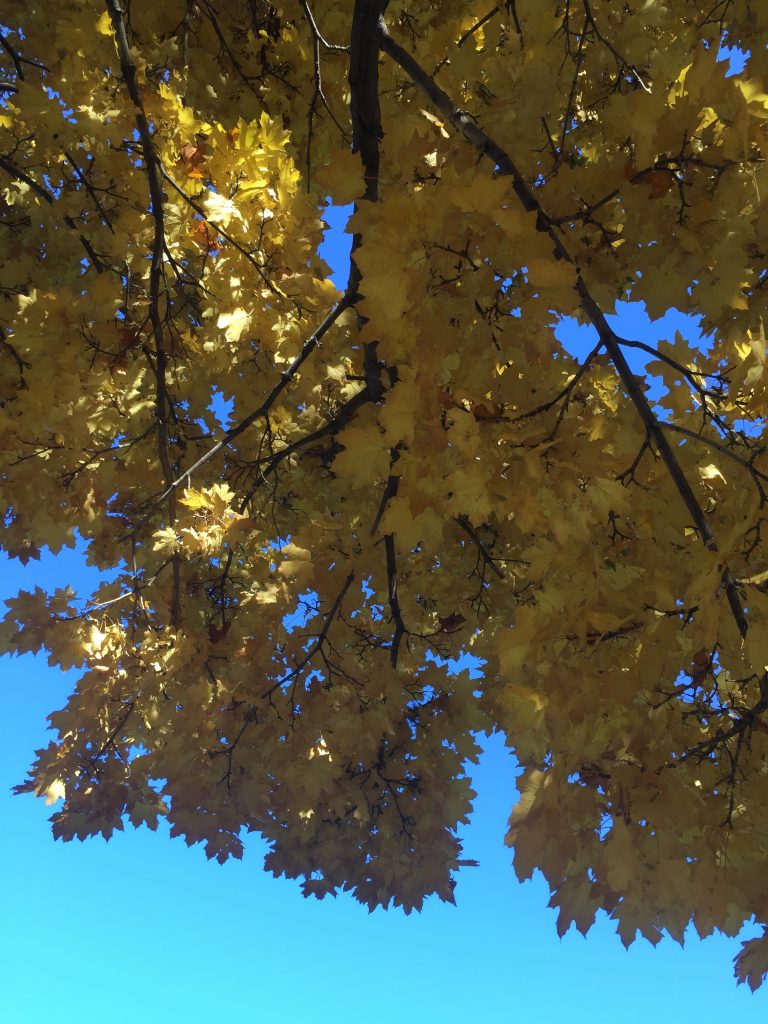 Today I got to go to my first week of "poetry club." What a joy!
My friend and her mother invited me last spring. I have been anticipating getting to join them since then. Today was the day!
The eight of us there listened while we shared poems we had brought. Delightful!
My friend, Heidi, shared the translation of a song her sister sang with a choir recently. The lyrics and music are heavenly:
O salutaris Hostia
Composer: Ēriks Ešenvalds
Text:St. Thomas Aquinas
O saving Victim, opening wide
The gate of Heaven to us below;
Our foes press hard on every side;
Thine aid supply; thy strength bestow.
To thy great name be endless praise,
Immortal Godhead, One in Three.
O grant us endless length of days,
In our true native land with thee.
Amen.
My mom also attended poetry group, and as some of the poems shared tended towards themes of fall, leaves, and the beauty of the earth, she  started to quote a poem she loved but couldn't quite remember. Connie, my friend's mom, had it etched in her mind and heart and recited it on the spot.
This poem describes just how I feel about this fall!
God's World
O world, I cannot hold thee close enough!
   Thy winds, thy wide grey skies!
   Thy mists, that roll and rise!
Thy woods, this autumn day, that ache and sag
And all but cry with colour!   That gaunt crag
To crush!   To lift the lean of that black bluff!
World, World, I cannot get thee close enough!
Long have I known a glory in it all,
         But never knew I this;
         Here such a passion is
As stretcheth me apart,—Lord, I do fear
Thou'st made the world too beautiful this year;
My soul is all but out of me,—let fall
No burning leaf; prithee, let no bird call.
In the Morning of Life
In the morning of life, when its cares are unknown,
And its pleasures in all their new lustre begin,
When we live in a bright-beaming world of our own,
And the light that surrounds us is all from within;
Oh 'tis not, believe me, in that happy time
We can love, as in hours of less transport we may; —
Of our smiles, of our hopes, 'tis the gay sunny prime,
But affection is truest when these fade away.When we see the first glory of youth pass us by,
Like a leaf on the stream that will never return,
When our cup, which had sparkled with pleasure so high,
First tastes of the other, the dark-flowing urn;
Then, then in the time when affection holds sway
With a depth and a tenderness joy never knew;
Love, nursed among pleasures, is faithless as they,
But the love born of Sorrow, like Sorrow, is true.In climes full of sunshine, though splendid the flowers,
Their sighs have no freshness, their odour no worth;
'Tis the cloud and the mist of our own Isle of showers
That call the rich spirit of fragrancy forth.
So it is not 'mid splendour, prosperity, mirth,
That the depth of Love's generous spirit appears;
To the sunshine of smiles it may first owe its birth,
But the soul of its sweetness is drawn out by tears.
How the Leaves Came Down
"I'll tell you how the leaves came down,"
The great Tree to his children said:
"You're getting sleepy, Yellow and Brown,
Yes, very sleepy, little Red.
It is quite time to go to bed."
"Ah!" begged each silly, pouting leaf,
"Let us a little longer stay;
Dear Father Tree, behold our grief!
'Tis such a very pleasant day,
We do not want to go away."
So, for just one more merry day
To the great Tree the leaflets clung,
Frolicked and danced, and had their way,
Upon the autumn breezes swung,
Whispering all their sports among—
"Perhaps the great Tree will forget,
And let us stay until the spring,
If we all beg, and coax, and fret."
But the great Tree did no such thing;
He smiled to hear their whispering.
"Come, children, all to bed," he cried;
And ere the leaves could urge their prayer,
He shook his head, and far and wide,
Fluttering and rustling everywhere,
Down sped the leaflets through the air.
I saw them; on the ground they lay,
Golden and red, a huddled swarm,
Waiting till one from far away,
White bedclothes heaped upon her arm,
Should come to wrap them safe and warm.
The great bare Tree looked down and smiled.
"Good-night, dear little leaves," he said.
And from below each sleepy child
Replied, "Good-night," and murmured,
"It is so nice to go to bed!"
This poem reminded our hostess of an exerpt from Bambi that she had in a compilation book, and so she found it and read it. Truly delightful.
The Two Leaves (from Bambi: A Life in the Woods)
By FELIX SALTEN
The leaves were falling from the great oak at the meadow's edge. They were falling from the trees.
One branch of the oak reached high above the others and stretched far out over the meadow. Two leaves clung to its very tip.
"It isn't the way it used to be," said one leaf to the other.
"No," the other leaf answered. "So many of us have fallen off to-night we're almost the only ones left on our branch."
"You never know who's going to go next," said the first leaf. "Even when it was warm and the sun shone, a storm or a cloudburst would come sometimes, and many leaves were torn off, though they were still young. You never know who's going to go next."
"The sun seldom shines now," sighed the second leaf, "and when it does it gives no warmth. We must have warmth again."
"Can it be true," said the first leaf, "can it really be true, that others come to take our places when we're gone and after them still others, and more and more?"
"It is really true," whispered the second leaf. "We can't even begin to imagine it, it's beyond our powers."
"It makes me very sad," added the first leaf.
They were silent for a while. Then the first leaf said quietly to herself, "Why must we fall?…"
The second leaf asked, "What happens to us when we have fallen?"
"We sink down…."
"What is under us?"
The first leaf answered, "I don't know, some say one thing, some another, but nobody knows."
The second leaf asked, "Do we feel anything, do we know anything about ourselves when we're down there?"
The first leaf answered, "Who knows? Not one of all those down there has ever come back to tell us about it."
They were silent again. Then the first leaf said tenderly to the other, "Don't worry so much about it, you're trembling."
"That's nothing," the second leaf answered, "I tremble at the least thing now. I don't feel so sure of my hold as I used to."
"Let's not talk any more about such things," said the first leaf.
The other replied, "No, we'll let be. But– what else shall we talk about?"
She was silent, but went on after a little while, "Which of us will go first?"
"There's still plenty of time to worry about that," the other leaf assured her. "Let's remember how beautiful it was, how wonderful, when the sun came out and shone so warmly that we thought we'd burst with life. Do you remember? And the morning dew, and the mild and splendid nights…."
"Now the nights are dreadful," the second leaf complained, "and there is no end to them."
"We shouldn't complain," said the first leaf gently. "We've outlived many, many others."
"Have I changed much?" asked the second leaf shyly but determinedly.
"Not in the least," the first leaf assured her.
"You only think so because I've got to be so yellow and ugly. But it's different in your case."
"You're fooling me," the second leaf said.
"No, really," the first leaf exclaimed eagerly. "Believe me, you're as lovely as the day you were born. Here and there may be a little yellow spot but it's hardly noticeable and only makes you handsomer, believe me."
"Thanks," whispered the second leaf, quite touched. "I don't believe you, not altogether, but I thank you because you're so kind, you've always been so kind to me. I'm just beginning to understand how kind you are."
"Hush," said the other leaf, and kept silent herself for she was too troubled to talk anymore.
Then they were both silent. Hours passed.
A moist wind blew, cold and hostile, through the tree tops.
"Ah, now," said the second leaf, "I….." Then her voice broke off. She was torn from her place and spun down.
Winter had come.
There were so many other wonderful poems shared! Shakespeare, Dickinson, Eliot. Just wonderful. Wish you could have been there.
---
---