Got potatoes?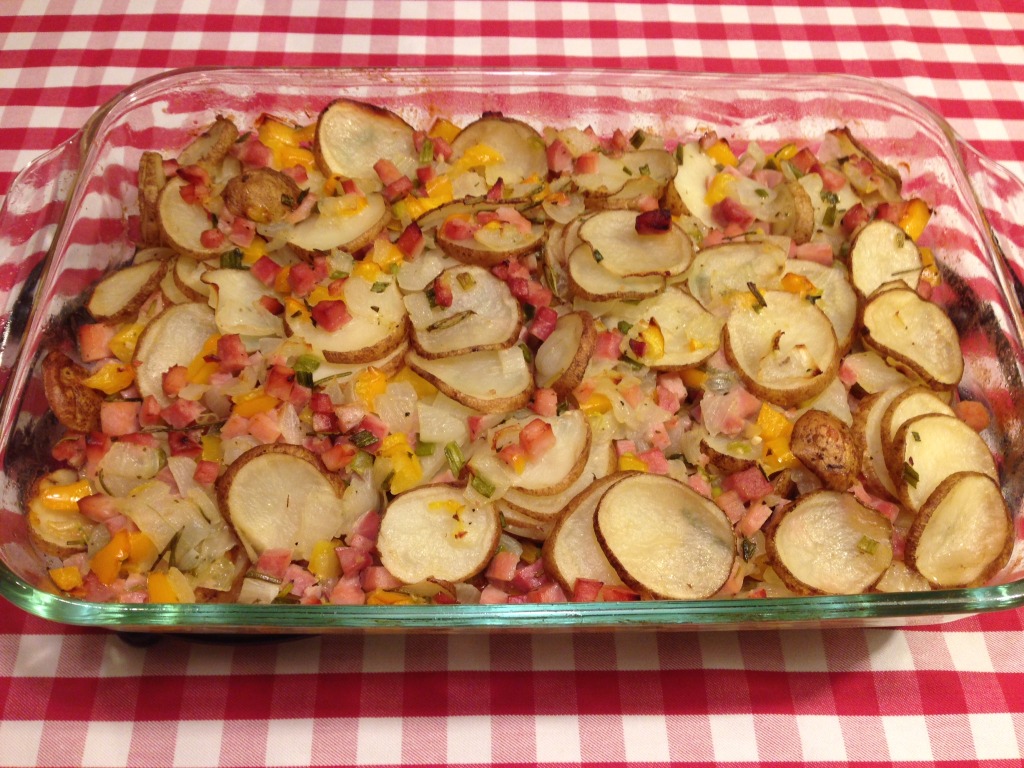 Monday was a holiday. I didn't want to spend a long time making dinner, because I wanted to sit down and read a book. Just for fun. And I figured I needed to start using up that 10-lb. bag of potatoes that I had bought for $1.07 the week before (!). What could I make from potatoes that would be a main dish, and that wasn't cheesy or cream of ? soupy? That's the question I took to the internet to see what I could find.
After a few searches–with nothing catching my fancy, I decided to just say a little prayer and see what I could come up with on my own.
(And I decided to take pictures, in case it turned out well enough to share.)
I opened the fridge door and saw the leftover ham chunks from our Valentine's fondue dinner the day before. I pulled that out. And then I saw the garlic butter. Umm, that would be good. And so it went, until I had these ingredients out on the counter: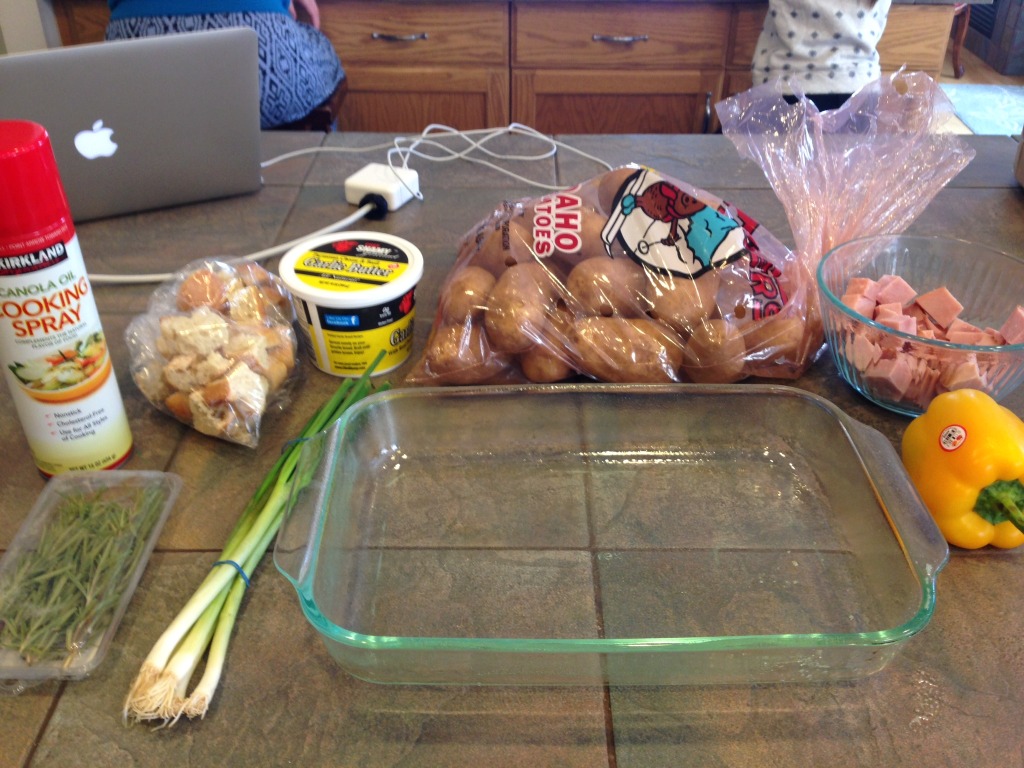 I got to work rinsing/washing potatoes and then chopping vegetables. The ham chunks needed to be smaller, and the rosemary needed to be rinsed, pulled off of the stems, and diced. I also decided to get an onion and chop it up.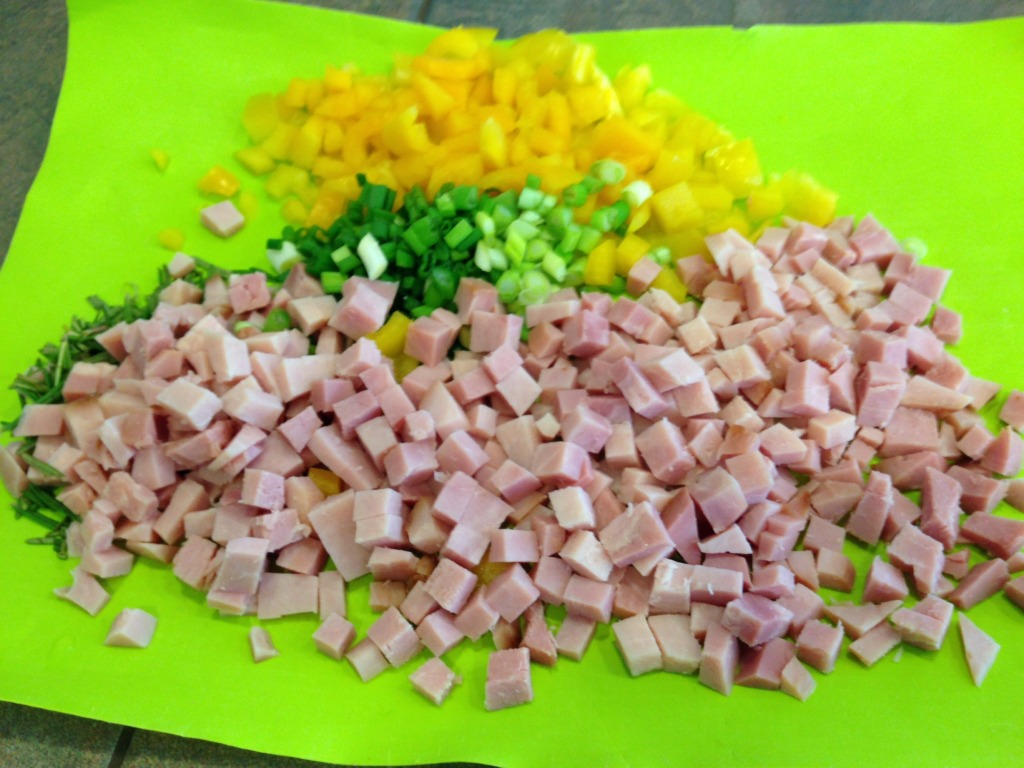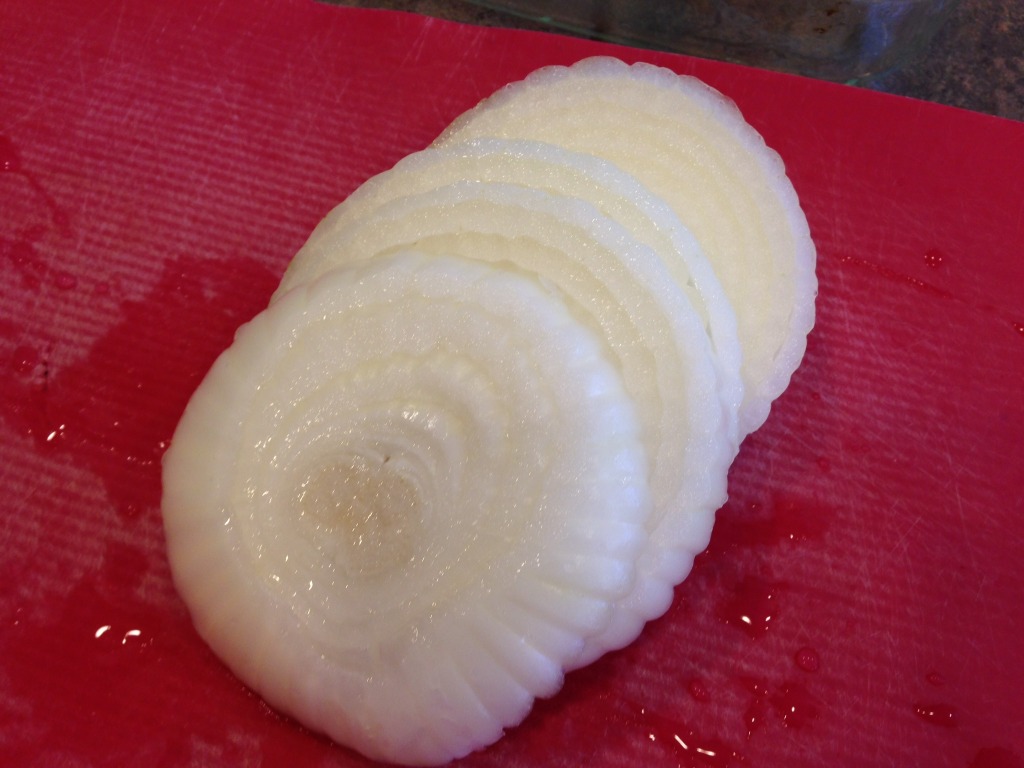 Next, I sautéed the onion. Actually, I put Anna to task on that job while I sliced the potatoes thinly.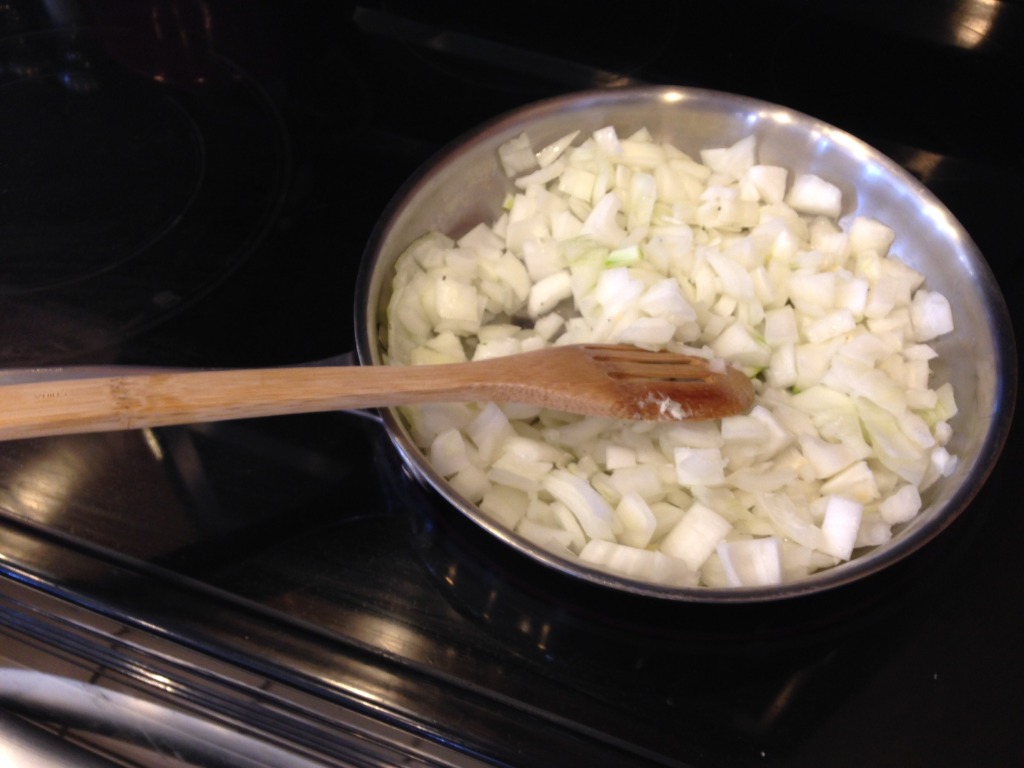 I added about 1 1/2 tablespoons of the garlic parmesan butter to the pan before adding the chopped onions. It was starting to smell good!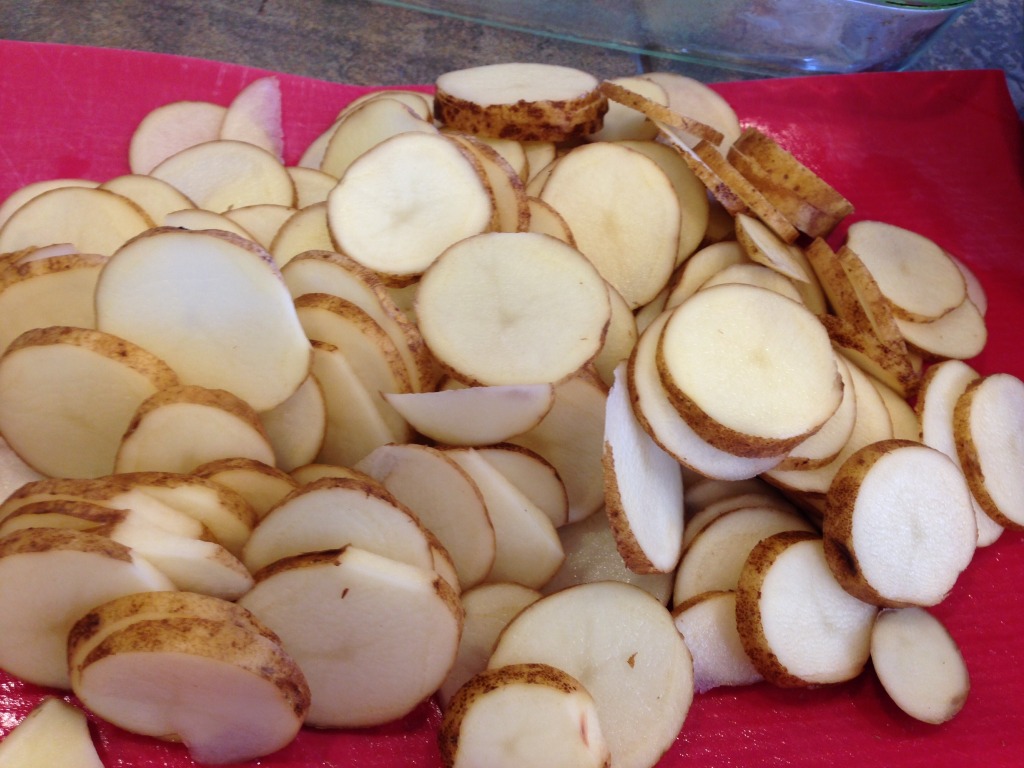 After the onions were on their way to translucent, I dumped them into a large bowl, and added about 1/3-1/2 cup garlic butter. I stirred that around to melt it a little, and then I added the rest of the chopped stuff.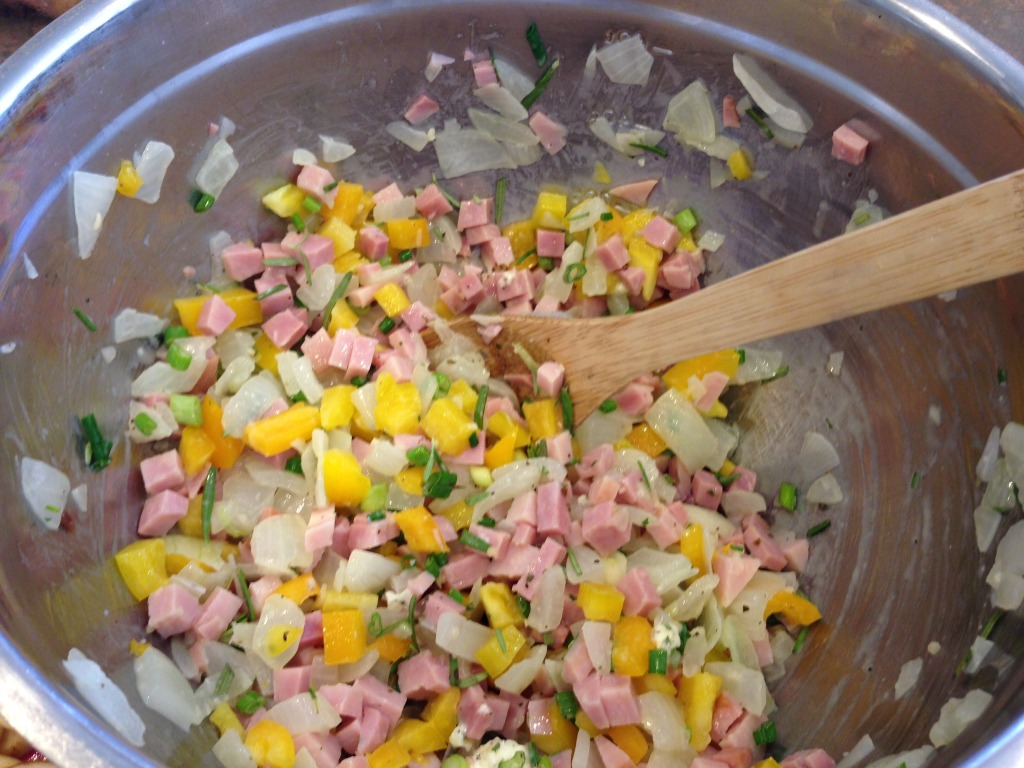 The potatoes went in last of all. When it was all tossed well, I poured it into a Pyrex baking dish that I had sprayed with some Pam. I also added 1/2 cup of water (which ended up being too much. I think I would go with 1/8-1/4 cup of water next time. I just didn't want a dry casserole.) I covered it with aluminum foil and stuck it in a 350-degree F oven.
An hour later, I removed the foil. The potatoes were still not done. They needed more time for sure! I turned the timer to 30 minutes more and went back to my novel. When the timer beeped, it still looked like a few more minutes would make the top a little crispier, so that's what I did.
I think I finished the book before dinner was ready. PERFECT! Love days like these!
Lane picked up some salad mix on the way home and tossed up a salad for us. I sliced brightly hued oranges and placed them on a plate, and we cup up the last of the French bread. With the jar of cinnamon honey (do you know Miller's cinnamon honey? Oh my!) and butter dish on the table, it was "A table, tout le monde!"
Soup's (or rather, potatoes) on!
(P.S. I timed myself, to see how long it would take to make. About 45 minutes. And you may have noticed that we didn't end up using the leftover bread chunks from the fondue. That's because Anna and I were enjoying nibbling on them while we cooked. Glad I didn't use them. Also, all of the family enjoyed the meal. Even Sarah, who is my most, shall we say, discerning eater?)
Here's the recipe!
---
---