"Wonderful Mustache" et al.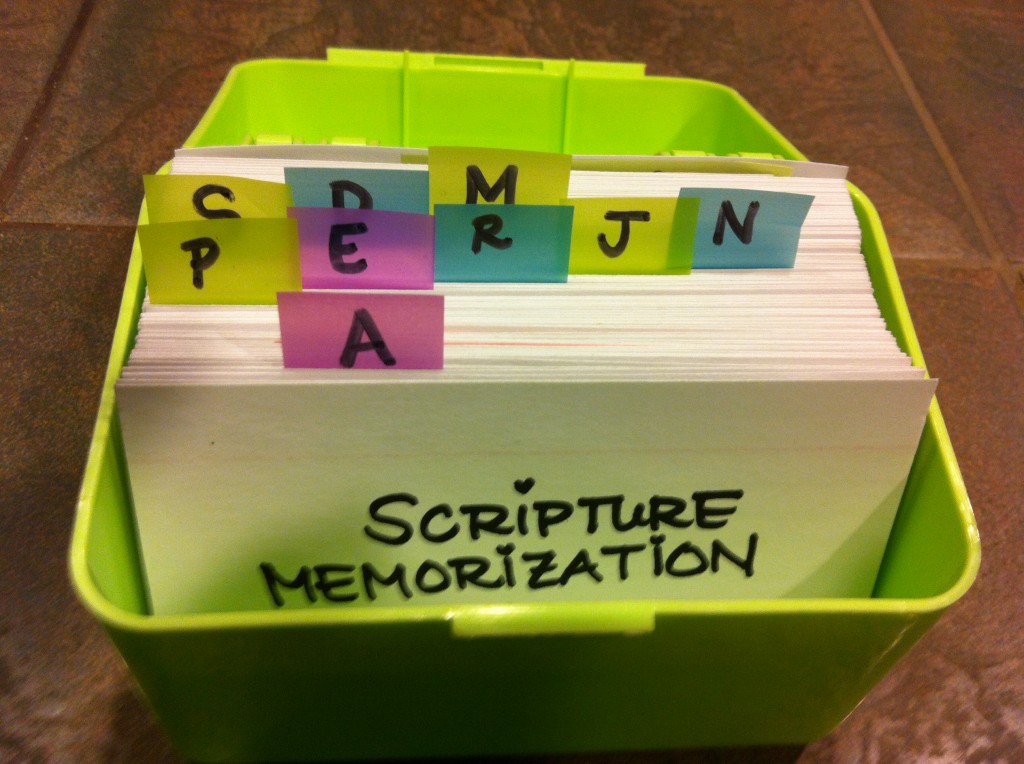 Some prayers are sweet. Some prayers are moving. And some prayers are downright funny.
This morning Nate came in before leaving to go help out at a conference. He was sporting the beginnings of a mustache. I said, "Go shave!" He refused: it's "No Shave November," and he's going for it.
So Anna, who adores her big brother, prayed at breakfast, "Please bless Nate that he can have a wonderful mustache."
LOL.
One of the many great things about having children is the funny things they say. I have tried to write them down over the years.
(The card that says "scripture memorization" was from a time when a certain child was having time-outs a lot. I would give out a scripture card to memorize during that time….)
I have kept my quote records in several places. Sometimes on sticky notes. Sometimes on my phone. Sometimes in a journal.
One idea I got from a mother of 12 was to keep 3×5 cards in the kitchen. I liked that one and used it most recently. There is no way I could remember what the children have said otherwise: I can barely remember their names! ("Sarah! Julia! Anna! I mean…Liza")
Here are a few great quotes from the last couple of years. I know that some of these may not seem very funny to you, if you don't know my children personally. That's what is so GREAT about family quotes: they are best enjoyed by your own family, who knows each member "by heart":
P: To Lane, who had just gotten home from work: "Are you coming to my soccer game…NOT in that?!"
A: Pinching my underarm flab: "Mom, you have Grandma fat!"
A: On picture day, after trying to sleep in curlers: "Is beauty pain?"
E: "I think our family motto should be, 'Ah (=screech)! Get your jobs done!"
E: "I can't wait to be a mom [pause], 'cause then I get Mother's Day and a birthday!"
R: "Were there potato peelers when you were little?"
R: We were discussing college degrees with Rebecca: bachelors, master, and doctorate. Rebecca said, "I'm good with just getting my bachelorette."
J: Sarah had gotten gifts for the family from her summer at Interlochen. Julia was earnestly surprised and said, "You can just bring me back a toothpick or something."
N: "Settle down, Sparky!"
M: (After dinner) "Nate, come help with the dishes."
N: "I can't! My chest hurts."
M: "Why does your chest hurt?"
N: "I have dish-itis."
M: "Sarah, I have a challenge for you."
S: "I hate those words."
S: Sarah, our very "discriminating" eater, was up making muffins for breakfast. I complimented her on her new interest. She retorted, "Sometimes when I'm hungry, I just want to eat real food. [Pause] That interest is not new. I promise."
M: To Anna, "You may not watch Paddington while you do your homework."
A: (Trying hard to persuade me…) "It gives me inspiration!"
For more quotes, go here.
---
---