Halloween Grinch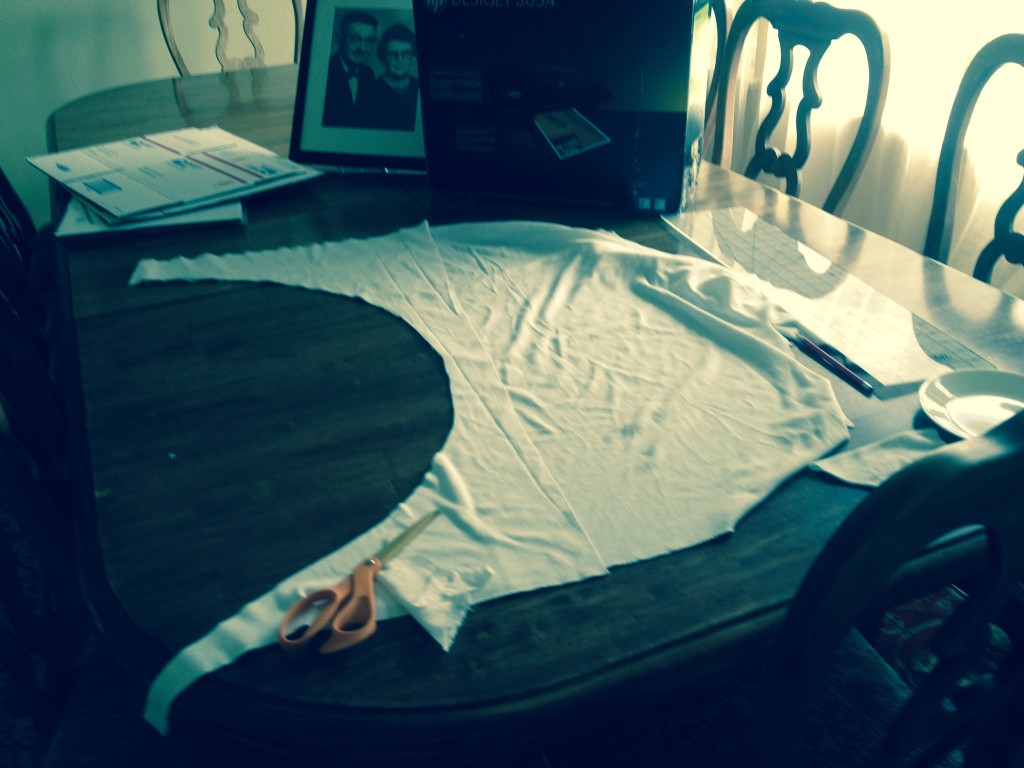 When I walked into my home this week after having attended my youngest's Halloween program, I saw the remnants of the mummy skirt I sewed for her fifteen minutes before we had to leave that morning. Because she refused to wear the witch costume which she had previously said she would wear (which came complete with adorable orange-and-black-striped tights, black skirt with orange ric-rac around the hem, etc.), she insisted she'd rather NOT be in the performance than not get to be a mummy.
So I made her a deal: if we could find enough white stuff around the house to figure out a costume in minutes, without me having to buy anything, I would do it. So the night before we found a white leotard, sweater, tights, and gloves. We also found an old white sheet that we tore into strips. By then it was time for bed, and I was too tired to do any more. I said we'd figure out the bottom in the morning.
We found some white pants, but they were a little oversized. I went to my fabric cupboard. I pulled out an elastic remnant, put it around her waist and saw that it was just the right size. I sewed it together. I found some white knit and laid it, folded, on the table. Grabbing a bread plate, I drew a circle at the top that was about the right circumference and cut it out. Then I took a ruler and marked a certain distance from the waist, and cut that, making a circle skirt. Then I stretched the waistband to fit the elastic as I zigzagged them together. Voilà! Phew. Another Halloween costume finished in the nick of time (always about 10 minutes late).
Coming up with costumes for preschool, elementary, junior high, and neighborhood costumes, paying so much money for candy, listening to second graders sing odes to candy/gluttony/all things macabre, and taking care of sick children in the weeks after the consumption of it all has changed the way I feel about Halloween since I was a child and adored it.
But I do enjoy making a costume. Even if I grumble about it. Even if it cramps my schedule.  Even if I claim I don't. There is something pretty fun about making something out of raw materials and your own (or someone else's) imagination. I could do without Halloween, but I would still want an excuse to make a costume now and again….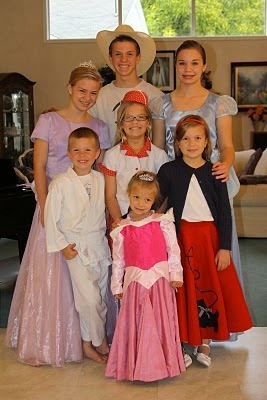 How many years ago was this? Three? Four? How time flies…
Happy (grumble) Halloween,
Liz 🙂
P.S. Lest any mother feels discouraged about that group photo, don't be! That photo represents different years of effort, and a trip to the thrift store (the prom dress), a karate uniform, and a loan from a neighbor. I don't believe in spending oodles on a holiday when I need to spend money on regular clothing for my children much more! The great part of having a number of children is that over time, you amass a collection of costumes from which to draw upon. At least there is ONE saving grace for this holiday… 🙂
---
---