Homecoming 2015, a missionary brother's watchful care, and tailoring woes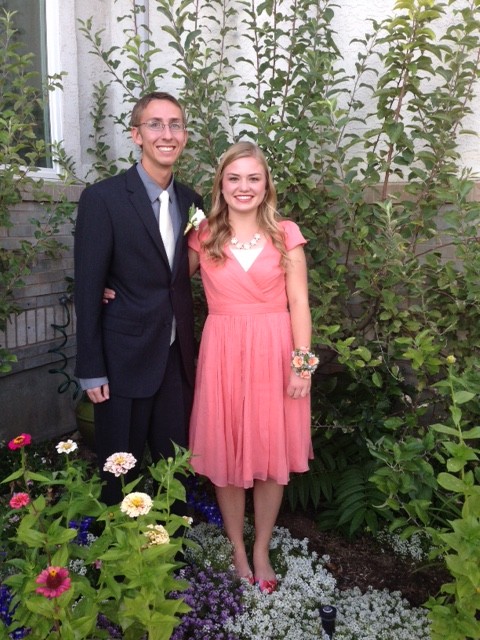 I emailed this photo to Elder Livingston of Julia's homecoming date night, and he responded in a darling big brother way: "Man, if I hear that some kid was mean to my sister, or rude on a date, I will be coming to call on him in the near future." Julia's date was neither rude nor mean, but very gentlemanly. When Lane and I met him at our home when he came to pick her up, he asked what time we would like her home. I really appreciated that. Lane made it clear to the young men that we really cherish our daughter and know that these young men (there was another young man there to pick up Julia's friend as well) would never do anything but protect these young women. I love my husband and my sons. They are good protectors! And I'm grateful for the young men who were indeed wonderful gentlemen and enjoyable as well. High school should always be a time for happy memories!
Getting ready for Homecoming was not without stress, just like nearly every date dance in the past. I am the fashion tailor who takes my woes to the Lord. Thank heaven he helps us figure out what to do! Julia and I both lamented that it would just be nice if we could find a dress that didn't need ANY altering! There were SLEEVES and a long enough skirt on the dress, but still, it was a crossover dress that was too low on its own. For heaven's sake! Can't companies make a beautiful dress that isn't too low in the front?!? Thankfully, Julia found a solution (after I'd searched all over town and tried a couple other ones) that worked out well, and Sarah generously shared some pretty jewelry that completed the look. Having an older sister comes in handy! (And brother, as I mentioned before.) After I had made some minor tailoring on the bodice–again with some inspiration that Julia received as to how we could do that–then she was all dressed up and looking astonishing. Oh my.
And the apple trees that didn't bear this year came in handy as a back drop. Ha.
---
---