Hunting for a bunting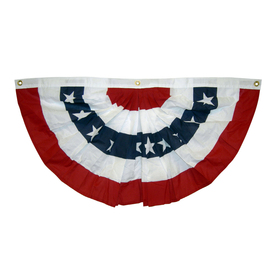 Several years ago, I bought one of these–a flag bunting–to hang somewhere in my home. I have always loved flag buntings ("Independence Flag 18-in x 36-in American Pleated Fan") and wanted to get one for the Fourth of July. I realized that it fit perfectly in my kitchen window, so the next year I bought another one. This year I wanted to finish off the windows. Because they are about $16/each, I didn't buy all 5 at once. This year, I went to three stores to find the buntings as I had the previous years, but I didn't find them. WalMart had had them before, but not this year. Home Depot didn't. I was amazed that Target had almost ZERO patriotic decorations. What?!? Are they anti-American? They were sold out at Hobby Lobby. I was delighted to find them at Lowe's. I wish I had started looking again about a week ago, because I could have gotten them for about half the price on Amazon. I'm happy to have found some and have completed that Independence Day decor.
I have realized over the years, having a limited budget for non-essentials "extra spending," that a year passes quickly. It is hard sometimes to postpone buying something, but over time, we accumluate things faster than we think. Time goes fast and before I know it, I have a set of whatever I purchased one at a time, year by year. I hope it helps me learn patience (I'm still have a lot to learn) and I hope it helps my children see that you can wait to buy things, especially things that aren't important in the long run.
---
---