I Can Only Imagine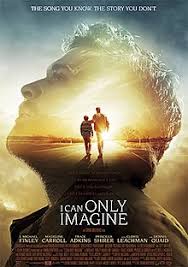 Lane and I watched a very good movie this week on our date night: "I Can Only Imagine."
It's the true story behind Mercy Me's hit song, "I Can Only Imagine." And I'm a big fan of true stories.
Bart Millard grows up with an abusive father, a real-life "monster" who told him he couldn't follow his dreams and wouldn't amount to anything. His mother left when he was a child. He tried to become the football star his father once was, but then got both of his feet broken in a game. He had to join the Glee Club at school to cover the credit missed by not being able to play football.
His Glee Club teacher recognized that Bart had a beautiful voice and cast him as the lead in the school musical. He didn't want to do it, but she wouldn't take no for an answer. His role in the play was life-changing and led him to believe that he might have a talent for music.
I don't want to give the movie away, but there are some very powerful messages in this film about the impact of parenting (and people who believe in you) as well as the power of God to bring about real and lasting change in a person when that person sincerely wants to repent and change. It is well-acted by J. MIchael Finley and Dennis Quaid–Bart Millard and his father. I heartily recommend it.
Find out more about "I Can Only Imagine" at Kids-n-Mind.com.
---
---