Info Bite: Skaidrīte Bokuma, from suicidal thoughts to joyful smiling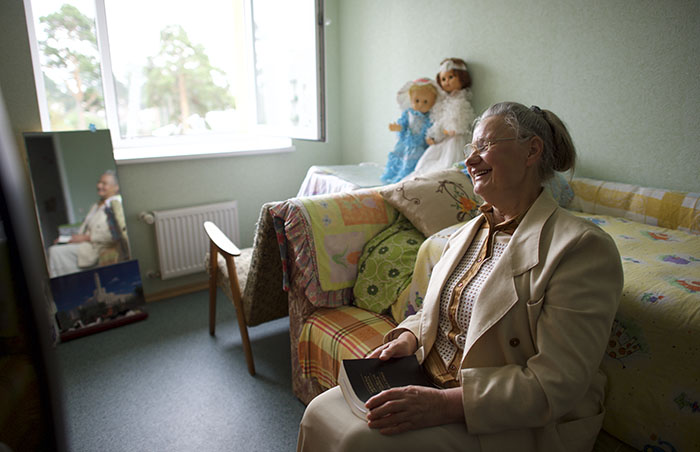 I was looking for a photo this morning while preparing something for my myself and daughter. I loved the radiant smile on this woman's face, and I wanted to find out why she was smiling. The article I read surprised me!
This elderly woman from Latvia had a tragic childhood:
"My mother was divorced," Skaidrīte says. "She became an alcoholic. I had a father, but he was sent to Siberia. We had lived in a village but the government sent us to live in an apartment. We were often without food. I was holding my younger sister's hand when she died of starvation. We were in such a poor situation that my mother sent me to the countryside to become a shepherd."
She was 8 years old and started to work full-time. Working at the farm was akin to slavery and included beatings. She started to wonder if suicide wouldn't be better than living out her life.
Other events in her life continued to test her determination to live. Finally, at about 54 years old, she was looking for a church, searching for God. She saw a Church of Jesus Christ of Latter-Day Saints and met a sister missionary who smiled at her. She began learning about the church. People warned her not to go. She said, "But there was nothing good to find." She kept going and learning. That was 17 years ago. She says,  "When I first saw that sister missionary, when I found the Church for the first time, since that day all the thoughts of suicide were gone. There were no thoughts of life being dark. In spite of everything, I am positive. Life is beautiful to me."
Going to my church and learning more about the gospel also makes me smile! I am so happy Skaidrīte found the missionaries and the gospel and joy in her life!
To read the article, go here.
To help prevent suicide, go here.
To read more "Info Bites," click here.
---
---