Info bites: Healing from sexual abuse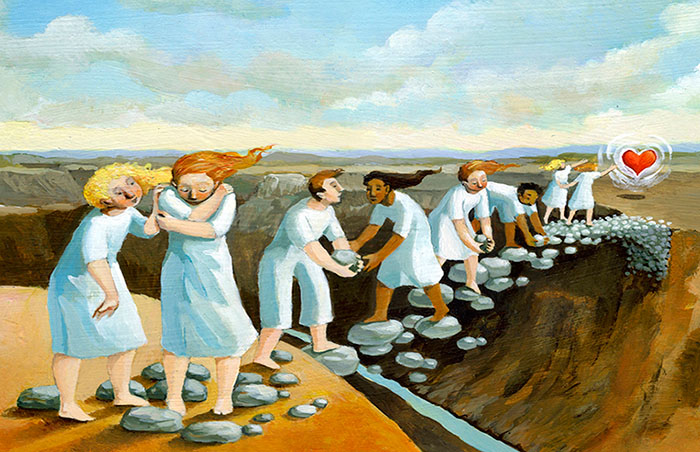 I'm excited about a new page I created on my blog for "info bites" from newspaper and magazine articles I have read that relate to nurturing children, women, marriage, and families. I decided that this is one of the ways I can reduce clutter in my home while maybe helping others: I can choose one article that inspired me and share it before passing the magazine along to someone else or tossing the newspaper into the recycling bin. (I still like getting hard copies of most newspapers and magazines. It is also a memory tool for myself, so that when I want to refer back to what I have read, I can find it digitally instead of hanging on to the hard copy. I hope to also starting doing this with books!)
This week I read "A Bridge to Hope and Healing" from the April 2017 Ensign magazine. Here is my quick summary:
Sexual abuse is terribly wrong, serious and painful:

" 'There is the terrible, vicious practice of sexual abuse. It is beyond understanding. It is an affront to the decency that ought to exist in every man and woman. It is a violation of that which is sacred and divine. It is destructive in the lives of children. It is reprehensible and worthy of the most severe condemnation…. Shame on any man or woman who would sexually abuse a child. In doing so, the abuser not only does the most serious kind of injury. He or she also stands condemned before the Lord.' "1

We can help free others from heavy burdens by–

listening without judgment,
 understanding the hurt caused by abuse, and
 helping them find the resources that will help them replace pain with peace.

Forgiveness is critical for victims to be able to heal,

but friends and family members of victims need first to listen and express empathy and support for the victim.
There are links in the article to other resources for help as well.
I had never considered Doctrine and Covenants 123 in the context of helping victims of abuse!
I also appreciated knowing more about behaviors that commonly can result from those who have suffered abuse.
I believe that all of us have people in our circles who have suffered from abuse of one kind or another, and the chance of someone we know having been sexually abused at some point in their lifetime is high. I have prayed before and will continue to pray to know how to help those around me to access healing. Life can be very complicated, so I'm grateful for the information in this article in learning to nurture those with wounded hearts around me.
To read more "Info Bites," click here.
---
---