"I've been lovin' life. No complaints." Forgetting English!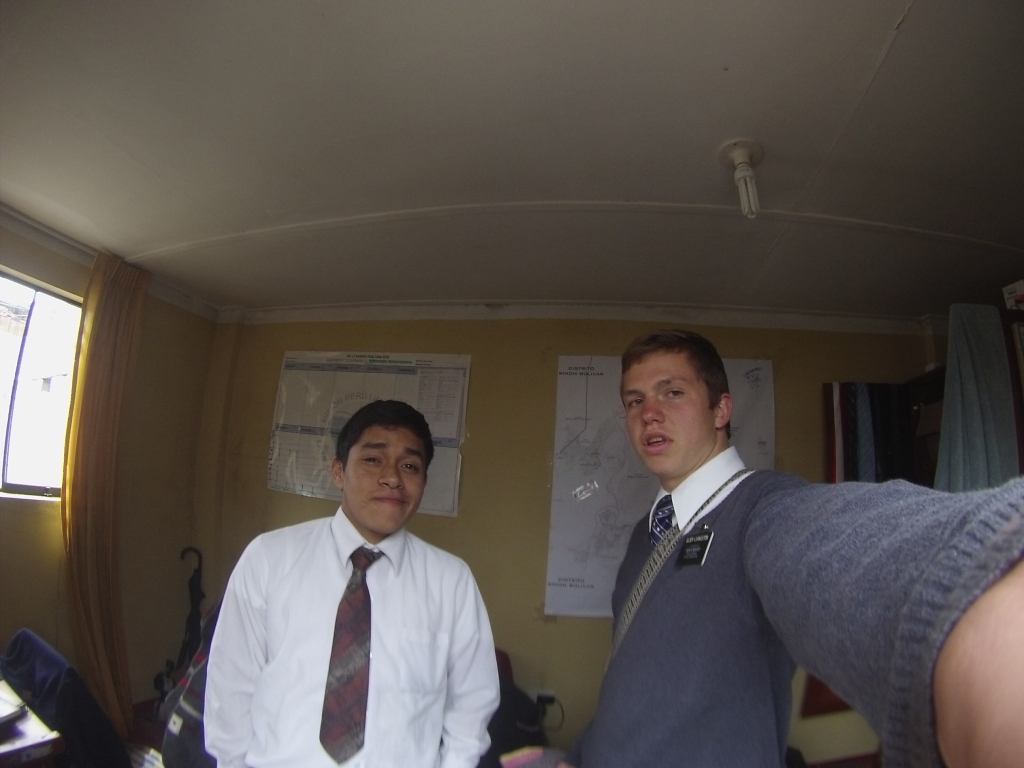 Elder Livi has been in a new area (Cerro de Pasco) for three weeks now. We just got our first (and only) photo of him in this area, but we are getting wonderful audio recordings. We also got a great letter in the mail this week! Woohoo!
He is in the highest elevation city in the world (for a settlement of over 50,000 people) (according to Wikipedia). He is training a new missionary ("It's pretty fun. He has lots of questions always, and I'm trying hard to be a good example"), and is district leader again. He is loving where he is and working with his companion. They get along great.  It's very humid ("100% precipitation always….Towels don't dry; paper doesn't either.") and cold (20's-40's), it rains a lot, and a majority of the working population works in mines. They work one week on and one week off, so it adds a challenge for teaching and church attendance.
He mentioned the challenges of alcoholism in his area. He really hopes to help one particular man that they are working with who is struggling with it.
He loves working with the missionaries in his district. One is from Salt Lake and another is from within maybe 2 miles of our home! We found out that the one from Salt Lake plays the violin and is a good friend of one of Sarah's favorite harp friends! Such a small world. These elders sang "When I Am Baptized" together in church. Wish I could have heard it! I bet they sounded great.
We learned more about his pension. They eat soup, rice, and potatoes every day. Missionaries there aren't allowed to eat food off of the street (from vendors) or in members' homes because of contamination concerns. The pensionista is supposed to cook with bottled water. He said the water from the tap runs yellow. He got sick but is feeling better now. Hooray! When his penisionista saw that he was sick, she said he shouldn't eat his regular meals and fed him some special hot jello-type soup (every meal, until he said he was feeling better) called Mazamorro. He said it is sort of like a Finnish strawberry rhubarb soup we've had called kiiselli. ("Think kiiselli mixed with jello and it's hot.") He said he was dying for some protein, and even started praying to be able to eat some. The next morning a zone leader delivered a package from his aunt that had beef jerky and trail mix in it. He was overjoyed!
Mail and packages take a month to 6 weeks or more to get to him. He wrote in his letter (dated Feb.10) that he recently received the letters that were written to him at the ward Christmas party (2 months earlier). In this letter he wrote that it has been hard to get transferred so often because he has just enough time to help prepare someone to be baptized and then leaves. (The last transfer was right before Valentine's Day, when someone he has loved teaching was going to be baptized.) "I missed baptisms of people I taught in. Huancavelica, Huanuco Central, Colonial, La Orroya, and again in Las Americas….I'm 100% ready and willing to be transferred when President calls, but I don't feel like I'm very successful. I know baptisms aren't a measure of success, but I feel like I don't ever finish stuff."
"In other news, I gave a talk on Sunday, and for once the topic wasn't Missionary Work! Haha. I talked about Tad R. Callister's talk, "Parents: Prime Gospel Teachers for Their Children." It was great. Preparing the talk made me think about who my Prime Gospel Teachers were. I had some great Sunday School teachers: The Kellers, Uncle Jerry, Lance and Jenny H., Ed M….but I never learned more than from Mom and Dad. Ya'll taught me the importance of scripture study. Ya'll taught me how to magnify a calling, you taught me to work hard and never give up. You taught me what should be prioritized, and what is probably less important. You taught me this and so much more….
"I love you guys so much! I'm not frozen to death, so keep writing me and try to share the gospel with someone at home!"
"P.S. Anyone go skiing yet? Pete?
"P.P.S. Jude 1:22-Make a difference in someone's life today." (Letter 2-10-15)
We also got a name tag included in the letter with this notation on a sticky note (see below):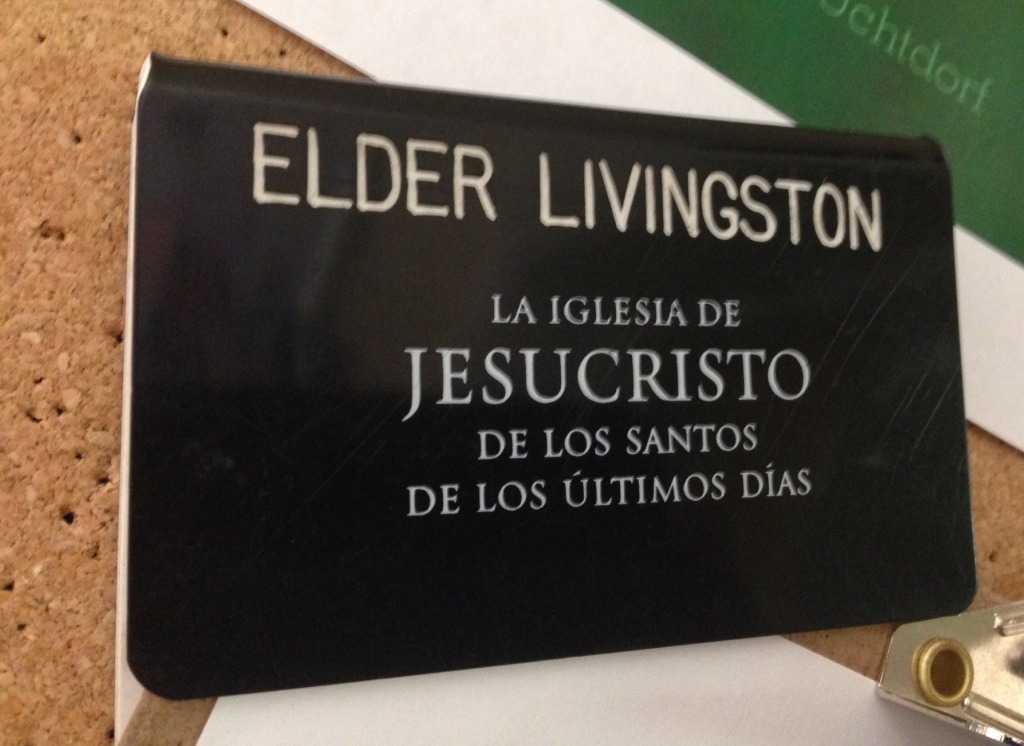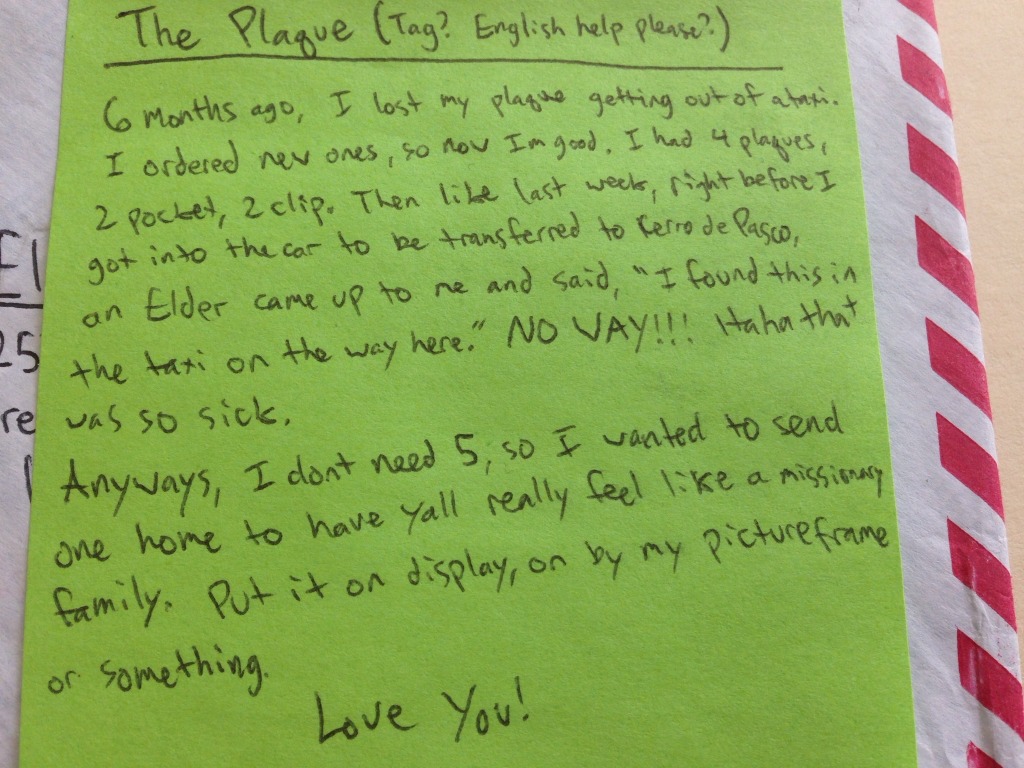 I emailed Nate how the wind blew our fence down again while Lane and I were on our getaway, and how the wind started the fire alarms going off on every floor at 3 am in the morning. He wrote back, "I will build a new one. In a year haha. And my companion did that to ours [started the fire alarm] the other day! He also purposely started it with matches while I was in the bathroom. Dunno why. (I didnt run out, I finished and calmly walked out: what's gonna burn in Peru? Everything is cement!) I had to fix it… Also am becoming Mr. Plumber cuz the bathroom is
really broken…. long story. But it's coming along. haha." He elaborated a few minutes later that the plumbing includes having to remove the toilet! I love that he knows how to do that! (Way to go, Lane!) (Email 3-9-15)
"Make sure everybody's doin' OK, 'cause I'm always prayin' for you guys." (Audio letter 3-2-15)
Here are some snippets from his audio letter (Sorry, it's my first time editing. I'm definitely an amateur, but at least you can hear his voice!):
---
---