Just Mercy: A True Story of the Fight for Justice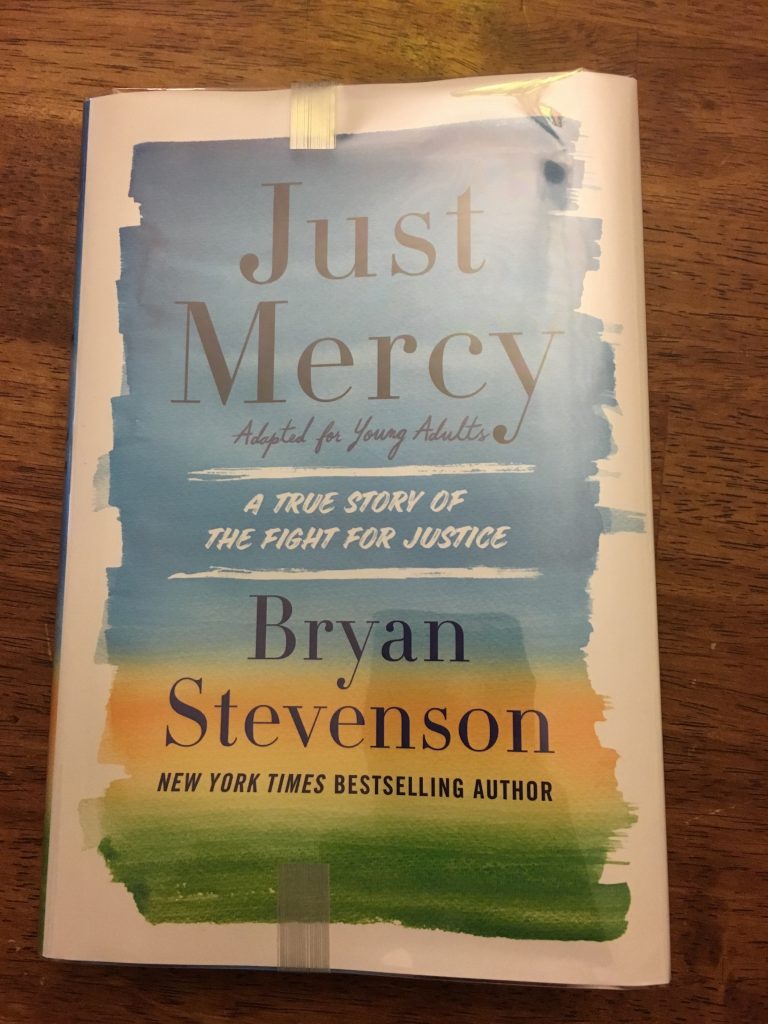 Today I began to fulfill one of my dreams, the Raising Amazing Children Friendship Library Project. This project involves sharing books we have loved found inspiring that we want to share with others.
I feel so happy! I feel the same kind of satisfaction I feel when I plant bulbs in the fall and know that some beautiful flowers will bloom in the spring.
I shared 3 books today: a children's book (Over and Over), a young adult book (Just Mercy), and a mother's book (The Birth Partner).
Just Mercy
Just Mercy is a powerful book that my family and I listened to as we drove to and from California on fall break. My friend Heidi had recommended it, and I told Sarah about it, who got it on Audible. She told Rebecca about it, who purchased the book and began reading it. They both then told me about it, so I started listening to it on Audible. Then I shared it with the family.
This is not a pleasant story that Mr. Stevenson has to tell, but it is a story that needs to be told and heard. Bryan Stevenson is a lawyer and founded of the Equal Justice Initiative and an advocate for people who have been unjustly incarcerated or sentenced and put on death row. I was astonished to hear some of his stories. They are heartbreaking! It is like learning about slavery for the first time. We could hardly believe that the stories he was recounting were happening in our lifetime.
Our family listened to the unabridged version of Just Mercy, but I decided to share the young adult version because in this version, the difficult stories are described in not such a graphic way as the original story yet still convey what happened.
An historically important book
In my mind, this is a very important book. We need to know the injustices that are happening in our country. I just voted this week, and I will say that I was much more interested in reading about the judges' evaluations before I voted for them. I want to know what is happening in my city, in my state, in our country to provide justice and mercy as our forefathers intended. We need to ensure that those accused of crimes are presumed innocent and must be proven guilty before they are sentenced for a crime!
We also need to be aware of what is going on in our prison system. And I better understand now why the Savior said to visit those who are in prison. I would like to do that in a few more years when my children are grown and I am more at liberty to become involved in service and causes that I care about.
After listening to this book, I have noticed SO many more scriptural references in my Book of Mormon reading to equality and justice and taking care of the poor and needy–more than I ever have in the numerous times that I've read the Book of Mormon through. i know more than ever that the Lord wants us to learn to not judge, to be more compassionate, to help liberate the captive and to bless the lives of those in need.
I was able to attend, with four of our children, Mr. Stevenson's forum lecture at BYU right after we finished listening to his book. I highly recommend watching it if and when it becomes available or reading the review.
If you receive this book from a friend as part of the RACFLP, we'd love to hear what you think! Please comment below. If you'd like, please tell us in which state or country you live. If the comment form below doesn't work, you are welcome to email me: liz (at) raisingamazingchildren.com. Thank you!
---
---