Laughin' Night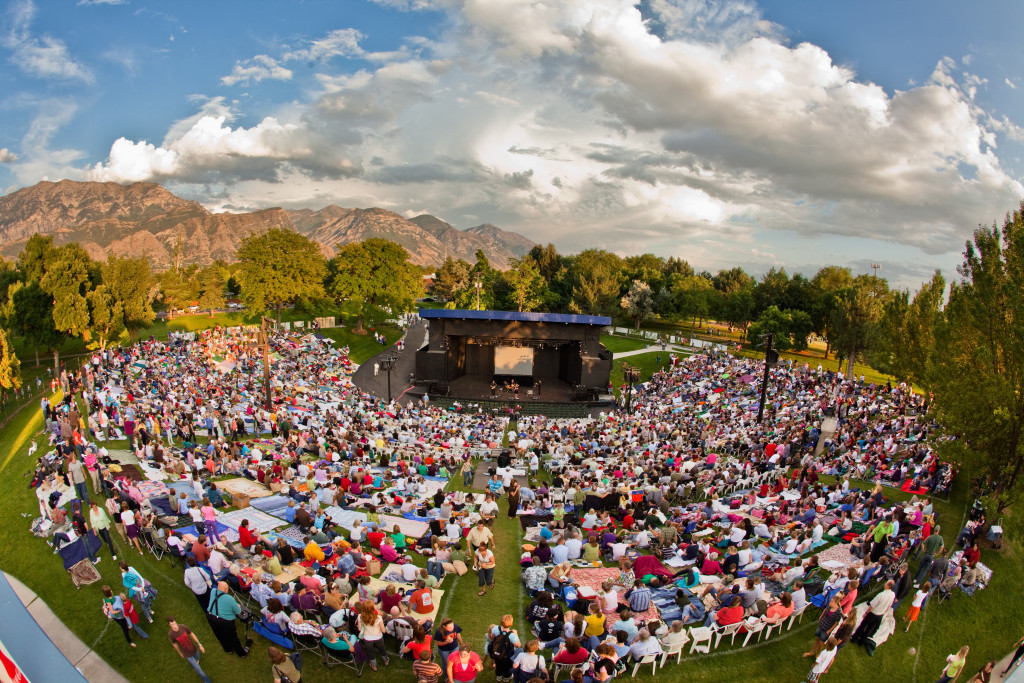 (Photo credit: timpfest.org.)
Last Sunday at family council, we went over our three goals for the year: attend the temple, replace a childish fault with a Christlike attribute, and have fun. We decided that one of the fun things we wanted to do together this week was to attend "Laughin' Night" at the Timpanogos Storytelling Festival.
Ironically, by the end of the week, by the end of Saturday alone, after we had gone to a track meet, done some Saturday work, attended a baptism and luncheon, and gone to the temple, I didn't feel much like going anywhere. Climbing into bed with a good book with my door shut was what sounded like fun to me!
Peter and Anna also didn't want to go. I could see Lane was tired, but we knew that the older girls were still planning on it. So we told the children to get dressed in long pants and socks and to grab some blankets because we were going!
We left later than planned (when does life ever go as planned?), so by the time we got there, the amphitheatre was packed! We were grateful to find a spot at the very top, side of the hill. We spread out our blanket and we squeezed together with the remaining blankets to try to get warm, as the weather had changed from hot summer day to cool summer night! Great swarms of mosquitoes, like I have not seen in this area, were all through the air. I wondered how Lane and some of our children would survive the night, since they seem to attract mosquito bites.
The stories began, and we loved Donald Davis' tale about talking to Santa, trading empty pop bottles at Charlie's restaurant, and getting red scooters for Christmas. We laughed! Lane swatted the swarm and soon had a ton of mosquito bites. Even though he had a baseball cap on, the mosquitoes seemed to get in through the little hole in the back and attack. Poor Lane! He decided to head back to the car. How could we blame him? Eliza was covering her head with her blanket and still ended up with bites, too. This was not such a laughing matter!
When 9 pm rolled around, we left the funny stories and the hungry mosquitoes and headed home. The telling wasn't over, and we would have enjoyed hearing more, but we were ready to go. Getting to bed takes a while, and it was 10 pm in short order. Gladly we opened the windows to let the cool air in, so grateful for screens!
It was fun to go to "Laughin' Night!" Next time we'll bring some citronella and wear bug spray! (Mosquitoes like that are not usually a part of the event!) I was so glad we had not given up our plans for fun.
I climbed into bed, but the night wasn't over. Someone needed to talk to me. A family member explained to me how some comments I'd made really had hurt. A long conversation ensued, and soon it was very late. This was not part of a laughin' night. I apologized, and we both went to bed.
I was reminded of how many times in my life as a wife and mother it would have been better for me to bite my tongue instead of expressing my frustrations about something. I could have waited and talked to that person privately, making a kind suggestion instead of a frustrated criticism. Once again I was reminded, I don't do this nurturing thing perfectly. Laughter and smiles can turn to tears. Happy memories are so much nicer to make. Will I ever learn?
One day, I will. One day I will remember how it feels to be criticized and have my feelings hurt before I open my mouth to do it. And I will choose not to criticize.  I will evaluate if and how I could approach the topic in a better way. "Gentleness will accomplish what force cannot."
I am so grateful that the Savior said to forgive seventy times seven. I need lots of forgiveness. I heard a wonderful story from a mother recently about her young son who was struggling with taking things that didn't belong to him. They were talking about what the Lord said to Peter (Matt.18:22) when he said to her something like, "I'm so glad it's [490 times], because I've already used up like 200." So have I, my friend, so have I.
---
---