Life of a King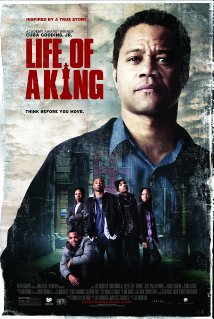 Last week, Lane and I watched another movie starring Cuba Gooding, Jr., "Life of a King."
I don't normally watch PG-13 movies, and so I hesitate to recommend one. This one I would recommend only if you had an edited version or a  filter for language and muted the rap music, which has some offensive lyrics. I would definitely NOT show this movie to anyone younger than high school age. There is also some violence, portrayal of immoral behavior, immodest dress, disrespect, and other concerns that I would NOT feel comfortable showing a younger child and would want to know the older child before showing it. But I think it has some great lessons in it for youth, especially if you can get a filter for language and music. The best suggestion I would give is to watch it first and see how you feel about it before showing it to any of your family members!
Here are some of the lessons that could be extracted from this movie: Decisions determine destiny. Laziness/slothfulness, alcohol and drug abuse, dishonesty, gang membership are all dead-end streets. Productivity, respect, humility, kindness, working for another person's betterment can help a person be happy and succeed in life. Breaking the law can have negative, life-changing consequences. Strong families make a big difference in a person's life and in their community. Growing up in an inner city can be very challenging, and others who help those who come from broken homes can make a very big difference in that child's life.
The show is based on the true story of ex-convict Eugene Brown who starts an inner-city chess club to try to help the youth in his neighborhood think about the choices they make in life and avoid dead-end futures by poor choices. The Big Chair Chess Club gives the youth an alternative to participating in gangs.
We thought it was inspiring. This is the third movie that we've seen with Cuba Gooding playing the central role (Gifted Hands and Firelight being the other two), and we're impressed that in these movies, he chose to portray people who want to make a difference for others. In this movie, he especially exemplifies someone who learned that blaming others for his poor choices does not let him move forward in life.  Here's another example of choice and accountability, of the "Lord, is it I?" principle our family is thinking about this year.
It's also another example of how the family is the first line of defense for solving world problems. If you can strengthen an individual so he can strengthen his family, then that individual and that family can reach out to strengthen a community. That's why we're preparing our children to serve missions, because we believe that "the Lord works from the inside out. The world works from the outside in. The world would take people out of the slums. Christ takes the slums out of people, and then they take themselves out of the slums. The world would mold men by changing their environment. Christ changes men, who then change their environment. The world would shape human behavior, but Christ can change human nature (President Ezra Taft Benson, "Born of God, July 1989 Ensign")."
So we prepare our children to teach people about Christ, no matter who they are or where they live. You can change a community if you can inspire the families within it to change. And it begins with one person in that family. (3/1/15: I just got a chance to visit with my niece who recently returned from her Spanish-speaking mission to Harlem, NY. She talked about a young woman who is her age who joined the church and in the course of her new friendships, was able to get involved in a college-assistance program and is heading to college this next semester. She also wants to serve a mission! The cycles of poverty and addiction can  be broken if we have sufficient determination and support. SO awesome!)
And if you want a simple way to learn chess or teach it to your children, check out this version.
Lane also mentioned a recent study that he read about, which says that the recidivism rate of criminals leaving prison is as high as ever, which means that we need to reevaluate what is happening within prisons to help those who are there to be able to leave changed internally. I know that is a challenging question that many have wrestled with. You can't force change. I hope we as a community and nation will be able to come up with a better plan.
---
---