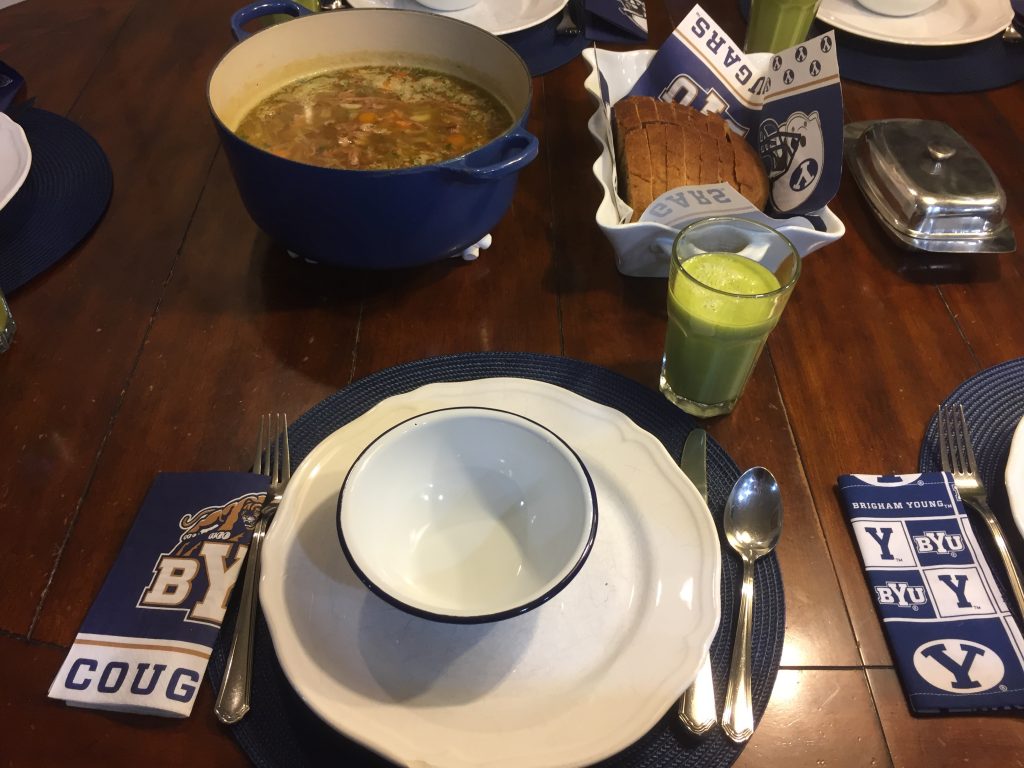 Tonight Eliza made some delicious lentil soup that we had with some Finnish potato rye bread. Lane said it was his favorite soup she'd ever made! I jotted down the recipe so we could make it again. (I don't have a cooking brain like Eliza's, so I write down the things she makes so I can try to make them when she graduates and leaves home!) She used leftovers: bacon, Costco pulled pork (the savory/smoked flavor kind), and chicken broth from canned Costco (Kirkland brand) chicken. (Can you tell we shop at Costco?😂)
I set the table all in BYU colors and was going to use the new BYU fabric napkins, but I only got one sewn before dinner (the one on the right in the photo). I set the rest of the places with BYU paper napkins–all this BYU stuff to tease Becca, who just got accepted at the University of Utah. She hasn't decided where to go yet, and is still waiting to hear back from BYU and another school to which she applied. With both parents and one sibling all alums of BYU and 3 siblings who currently attend BYU, there is NO pressure whatsoever. When Lane asked Rebecca to offer our prayer before dinner, she thanked Heavenly Father for agency and that "we can all choose what we want." 🤣 We will be so happy for her wherever she chooses to go to college!
After dinner I opened my computer to type up the recipe and (too many details) found the Finnish version of songs from Frozen! It is soooo fun to hear in Finnish, especially little Anna's voice! I think Finnish is such a beautiful (and difficult) language!
I wanted to post the videos here so that I could listen to them and keep trying to learn a little more Finnish.