What is love? February 2017 children's books reviews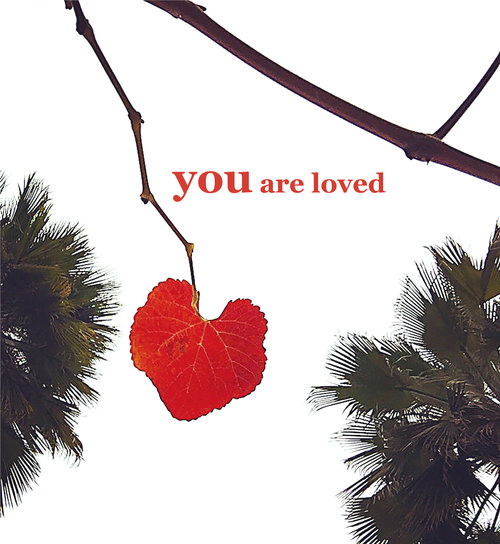 Yesterday I received a very kind gift from my dad and his wife called You Are Loved by Kyle Sydney Powell. The book is a treasure trove of photographs that the author took during a difficult time. To help during this time of her life, she took one photo a day of hearts she saw naturally occurring in the world around her or hearts that she created with objects in her everyday life. She would text or email the photo with the message "You are loved" to the recipient. ❤️ What a loving gift she gave, and what a loving gift I received!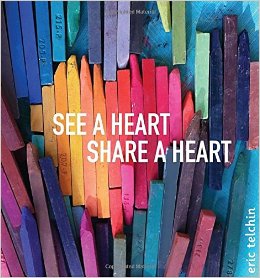 See a Heart, Share a Heart
You Are Loved reminds me of a book that we got in February 2013: See a Heart, Share a Heart by Eric Telchin. Ever since I read this book in her school class, Anna and I have kept our eyes out for hearts–like this last pancake bite.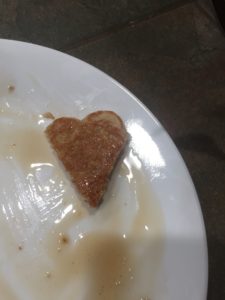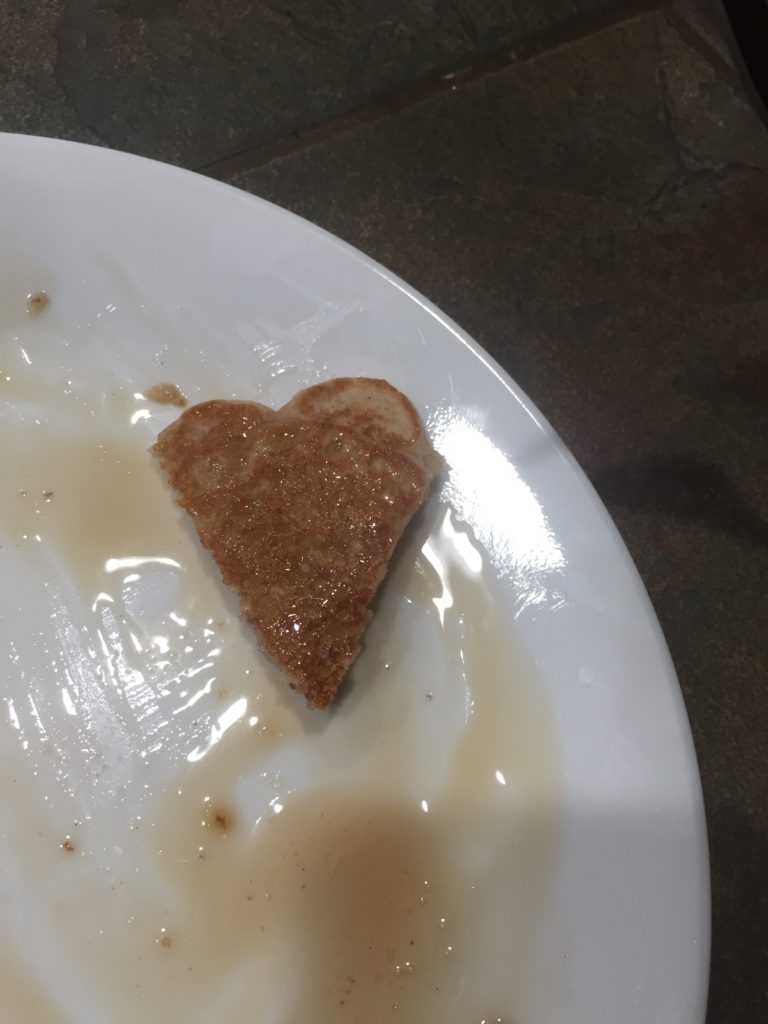 February is a month when we see a lot of hearts and we think a LOT about love. 💗 Don't you love that? 😉
Romantic love
There are many beautiful books about love that I put out early in the month before Valentine's Day. Because love is a choice–meaning that it is something we choose to do–it's important to help children understand that we express pure love in many ways. Romantic love is more like the result of pure love that we show to our spouse. Romantic love results from and endures because of the God-given physical attraction that occurs between a man and a woman when combined with the action of love: kindness, patience, longsuffering, gentleness, service.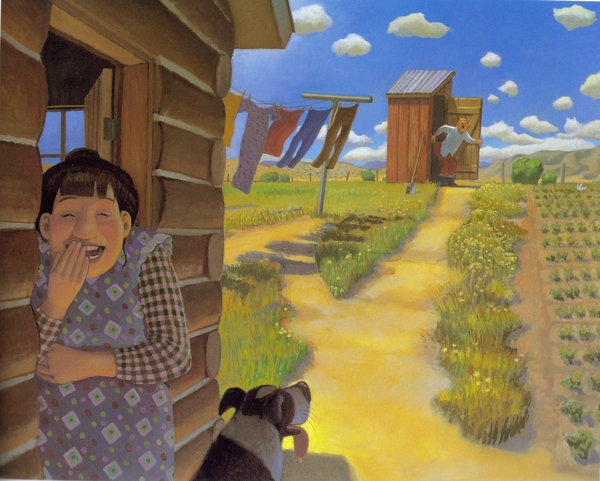 Tell and show
It's always important to tell and show our children that you don't really love someone if you don't do the actions of love. You can't really love someone if you don't treat them lovingly.  No one is perfect in how they treat others (except the Savior), so we also teach that part of loving means that when you make a mistake, you say sorry, and you mean it.
Books can help us teach children that lesson. One book we love so well about romantic love, fidelity and real life is Fanny's Dream. (Check out my romantic book recommendations to see other titles.) I didn't buy more romantic books this month, but my husband and I have really been enjoying reading Mrs. Mike aloud together.
Abuse and Porn: NOT love
Parents, of course, don't feel romantic love towards their children. That is wrong. That is when a parent needs help! We need to help our children be educated about sexual abuse and pornography, how it is absolutely wrong in EVERY situation. Abuse in any form and pornography is always wrong no matter how old we are! We can protect our children by teaching them that their bodies are sacred and wonderful and private. We can help them be safe by keeping them safe and never abusing them. Here are two books I read and wanted to share this month that can help us do this: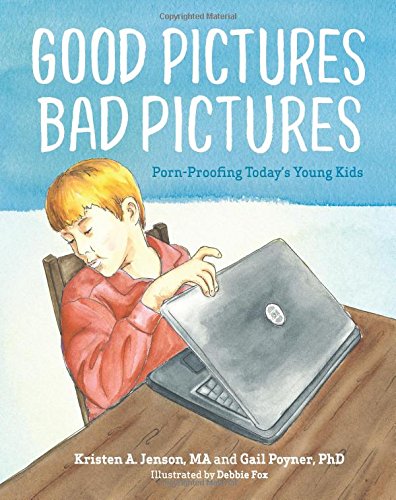 God made all of you
This book shares an imaginary conversation between a mother and her son when she is teaching him about what pornography is, why it is addictive, and what to do about seeing it. I love how it teaches the actual anatomy/neuroscience behind pornography addiction in a way simple enough that even a child can understand. I think it is effective in helping parents and children understand why pornography is so dangerous. With pornography distribution (in every form) increasing daily, this is just a critical conversation to have with our children–and not just once.  We want our children to be protected from any kind of addiction, particularly one that is as or more addictive than heroin or cocaine and so harmful to their future relationships.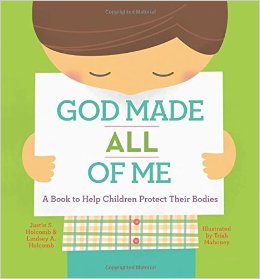 My feelings about this book are mixed. It is a good book. I have had many conversations with my children growing up about the sanctity of their bodies and how no one is allowed to touch them without their permission, etc. Still, I think as a parent you would want to read this book first to see if it works with your personality. It is a good resource if it does! The book uses anatomically correct terms, which I believe is wise. And that is my personality: I always felt I should teach my children about their bodies (and everything else they wanted to know about) to the extent of their understanding and maturity, and not use nicknames (aside from the general use of "bum," "bottom," or "rear end"). I love the spirit of love and goodness that I feel in this book, of parents wanting to teach and protect their children. Children need to feel that! And they will feel it if we teach them carefully and appropriately.
Too many children suffer from sexual abuse. It behooves us as nurturers to help any child that we know is being abused to get help and facilitate healing.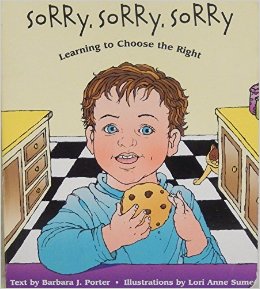 Learning to Say I'm Sorry
But sometimes as parents we act in ways that we shouldn't: we speak unkindly, we are insensitive, we make a poor judgment call–aren't there a thousand mistakes we make? This isn't necessarily abuse–but if we are abusive, we would absolutely need to say sorry! A hundred times!
It's OK to make mistakes, but it's not ok to pretend that we don't make mistakes, and it's not OK to not apologize immediately–or as soon as possible–for them. To never admit them and to never try to make retribution is not OK.
This little board book, a gift years ago from my dear friend Kelly, was terrific for helping teach the importance of saying sorry as well as the rest of the process of repentance. Of course, the best way to teach repentance is through example: apologizing frequently for any unkindness, no matter how small, and then trying not to repeat that.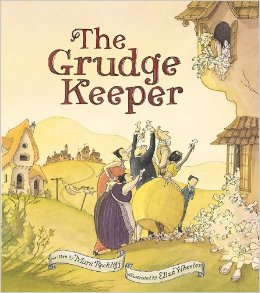 Hold hands, not a grudge
I love this whimsical story (The Grudge Keeper by Mara Rockliff) that explains the futility of holding a grudge. And Eliza Wheeler illustrates how much more joyful forgiveness can be. Isn't forgiveness so crucial to loving others?
Safe, gentle hands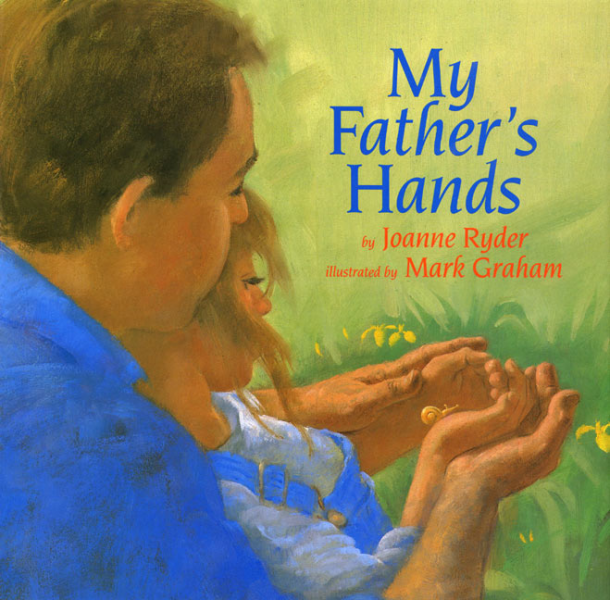 Two of my favorite books (that we've had for years) that teach about loving touch, kindness and service are My Father's Hands by Joanne Ryder and Magical Hands by Marjorie Barker. My favorite line from  My Father's Hands is "I bend closer, knowing that nothing within my father's hands will harm me." Mark Graham's gentle illustrations convey a wonderful feeling of pure love of father and daughter and nature that is beautiful and sweet.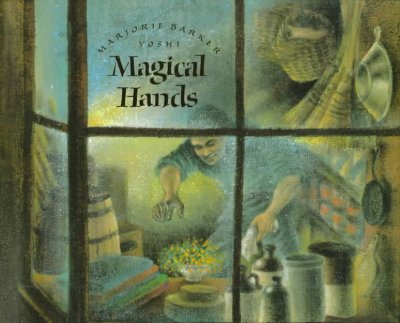 Magical Hands
In Magical Hands, a group of four friends learn about the joy of kind acts when they secretly serve one another. You definitely get the feeling of love while reading the story and seeing Yoshi's beautiful illustrations.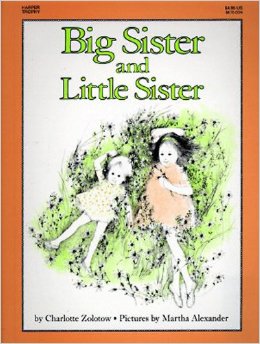 The love of a sister
There is one more book that I added to our collection this month that is about love: Big Sister and Little Sister by Charlotte Zolotow. (I love Charlotte Zolotow's other books that we have: Over and Over and The Quarreling Book.)  With lovely illustrations by Martha Alexander, Charlotte tells how a big sister and little sister can show love to each other and learn to take care of one another. I love books that illustrate people learning little truths and important life lesson, particularly in the easy and enjoyable style of Ms. Zolotow.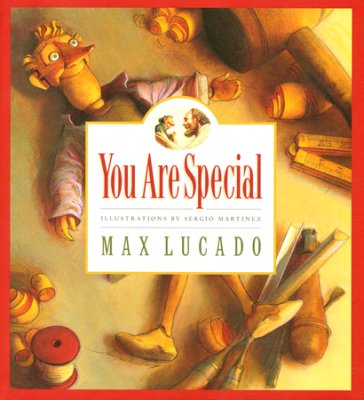 P.S. YOU are special!
In thinking of all the mishaps large and small that we endure in our experiences on earth, we recognize how important it is to teach a child to love themselves as a child of God. Two books that we have loved over the years that helps to do this are You Are Special by Max Lucado and Daughter of a King by Rachel Ann Nunes.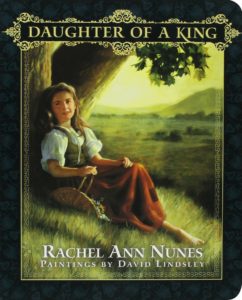 Tags:
apologizing
,
Barbara J. Porter
,
Big Sister and Little Sister
,
books about love
,
Charlotte Zolotow
,
child abuse
,
Daughter of a King
,
Eliza Wheeler
,
Eric Telchin
,
Fanny's Dream
,
Good Pictures Bad Pictures
,
Joanne Ryder
,
Justin S. Holcomb and Lindsey A. Holcomb
,
Kristen A. Jensens and Gail Poyner
,
Kyle Sydney Powell
,
Magical Hands
,
Mara Rockliff
,
Marjorie Parker
,
Max Lucado
,
My Father's Hands
,
pornography
,
protecting children from pornography
,
pure love
,
Rachel Ann Nunes
,
repentance
,
romantic love
,
saying sorry
,
sexual abuse
,
Sorry Sorry Sorry
,
The Grudge Keeper
,
Valentine's picture books
,
You Are Loved
,
You Are Special
---
---