Melting like a snowflake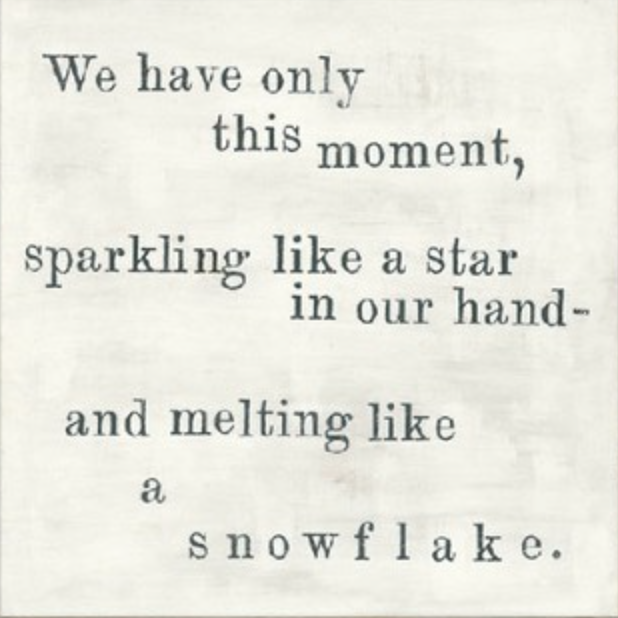 I recently purchased this quote for our kitchen wall, because I liked it so well. I was doubly delighted to discover (from the receipt while working on my finances just now) that the quote is from Sir Francis Bacon. (I was also shocked to see how much one company is selling this print for compared to what I paid for it! Phew! So glad I got it on sale for a fraction of the price online!)
There is more to this quote, apparently: "Begin doing what you want to do now. We are not living in eternity. We have only this moment, sparkling like a star in our hand–and melting like a snowflake…."
Well, he is partially correct. We are living in sort of the middle of eternity! We lived in heaven before birth (our premortal existence) and are living on earth right now, and then we have the rest of eternity to follow this life.  Alma 34 sheds some light on this:
31 Yea, I would that ye would come forth and harden not your hearts any longer; for behold, now is the time and the day of your salvation; and therefore, if ye will repent and harden not your hearts, immediately shall the great plan of redemption be brought about unto you.
32 For behold, this life is the time for men to prepare to meet God; yea, behold the day of this life is the day for men to perform their labors.
33 And now, as I said unto you before, as ye have had so many witnesses, therefore, I beseech of you that ye do not procrastinate the day of your repentance until the end; for after this day of life, which is given us to prepare for eternity, behold, if we do not improve our time while in this life, then cometh the night of darknesswherein there can be no labor performed.
34 Ye cannot say, when ye are brought to that awful crisis, that I will repent, that I will return to my God. Nay, ye cannot say this; for that same spirit which doth possess your bodies at the time that ye go out of this life, that same spirit will have power to possess your body in that eternal world.
35 For behold, if ye have procrastinated the day of your repentance even until death, behold, ye have become subjected to the spirit of the devil, and he doth seal you his; therefore, the Spirit of the Lord hath withdrawn from you, and hath no place in you, and the devil hath all power over you; and this is the final state of the wicked.
But Sir Francis has exactly the sentiment I wanted to remember of carpe deum and not procrastinating until tomorrow which ought to be done NOW! And to savor this moment! Because those around us who we should love and appreciate today might now be here tomorrow, and there is so much to be grateful for right now, right here, today.
And since January is my month of snowflakes, I just thought it was exactly the right thing to put on my wall. ❄️
---
---