MERRY CHRISTMAS from the Livingstons 2016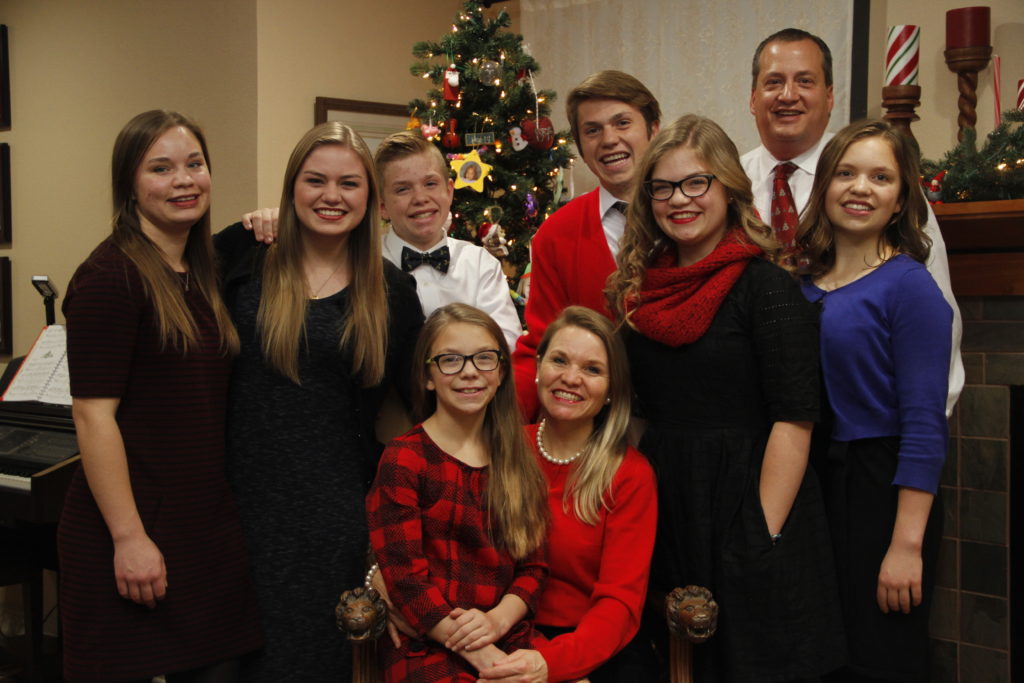 Our Christmas card photo (above) was a remake of our 2003 card (when Peter was 6 weeks old, below):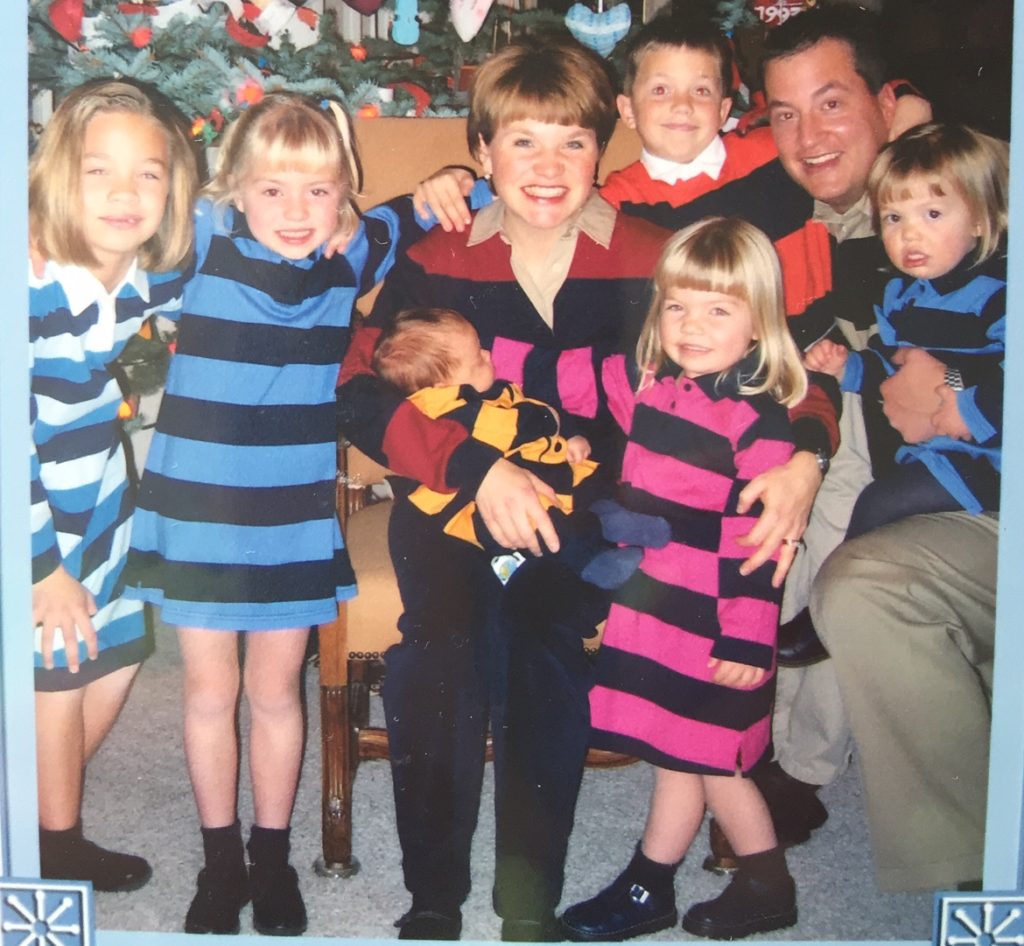 Here's the little poem we printed on the back of our card this year: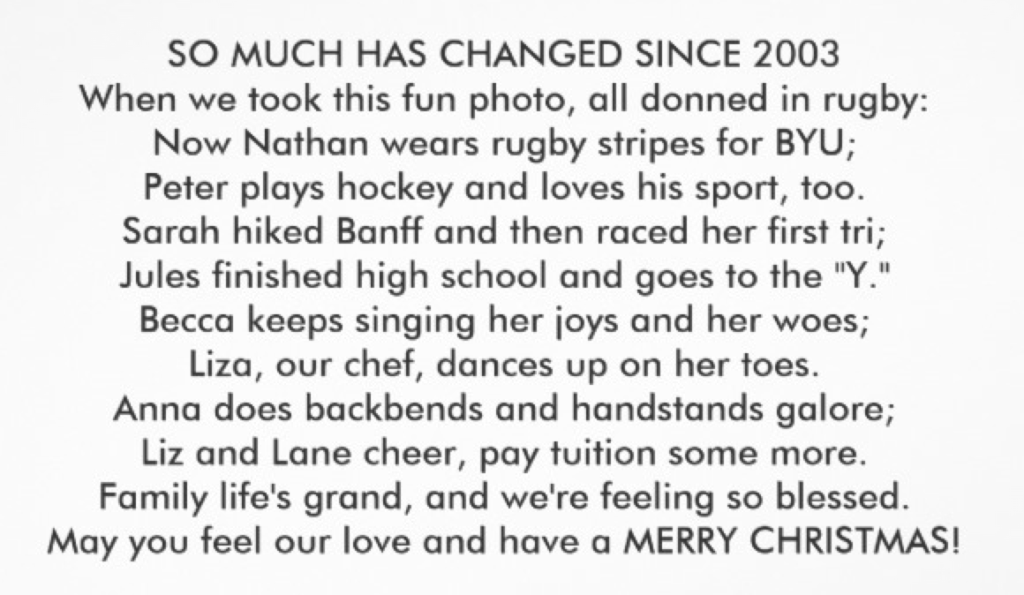 And here are the photos we took to go along with it (which aren't in great lighting, because we took them at night. Lesson learned.):
Sarah (22): Sarah has become a true outdoor enthusiast. She loves hiking, biking, skiing, running, rock climbing, paddleboarding, camping, and resting in a hammock on rare occasions. She looks for opportunities to do any of those as often as possible! She was a TA in biology and EMT at BYU while also serving as an EMS supervisor on campus. She will graduate in April 2017, took the MCAT and has applied to medical schools. She enjoys getting together with Julia, Nate, and her cousins on campus, and she is awesome to come home and take our dog for a trail run! She loves our dog and wishes she could take her to live with her–but she'd have to fight Julia for that, and the children at home wouldn't let her. Oh well! I love it when she comes home and plays the piano or harp or just sits down to chat with me. She is an island of refuge and love for any of her siblings.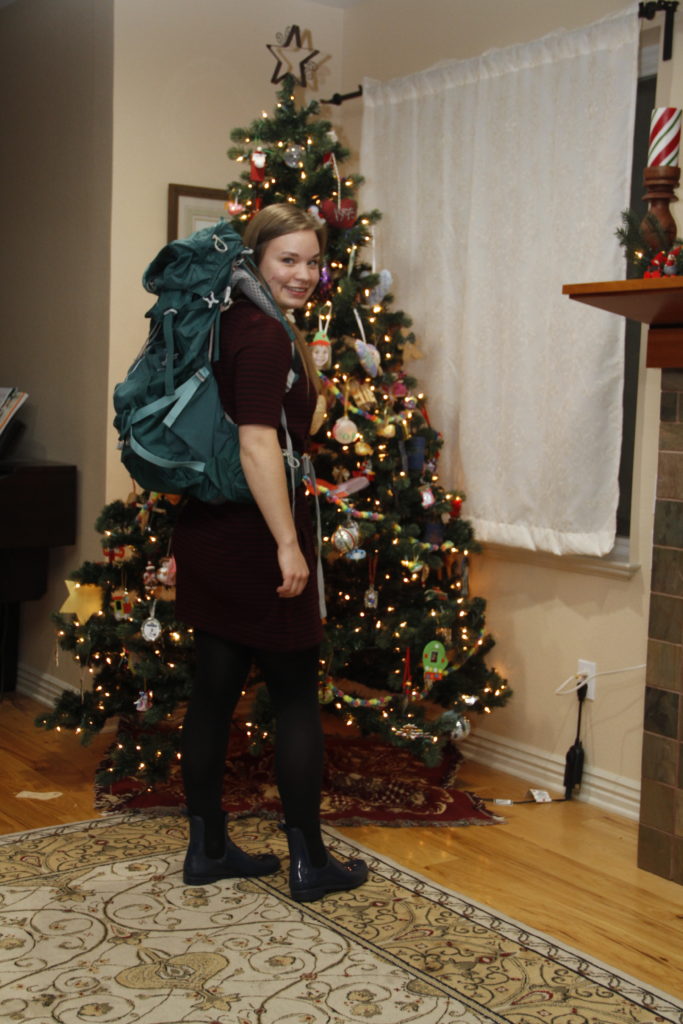 Nate (nearly 21): Nate returned from his mission, healed from his broken ankle, and starting working out as soon as the doctor allowed. He tried out for the BYU Rugby team and loves being a part of that sport again. Rebecca helped him to train for his try out. One of my favorite memories was running around the track with Nate, tossing the ball backwards to each other as we would sprint forward. WOW! I was TIRED after that exercise! Nate also started a small landscaping business with his cousin and has been attending BYU full-time since spring 2016. He is quick to serve those in his ward and helped his grandmother to move. He also got a hammock this year and loves to play in the outdoors with Sarah and can't wait to hit the slopes this year. He is praying for SNOW!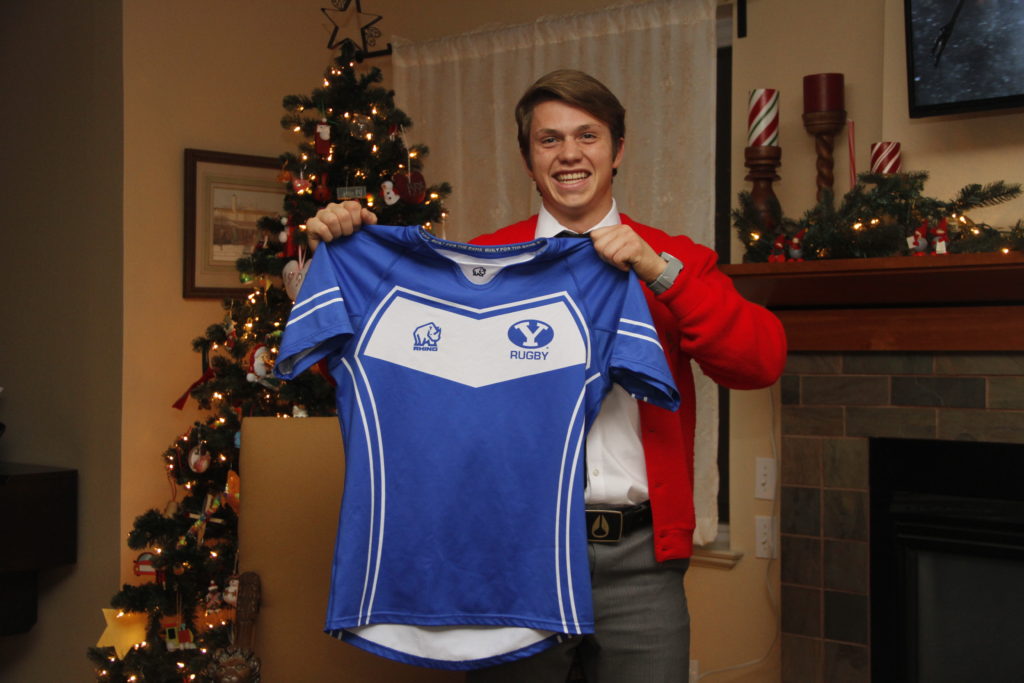 Julia (20 next week) and Lane: Julia has transitioned from high school student to college student, continuing to work at her summer job through the school year. She has really focused on school, hoping to maintain her scholarships. She has loved becoming good friends with her roommates and especially has enjoyed getting up early many mornings to exercise with Sarah. They swim laps together and work out at the school gym. Julia can't wait to ski this holiday and hang out at home! We have loved seeing her beautiful cheery face on Sundays for dinner, and we've enjoyed having her roommates over for Cousins Dinner a couple of times.
Lane works as hard as ever leading our family, his Boy Scouts, and his company. I know of no one who serves more tirelessly. I am constantly learning from his desires to make his family happy and help his costumers and employees. He works out in the mornings and gets to bed late helping children with homework. He also works hard trying to help me sleep through the night. He prays for people that he hopes to serve and he keeps on going, day after day. I just feel more grateful for him year after year.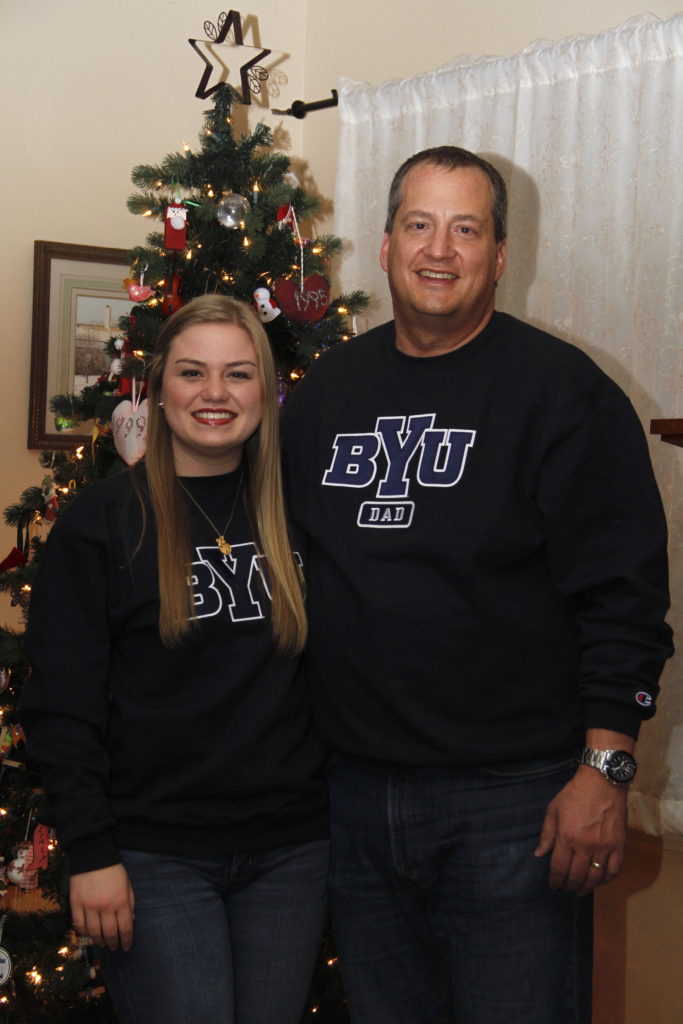 Liz: (I didn't have my BYU MOM sweatshirt that day, so I settled for some BYU pom poms!) I have been trying to lighten my load this year and simplify as much as possible. It has been wonderful to get back to writing on my blog a little more, and posting on Instagram is a pastime my children tease me about. I love sharing about family life, motherhood and related musings for sure.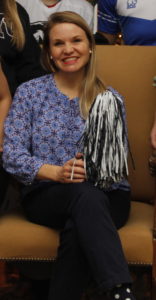 Rebecca (17): Rebecca has been working hard as a volunteer and singing and dancing. She loves to practice and perform with her a capella group. This small group of high school students is like BYU's Vocal Point. December is a crazy time for her as her dance studio puts on about 20 performances all over, from Salt Lake to Provo. Thankfully, she is only in about half of those. By this time of year, she is a bit worn down! She also sings with her high school a capella choir and loves that. She studies diligently at school and is getting some extra math prep in after school during the week to help her prepare for the ACT. She tutors math students at school. She and Eliza are best friends and love getting to go to school together.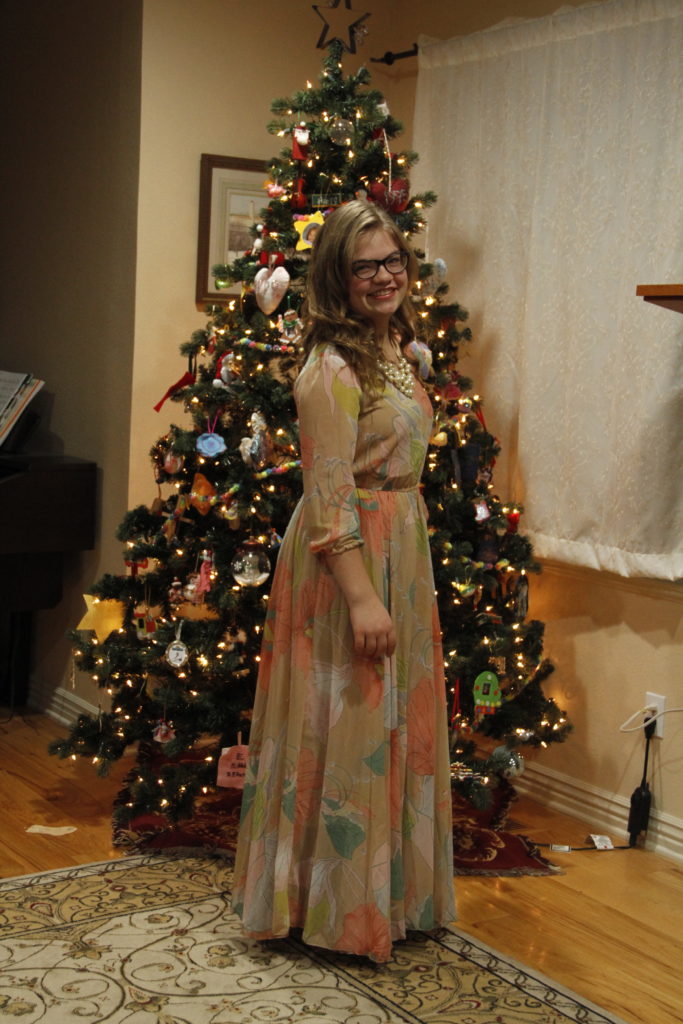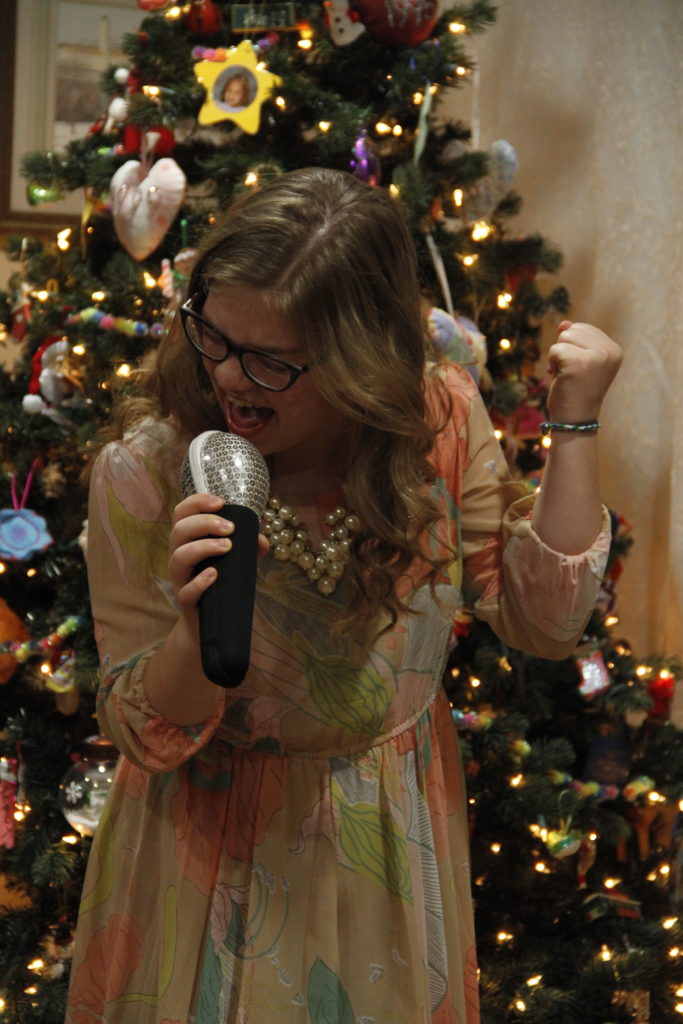 Eliza (15): Eliza is living the dream dancing both Irish dance and ballet this year. She wishes she could take a lot more ballet while maintaining her Irish dance company commitments. Ah, to have to choose! So hard! She cooks so often and is very creative. We are the grateful recipients of her talents. She is the one who will babysit to earn money for a Le Creuset pan. She also is working hard in school, serving at church like her siblings, and dreaming of doing more outdoor activities: she ran a little with the cross country team in summer and wants to do more of that; she rode a little with the mountain biking team and wishes she could join that team as well. So little time; so many wishes! She takes piano with Rebecca from their grandmother and for the first time in her life enjoys practicing.
Peter (13): Peter has really grown a lot this year–not only taller, but also in his talent development. He tried hockey for the first time, and has gone from doing splits on the ice to scoring his first goal. He had hardly ever set a skate on the ice before the try outs, but he didn't give up, and it is SO awesome to see what he has learned in the past 4 months. He loves hockey. We are so proud of him for working so hard! He also is learning German and Latin, and is our local "wizard"–the appropriate name for a smart and teasing seventh grade boy, right? He loves hanging out with friends, doing Scouting with Lane, playing with our puppy Salmiakki, and having his brother Nate around. He practices cello and tuba this year. We love Pete's kindness and sense of humor!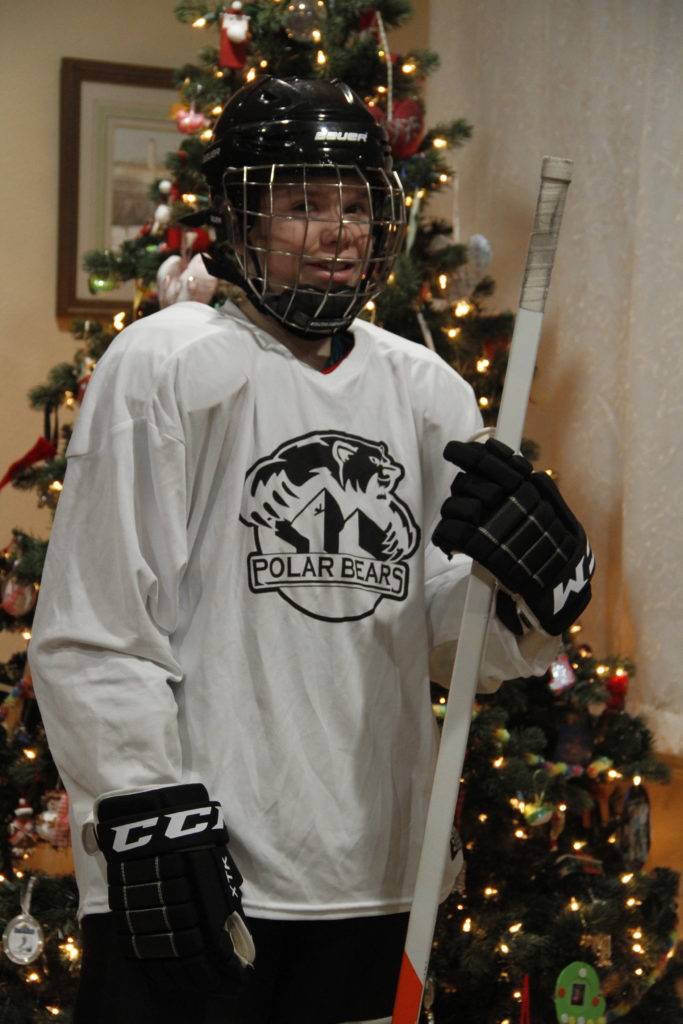 Anna (11), for whom we found some rugby stripes–appropriately so, since she is our fashionista and she didn't get to wear them the first time around! (And I love how you can see her little elf photo ornament hanging in the background…) Anna has thrown herself into tumbling and is constantly doing handstands and backbends. She is still playing the violin, creating constantly on the computer, and whistles around the house.  She loves to play with friends, loves school, wishes her cousins lived closer, and still likes Mom to read to her, which I am so grateful for, because I need to have someone to read to! She is so cute with little children and wishes we had a few of those around. (Cousins' babies and the neighbors' children fill that gap.) She LOVES our dog and is so good at helping her feel loved.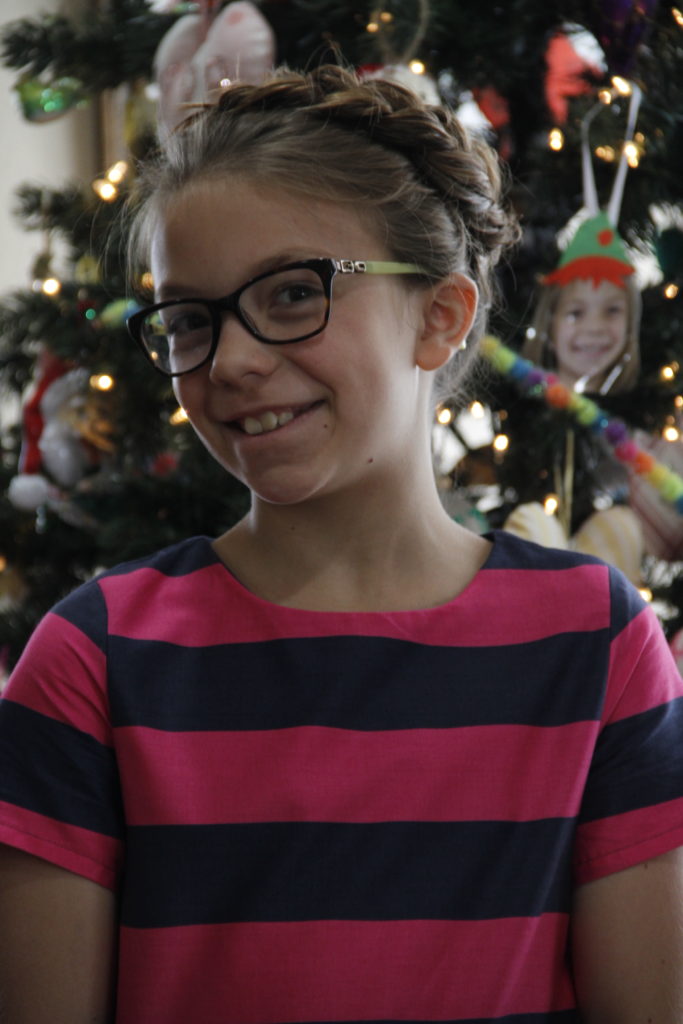 Christmas photos over the years have been a source of great enjoyment (and some sorrow in the process of taking them. Man, it can be so stressful! haha). You can view our previous Christmas card photos here (link will post 12/17/16).
---
---