MF: Best gift ever!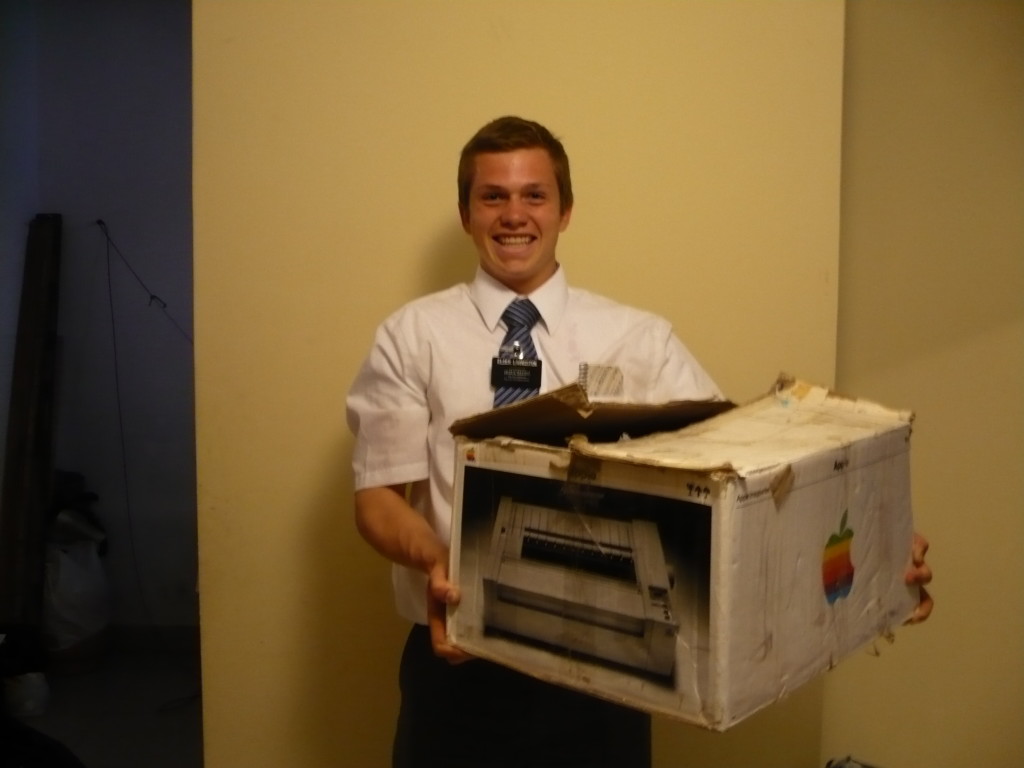 (Elder Livingston sent this one for his dad, especially. He always has a sense of humor and enjoys sharing the things that make him smile. Eliza said recently that since he is gone, somebody had to pick up where he left off on the teasing and movie line quoting….)
No, Elder Livi isn't sending me an Apple printer from bygone days. Today he emailed me, and it made me feel so happy! It is the best gift ever to get an email like this.
He wrote:
I want to tell you how much the gospel has blessed my life. The purpose of being here on the earth is to get a family and live and choose and achieve covenants and blessings. Family is the reason. And I have a wonderful family, and I want to share the blessings I've received with others here, and that's why I came to Peru. Otherwise I would've picked like Alaska.
One time Julia and I were kinda fighting, and I wasn't happy, but then Momma told me to take her golfing.  So we went to [the golf course], played a round, and then we were best buddies. It made me feel so good. And that's what a family is about.
But the story goes like this: After we went to [the grocery store], big brother [treated her to] of cheap ice cream. but then on the way home, the lady in front of us stopped way too fast, and we got in a wreck that totaled the car. Were were both unhurt (the burb [Suburban] was a tank) but it was pretty scary. I was so scared that Julia was ok. In that moment, I didn't care if I had Ice cream covering me, or if the car was ok, or how much it would cost, or if the chocolate would come out of my favorite golf shirt. I cared about my family. That's the love that grows in families. And if one of us had been hurt, or even died, I would have been comforted knowing that the convenants we had made allowed us to live together forever. I knoe this is true. And that's the Lord's hand in my life, blessing me with a family, and a testimony to share.
---
---