MF: Celebrations in the mission field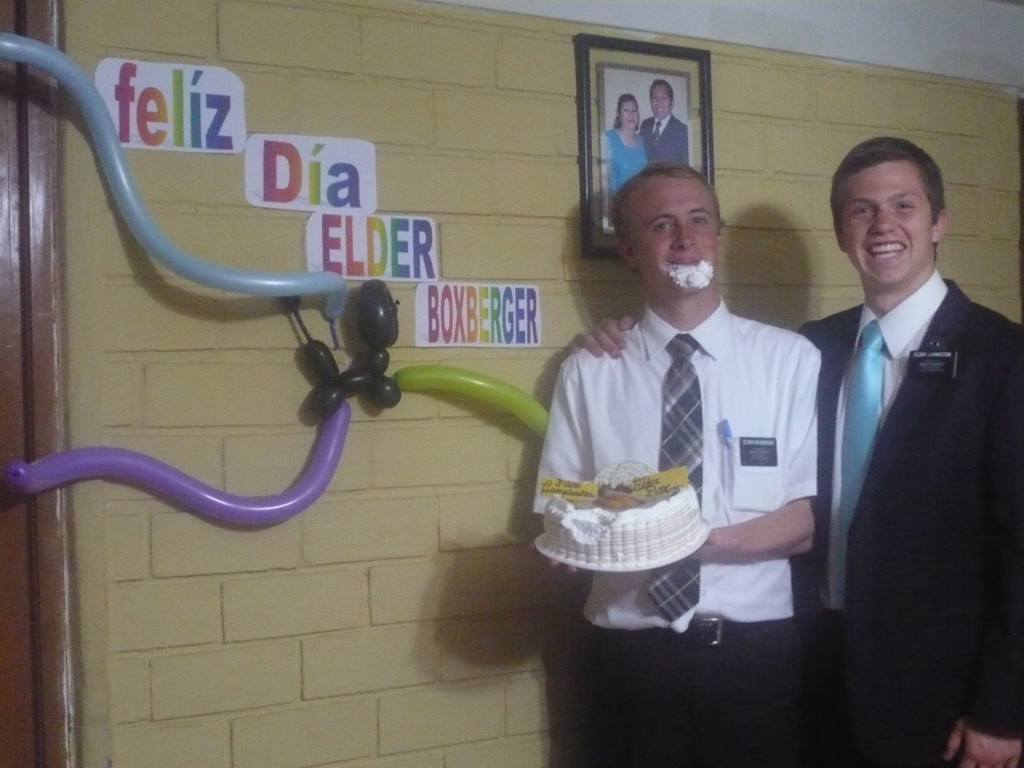 Looks like somebody got a new companion! Who had a birthday! Elder Livingston enjoys birthdays, and having fun, so I'm wondering if the frosting beard on his new companion happened with his help?
Well, he's not much of an emailer these days, to put it conservatively. But he is writing letters, and here is a part of his most recent one, which arrived a few days after my birthday. I was really touched that he planned several weeks in advance to mail me a letter and included a mini Peruvian knitted hat (i.e. key ring sized). It is darling! In his letter to me, he recalled the time when I tried to reproduce a chocolate cake he had eaten at Sundance Ski Resort once that was his favorite. I googled "Sundance chocolate cake" and found this recipe that was gluten-free and the frosting was made with avocados. I was skeptical, but the blogger said she had made it for a wedding and people were coming back for seconds. So I decided to give it a try. I probably spent as much on special, gluten-free ingredients as I would have if I had simply ordered the cake from Sundance. But NO. I wanted to MAKE IT for him. Oh my!
Let's just say that it did not turn out like the Sundance cake. It wasn't really bad, it just wasn't quite what we all had hoped. So we had a really  good laugh. And for his birthday before he left for his mission, I ordered a chocolate cake from Sundance. When my daughter went to pick it up, they gave her the incorrect cake. So when she got home, I called the bakery and asked about it. They immediately delivered a replacement cake! They were over-the-top nice. I was very impressed (and grateful, because that was an expensive cake!).
"Dear Family,
…I was sick two days ago (August 11). But I still went out and worked hard. We went on some visits with the Bishop, and he bought us Powerade. I got orange. Took a sip, and it took me back to drinking orange Gatorade as a kid when I sick. Felt immediately better. Haha."
"Dear Momma,
"This week, an Elder went to Lima, so Elder S. and I have been with Elder I. [from Southern CA]. He completed one year on the mission. A member made him a pie…, so we went and ate it. We sang "Happy Birthday" and said TL's. It just reminded me of how when we had a birthday, you tried so hard to make it special for us. And even if you accidentally made a vegan cake, it was made with love. And Momma, I felt it. It didn't matter what cake or non-lactose frosting we had. I wouldn't trade those for anything, because you made them for me….
…Today is the anniversary of Huanuco, a super big fiesta day here. But I'm thinking about my mom, who made Olympics-themed birthday parties for me. I'm thinking of you decorating for the 4th of July, or calling back Sundance to bring a real chocolate cake, or packing my suitcase for me. Mom, thanks for always thinking about me and trying to help me be the best I could be, and have fun….You taught me to eat healthy….You like eating lunch with me, and I liked it too (even if I had to load your groceries, but that wasn't hard.) I'm thinking for you bringing me homework, or letting me use the car to go skiing…Thanks for driving me to rugby practice, even though it was 30 minutes away. Thank you Mom."
Even though he isn't writing lots about the work still, his sense of humor remains intact, which I LOVE hearing in his letters–or even on the return address of his envelopes, like this one, which read, "Elder Pack Mule."
---
---