MF: Elder Livi, carrying a casket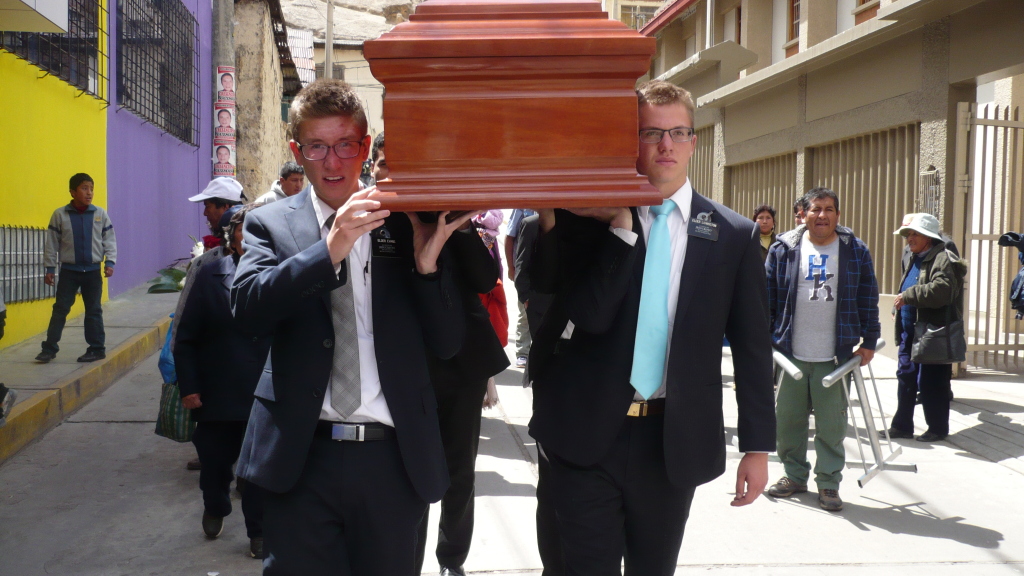 Certainly one of the coolest parts of serving a mission–next to the big stuff, like getting to know and love the people and culture where you serve and sharing the "wonderful gospel" (as Elder Livi put it this week)–is the interesting experiences you have that you might never have at home. Here Elder Livi is carrying the casket of a sweet older sister who passed away who had served as many years as a pensionista (cook) for the missionaries in her area. She loved the missionaries so much, so they honored her by carrying her casket. She wasn't Elder L's pensionista, but she was well-known for her service and love.
Elder L has a new pensionista situation that he is excited about: a restaurant owner! He got to have fresh pineapple juice. "How do you squeeze a pineapple?!" he asked in his audio recording. He loves it!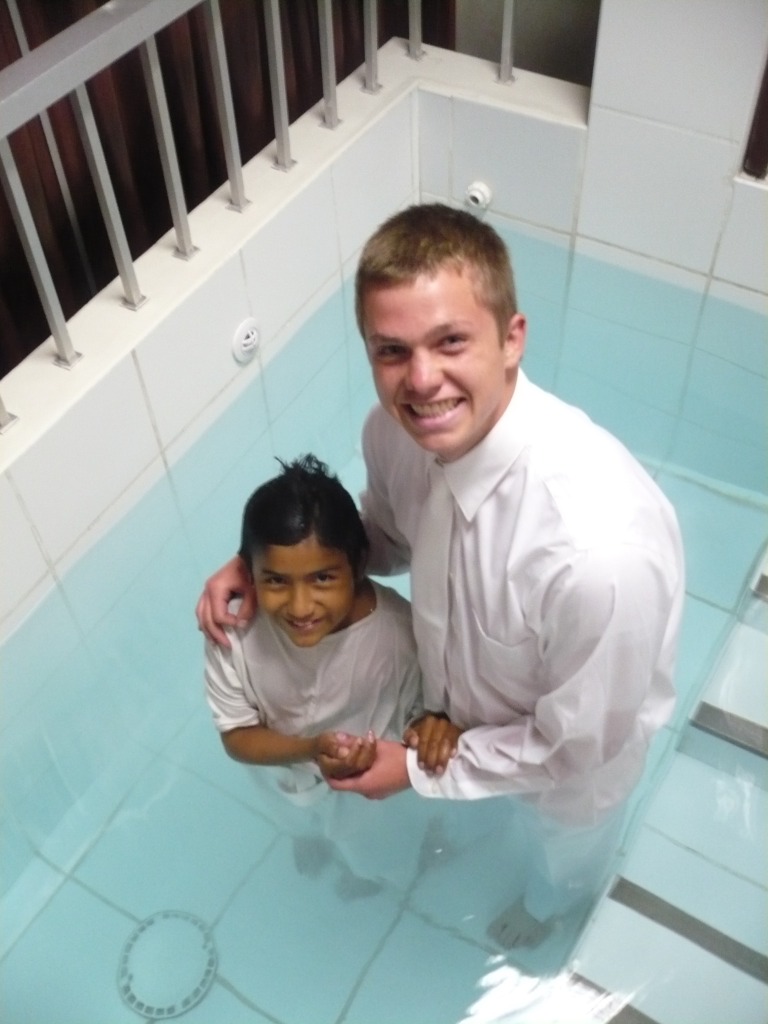 He also got to baptize this darling 12-year old boy. Nate said that this young man takes care of his younger sibling so that his mother can work. He commented that this young man is very responsible, a "stud, and a wonderful soul that is precious to the Lord (Alma 31:35, new favorite [scripture])."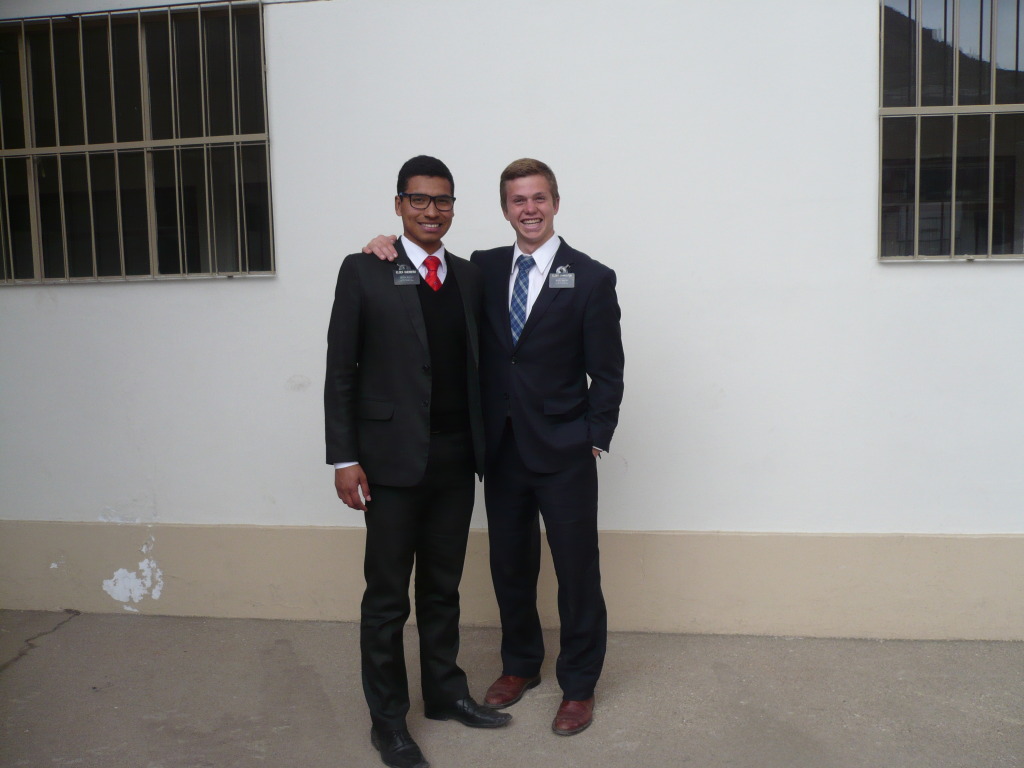 He said, "I just want to tell you guys that I love you. My companion…He's from Lima. He's great! We're doing well. I find out everyday new Spanish words to learn, and I'm stoked to keep learning and keep growing in the wonderful gospel that I have a growing testimony of. I know this church is true. I know the Book of Mormon is true. I encourage everyone to read it, and they can know for themselves it's true. I love you guys! Have a great week!"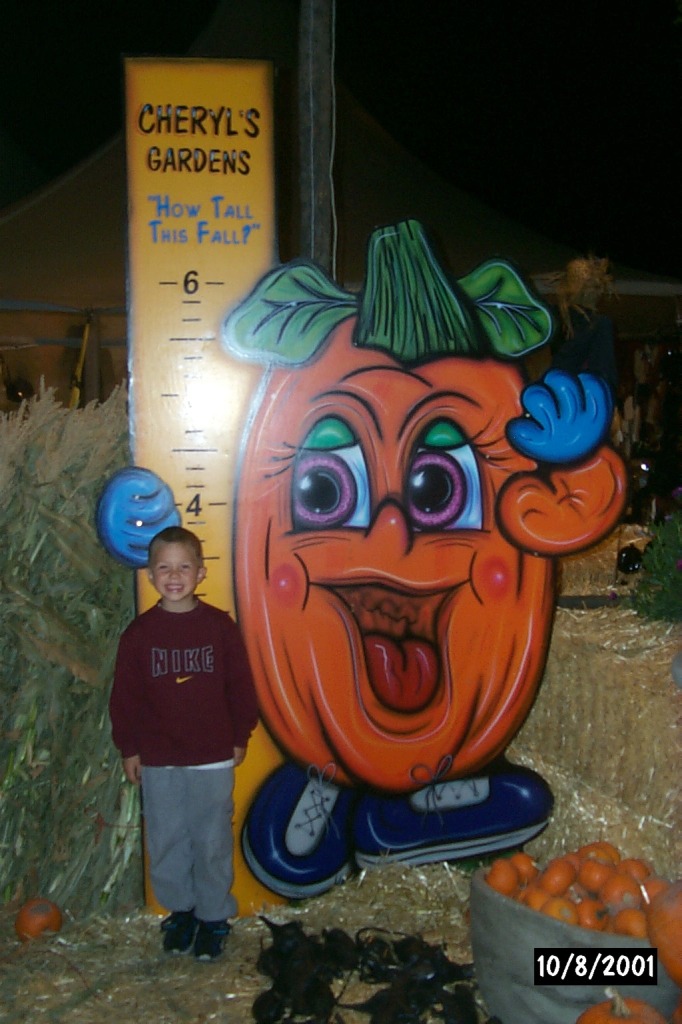 He added a P.S. about throwing a Halloween party at their church as a social activity for the children and members. They hung up orange balloons and filled 50 treat bags with candy. They played a kind of tag that he had learned at home in which you have clothes pins on the back of your shirt that you try to get from others. 57 children plus their  parents and some other adults came. He was so happy about it. This is a boy who enjoys Halloween. (I found this photo of him when looking for some Christmas Soup photos just now. He looks the same, just more grown up with a missionary tag, now.) He said is next activity is going to be a Thanksgiving one, and he's going to "cook up some grub."
(Seriously! Where did he develop this John Wayne style of talking? Oh yeah, that's right.)
Happy Missionary Photo Sharing,
Liz 🙂
---
---