MF (Missionary Family): The night before departure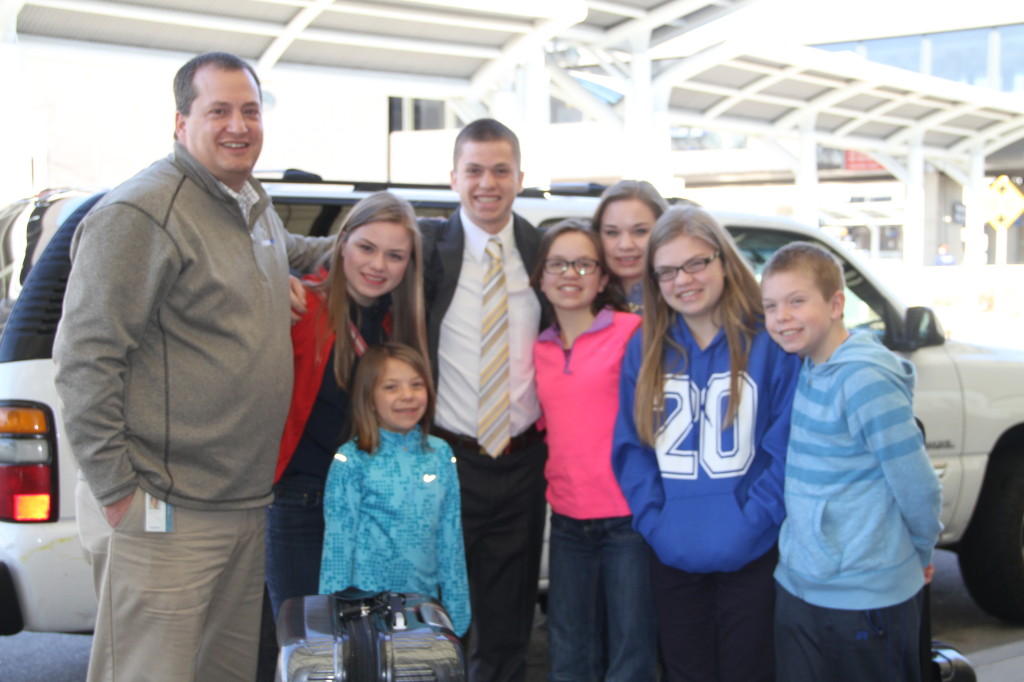 OK, so here's my new category for posting: Missionary Family.
I was going to call it "Missionary Mom," but then I remembered how the tears streamed quietly down my husband's cheeks the whole drive home from the airport. And how every person in our family is a part of this adventure.
So it's MF.
I'll begin by posting pictures from the night before Nate left, when he was set apart, and then the morning that he left.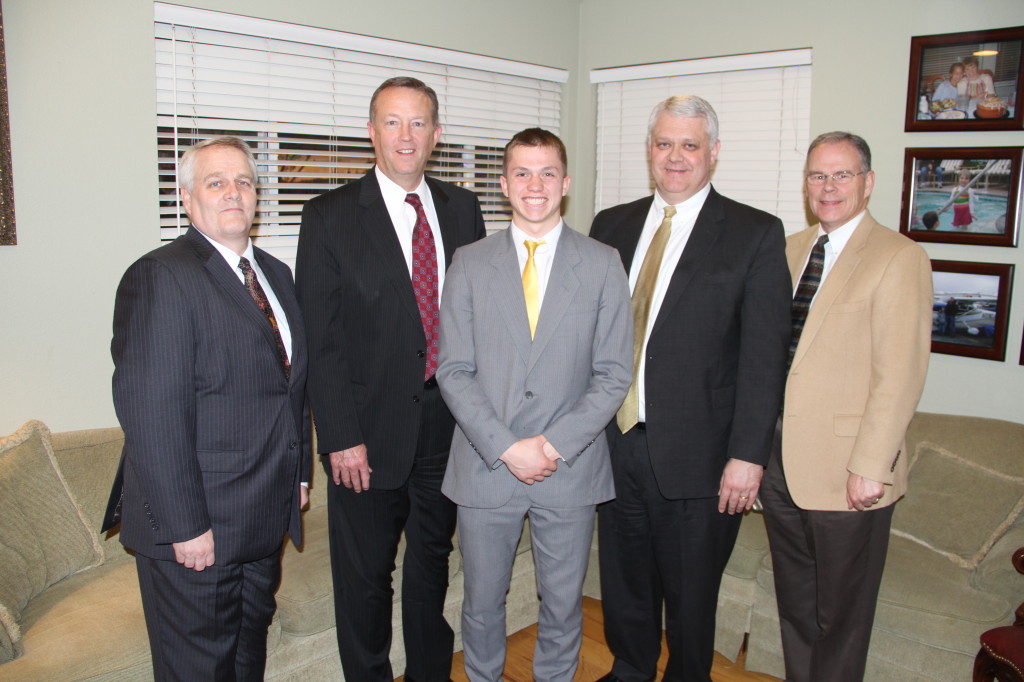 He was set apart (this means that someone holding the priesthood and having proper authority placed their hands on his head and set him apart as a full-time missionary in his mission and gave him a special blessing from God to help him in his responsibilities) at 7 pm Tuesday night.
We all gathered in the family room, tummies rumbling since we hadn't eaten dinner–Nate having gotten home too late after visiting friends and picking up his suit and slacks from being tailored. (He had to turn around mid-return because he'd forgotten the slacks!) He showed up just as the stake presidency showed up! Oh my…
The stake president conducted our gathering. One sweet detail from this moment is that he was set apart by one of my missionary companion's brother-in-law, who became our stake president 6 months ago.
To begin, the stake president invited me, Lane, and our bishop (shown above on the left) to share some thoughts. This was wonderful. I told Nate I was so grateful that he had prepared himself, kept himself morally clean, and was ready to go serve the Lord. Lane told him he was grateful I had prepared Nate from his infancy to do so. The Bishop said his wife had told him, before he (the Bishop) served his mission, that his service would be a covenant with the Lord, and that remembering that helped him during his service as a full-time missionary.
Then the stake presidency each shared some thoughts. President Davis shared that successful marriages are based on a 4-letter word: W-O-R-K, and that the love he felt in our home that night was a result of work that we had, as parents, put into our family. He also reminded Nate of the power of the Spirit to teach us about the Savior and his atonement, and how that will convert those who receive the gospel that Nate brings. President Adamson said that Nathan didn't have to like each of his companions, but he did need to love each of them. President Hansen talked about the gift it was to have his now-misionary son give him a blessing before he left on his mission. He shared how remembering the counsel spoken during that blessing has helped him transition into his new calling as stake president.
Then they set him apart, Lane and the Bishop participating.
Before leaving, President Hansen reminded us that we needed to call Nate "Elder Livingston*" from then on, and that tradition had it that if we forgot, we had to go get ice cream (we tipped our hats to President Kenison for this legacy!) :), and also that if we desired, Nate had the opportunity now to give each family member a blessing as a missionary.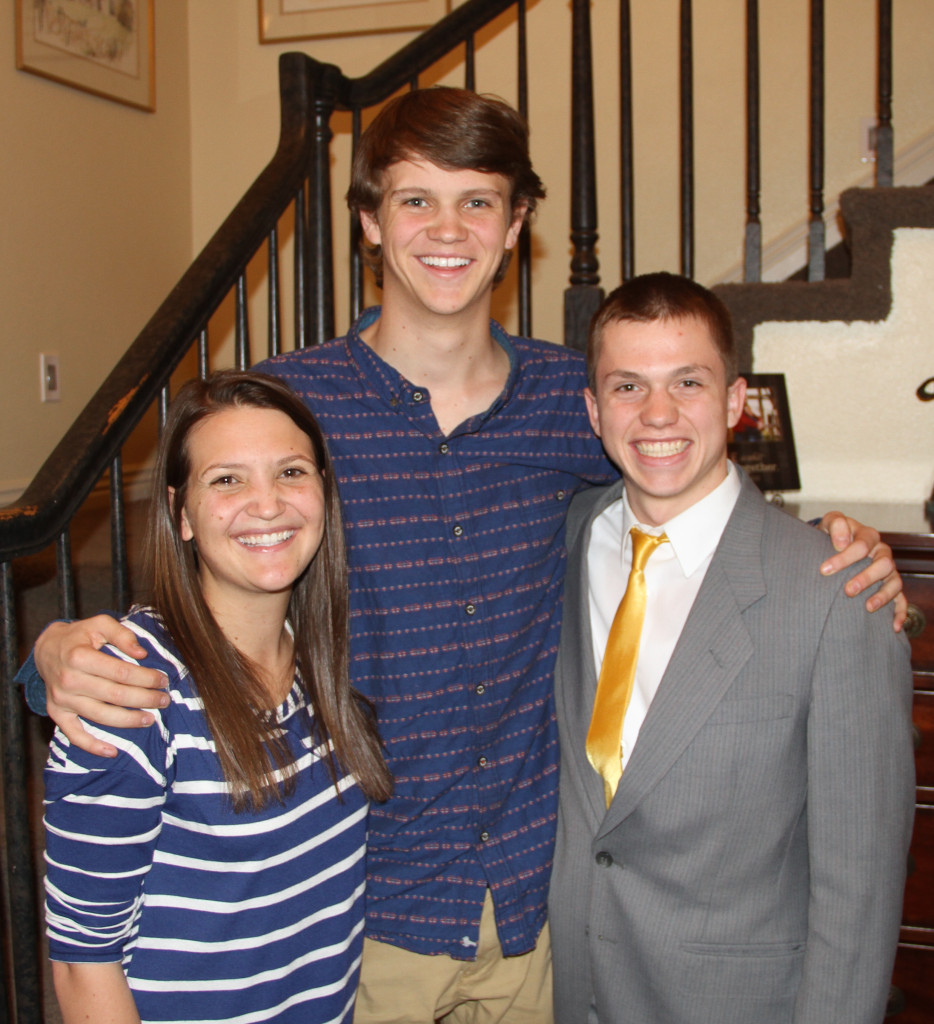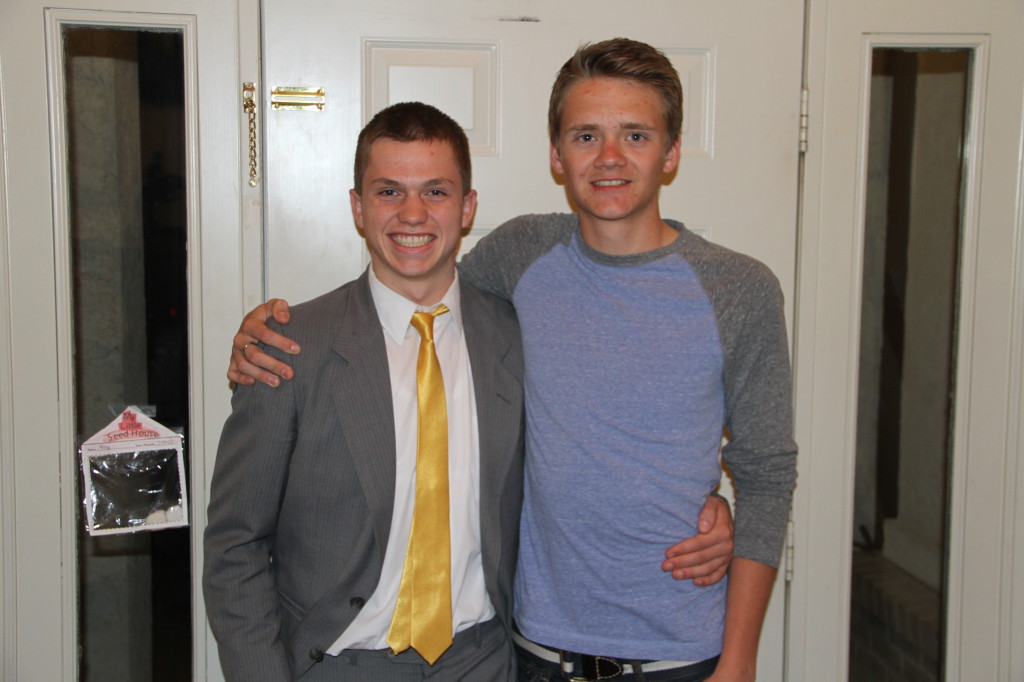 We said goodbye, and then a knock came at the door. We had three final friends come to say farewell, which was very sweet. Elder Livingston has many dear friends who we love and for whom we feel grateful!!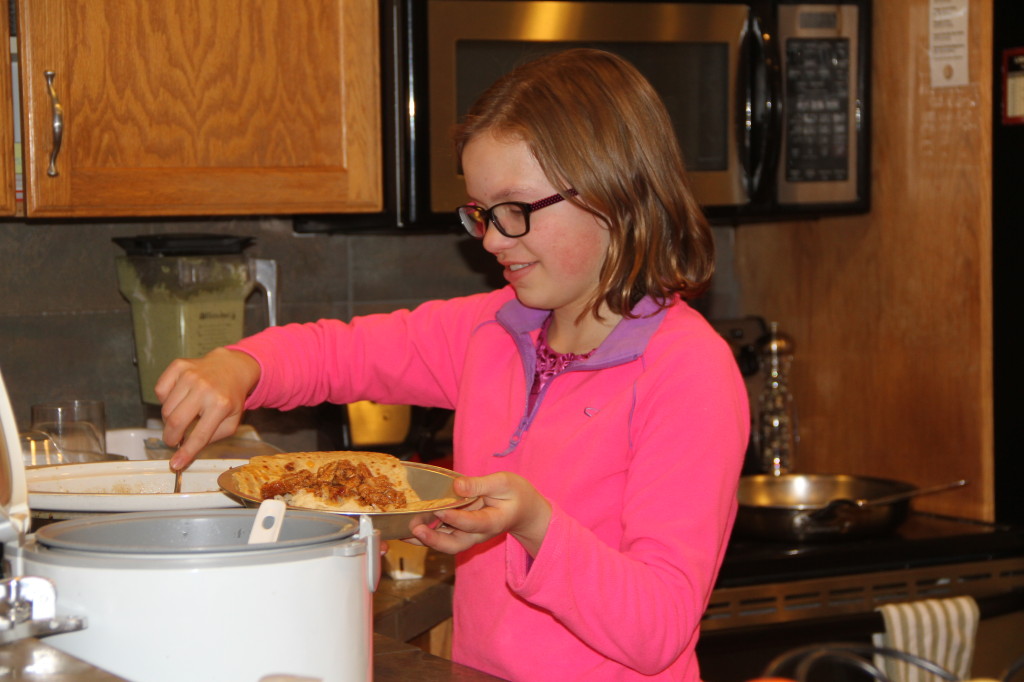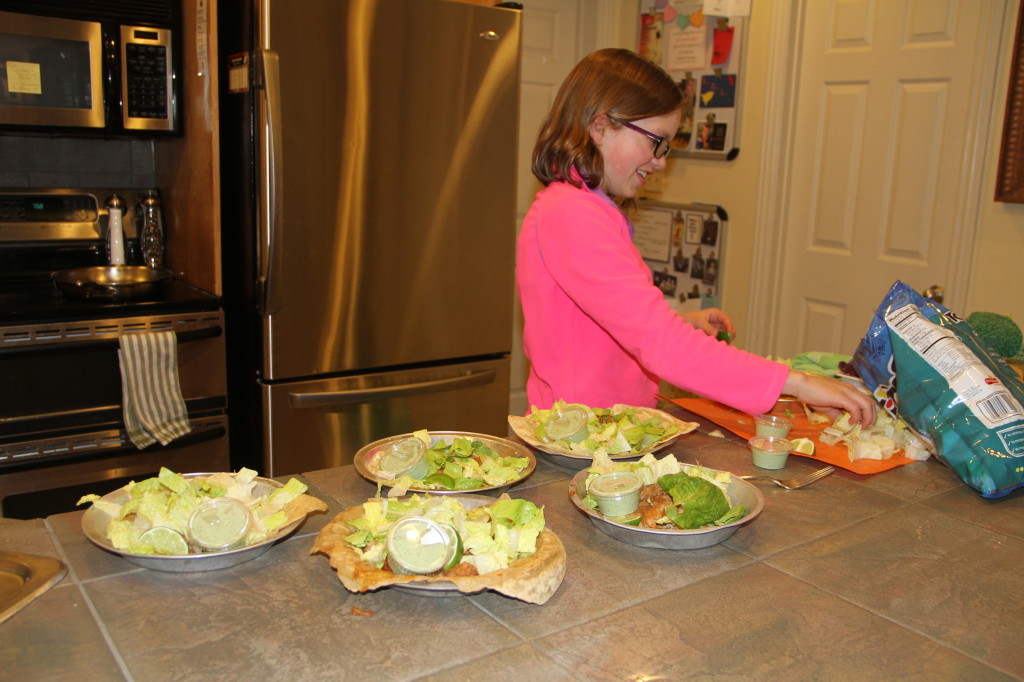 Then we sat down to dinner, which Eliza had so lovingly prepared. It was delicious! Anna began counting as we each forgot to call Elder Livingston by his new title. We were probably up to 19 bowls of ice cream by the time dinner was over.
By then it was maybe 9 pm? The family wanted Elder Livingston give them blessings. So we took turns, one at a time. We did half the family and then, because Lane was falling asleep (he had gotten very little sleep the night before, since they got up very early to go to the temple for the last time that morning), we decided to do the rest the next morning.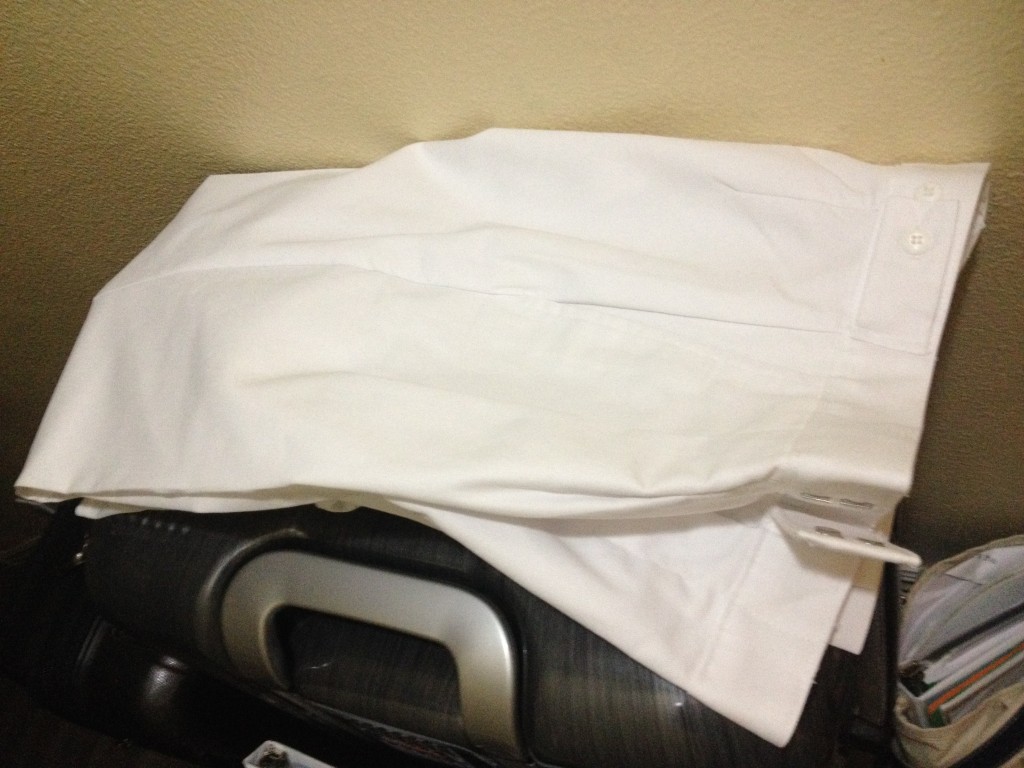 I kept working with Elder Livingston to finish his preparations. There was more packing to do, and he was finishing up some details online on the church website. He went to bed around 1 am. Lane had fallen asleep on the couch, and I was hemming Elder Livingston's white pants before I climbed into bed just after 2 am.  (Lane called to me groggily as he went upstairs, "Aren't you coming to bed? I answered from the sewing machine, "Who else is going to hem his white pants?")
It was a great night.
Remembering it makes me happy.
Happy Remembering,
Liz 🙂
P.S. In my posts, I'll call Elder Livingston by that name when I'm referring to him now, but I'll call him Nate when I'm referring to him about his life before (or after!) his mission.
---
---