Mmmm: Chazam!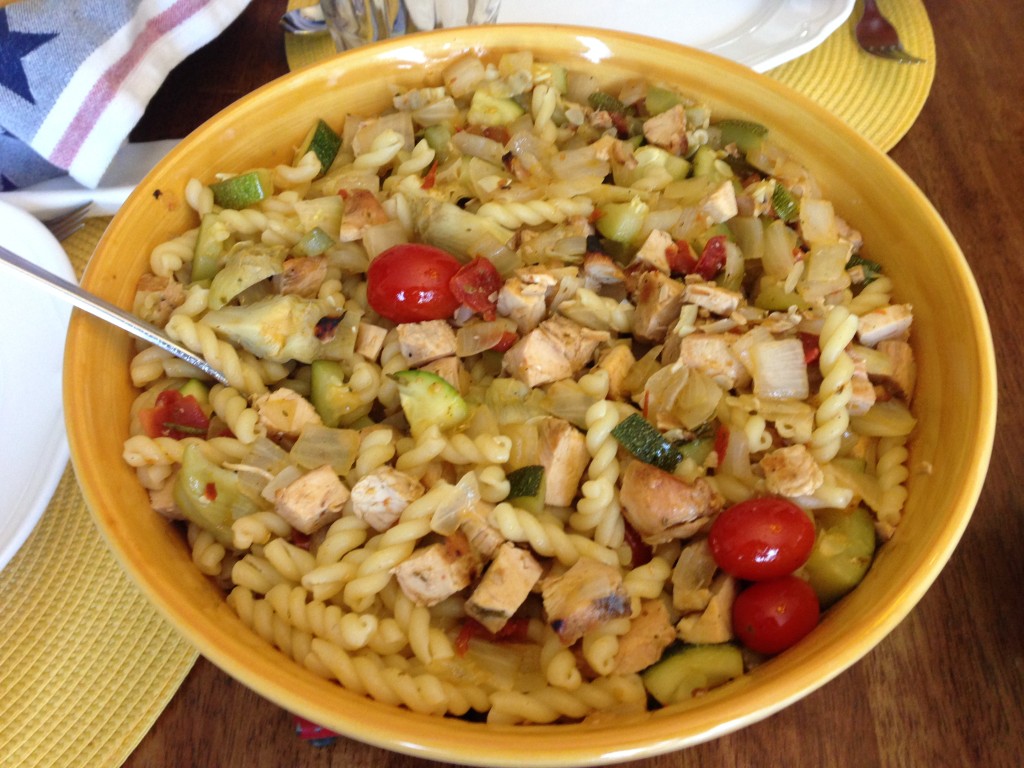 When we went to the Pizza Factory recently, I ordered a dish I like that I called "Chaz." (The name stands for chicken, artichokes, and zucchini, and it reminds me of "Shazam," which cracks me up and reminds me of an old TV show I watched sometimes as a child in which the superhero could change into his superhero self by calling out, "Shazam!" Lightning strike later, he was transformed.)
When I wanted to recreate this entrée at home, I named it "Chazam." Although it didn't come together as fast as lightning, it was a quick meal to make. And I LOVE quick meals!
I put this together when I had leftover grilled chicken breasts, zucchini from the garden, a few grape tomatoes leftover, and an opened jar of artichoke hearts. I grabbed another jar, the sun-dried tomatoes, and went to work. The Olive Garden salad dressing that Costco had recently added a nice flavor. Some shaved Parmesan cheese would have been a nice touch if I had used a fresh vinaigrette.
The great part of making Chazam was that my whole family loved it!
Happy Summer Cooking,
Liz 🙂
P.S. Mushrooms are not in my recipe, but they would be good, too. It is also yummy served as a cold pasta salad, which helps if there are leftovers!
---
---