Mmmm: Children dates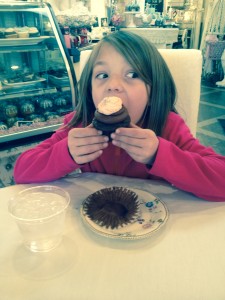 In anticipation of leaving for a week, I took Anna out on a date. I felt like she might need a happy memory to hang onto while we were gone. We hadn't done anything together alone for a long time.
So while Eliza was at dance, I tried to think of a fun way to find a snack for hungry Anna while we had this one-on-one time together.
Normally, I'm not one to indulge in desserts for snacks. Not normally.
But that day as I drove to the closest grocery store, I saw a little boutique that I remembered had a little treat section in it. I took her there.
To her surprise, I said she could pick out a treat. Her eyes and delight widened instantly.
After some deliberation, she picked out a chocolate cupcake heaping with frosting.
Just watching her eat it so carefully gave me great satisfaction.
We walked through the store after that, oohing and aahing at all of the fun things displayed with very large price tags! She had fun trying on this fabulous My Fair Lady-style headbands.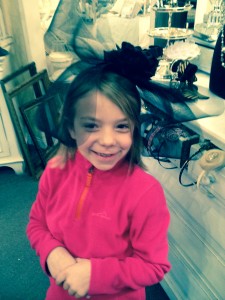 It was SO fun!
After that we drove off to explore the area, getting a little lost, but finding our way back just in time to pick up Eliza and return home. As we drove, Anna read aloud to me from The Penderwicks, and "a good time was had by all."
I remembered why dates with children are such a good idea.
Lane and I both think we need to get back to making those special memories with each child.
They are so worth it.
Happy One-on-One Time,
Liz 🙂
---
---