Mmmm/FF: Cinnamon Kettle Corn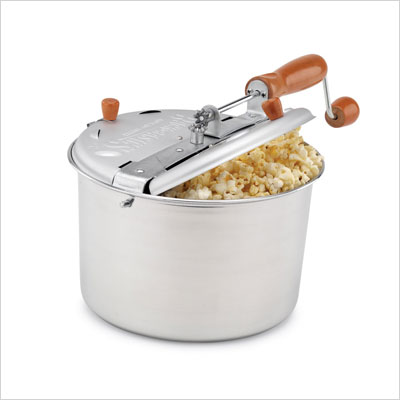 Friday night the wind was blowing a gale, so we invited some friends over, made cinnamon kettle corn and hot chocolate, and watched a movie.
Homemade cinnamon kettle corn is so delicious and a fast, healthy dessert option, especially when it's cold outside! We have an old-fashioned popcorn pan, which makes the process very fun for all involved to be able to crank and hear the popping.  (You have to be careful when adding the sugar and cinnamon. Last night when I opened the lid to add it, a drop of oil popped out onto my hand, and I dumped half the cinnamon on me and the floor! Oops! Next time I'll try to remember to wear a glove while doing that part….)
I got the recipe from Chef Brad who has lots of great ideas for using grains.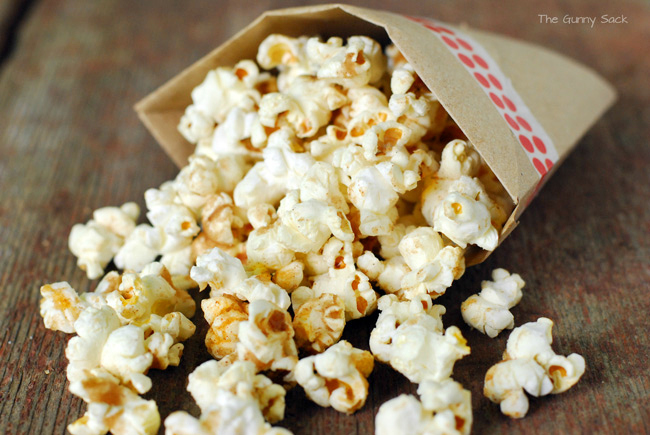 This blog (The Gunny Sack: click on photo) shows how to make it using brown sugar, as well as a cute brown paper container. (I'm always amazed at what cute, creative things other women think to do!)
Happy Popping,
Liz 🙂
P.S. If you don't have a stovetop popcorn pan, here's a recipe for caramel popcorn that would also be delicious.
---
---