Mmmm: Homemade Caramels and Homeless Sack Lunches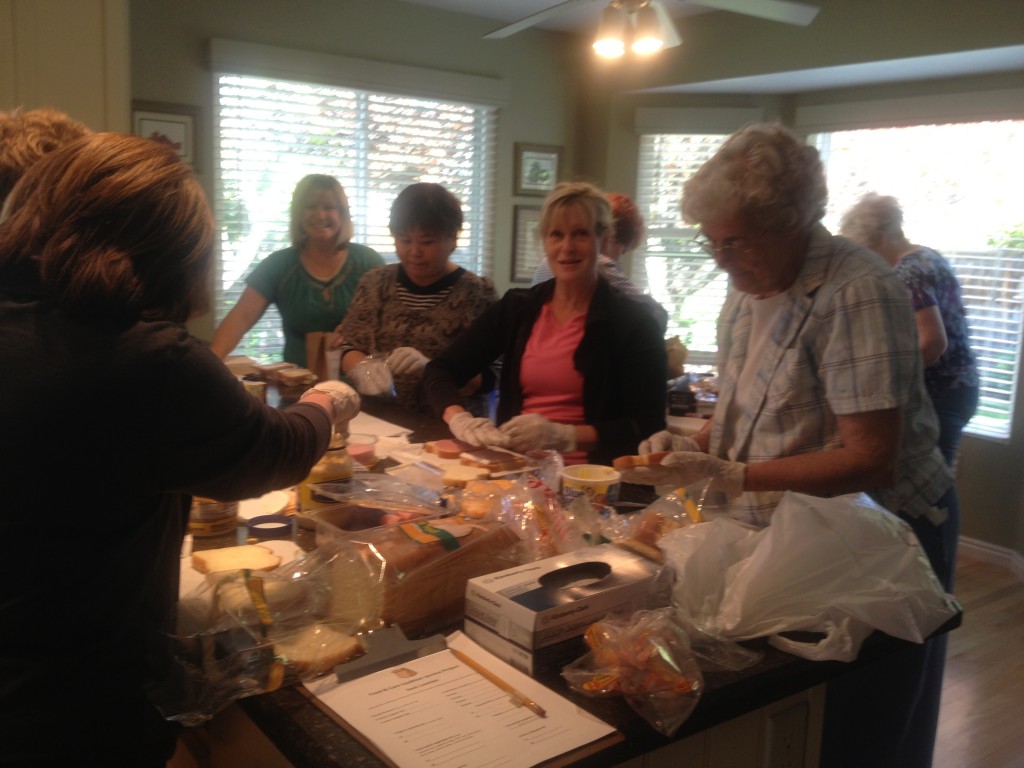 I stopped by a friend's home this morning to see my wonderful Relief Society sisters packing lunches for homeless folks. I had to take a picture of them because it made me feel so happy seeing this great idea in action! I especially loved seeing my friend whose daughter gets married this week putting her own plans aside to feed others.
Mother's Day was so fun yesterday! All of my children and my husband were so dear to me!
Sarah saved me (again). I asked her if she would make me homemade caramels for Mother's Day. I needed to have a little gift for my Primary children to give to their moms, and the thing I wanted to get them at the grocery store was twice as much as previous years. At another store I saw some caramels and remembered we had cream in our fridge. I thought I would be able to get them made on Saturday, but "my estimator is broken," as a friend of mine wrote, and so late Saturday night I asked Sarah if maybe…pretty please…could she possibly…would she like to make them for me?
So she did! Such a sweetheart…
Here is the recipe  for Homemade Caramels she found and used. Going in the family cookbook for sure!
Happy Savoring,
Liz 🙂
P.S. A word to the wise on gifting caramels: We were late, and so I didn't wrap the caramels in wax paper. They will still a little warm, and in my church bag, they got squished (in their individual baggies, thankfully) into one big blob of caramel. Not quite as attractive! At least they still TASTE good when squashed! 🙂 Story of my life.
P.P.S. I will try to post some other recipes besides dessert! I'm also going to post menus, since I love remembering menus. Yesterday for Mother's Day dinner my family made baked salmon, mashed potatoes (russett and sweet potatoes combined–yum!), artichokes, corn on the cob, warm rolls, and TWO desserts: angel food cake with berries and crème Anglaise AND beautifully decorated cupcakes from our sweet neighbors! Yep, we were ridiculously well-fed.
---
---