Mmmm: Lavender Lemonade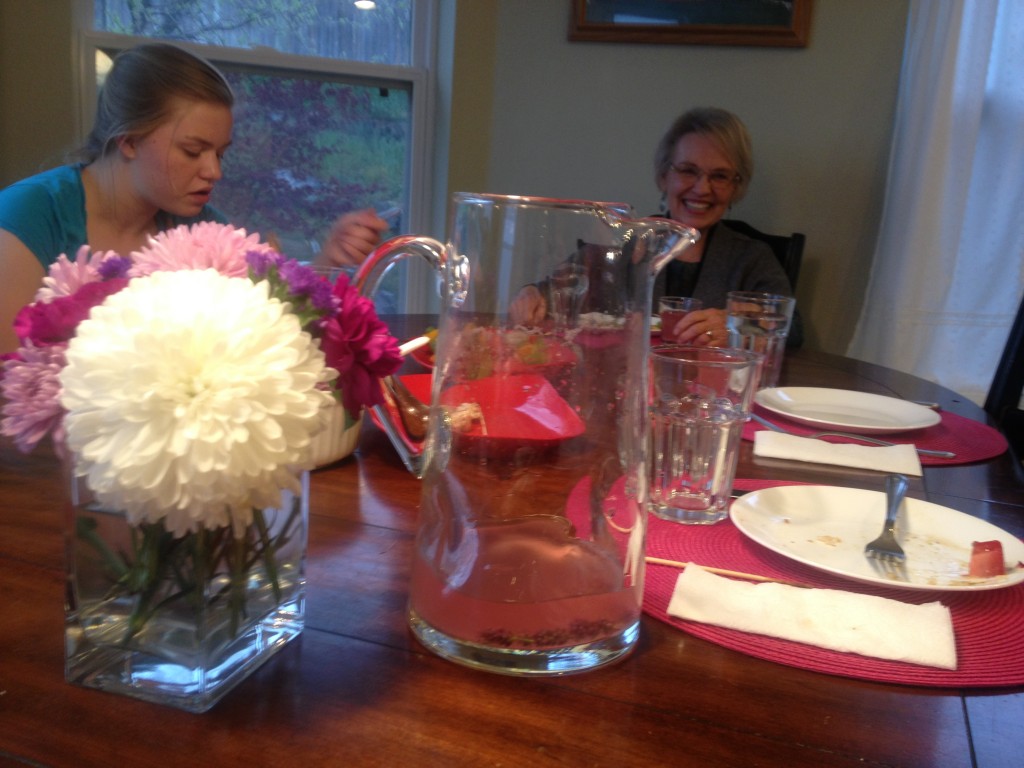 I don't sleep very well sometimes. Let me rephrase that. I fall asleep easily and sleep deeply until I have to wake up to go to the bathroom. Then my mind is AWAKE and it can be very difficult to get back to sleep. When I get into a string of days like this, it can be hard to get back to sleeping enough.
My wonderful friend Khristine stopped by on her annual visit. We've been friends since BYU days when we both graduated in the craziest of combinations: French teaching and Special Education. Perhaps we are the only two women to ever have done that at BYU. And we were studying it at the same time! We also got married a few months apart and started having children at the same time, not because we planned it this way. It just worked out like that. We had one major change that allowed us to continue a fabulous conversation about education over the years: she homeschooled and I, after home preschool, did not. I wanted to, but didn't. (That's a post for another day.)
So we've had such a great time comparing notes over the years, and each year she treks out to Utah for Women's Conference. And we cram in as much visiting as we can! Last weekend we commiserated over sleep challenges. She recommended some essential oils that help her to sleep: an oil blend of lavender, sweet marjoram, Roman chamomile, ylang ylang, sandalwood and vanilla bean. I went and bought some, even though it was very expensive. (I was feeling pretty motivated to find something that could help.)
I used it last night and slept all night, falling right back to sleep after my potty trip.
We'll see if it continues to help…
(Almost anything helps the first night!)
I was SO thankful for the good sleep and was thinking about lavender when I thought of the song "Lavender's Blue." That gave me an idea for what to teach my kindergartners today in music. So I wrote up a lesson plan and prepared the visuals. Then I headed over to my favorite nursery to find a package of lavender seeds and a little lavender plant. (The one I have looks dead, not having come back from winter yet, and is in a huge pot weighing at least 50 pounds.)
Susie, one of the really nice ladies who was helping me at the nursery, told me about her favorite recipe for Lavender Lemonade. I am going to try it later on today for dinner. I'm posting the recipe, because I really love stuff with lavender in it (my mother-in-law makes incredible lavender-herbed pecans), so I am guessing this is a winner recipe! (If I don't love it, I'll find another one.)
Happy Sipping,
Liz 🙂
P.S. I left the blossoms in the pink lemonade because I thought they were pretty! Lavender is edible, but not so yummy. My sons could tell you that from the lavender-eating video they made…
---
---