Mmmm: Liquid gold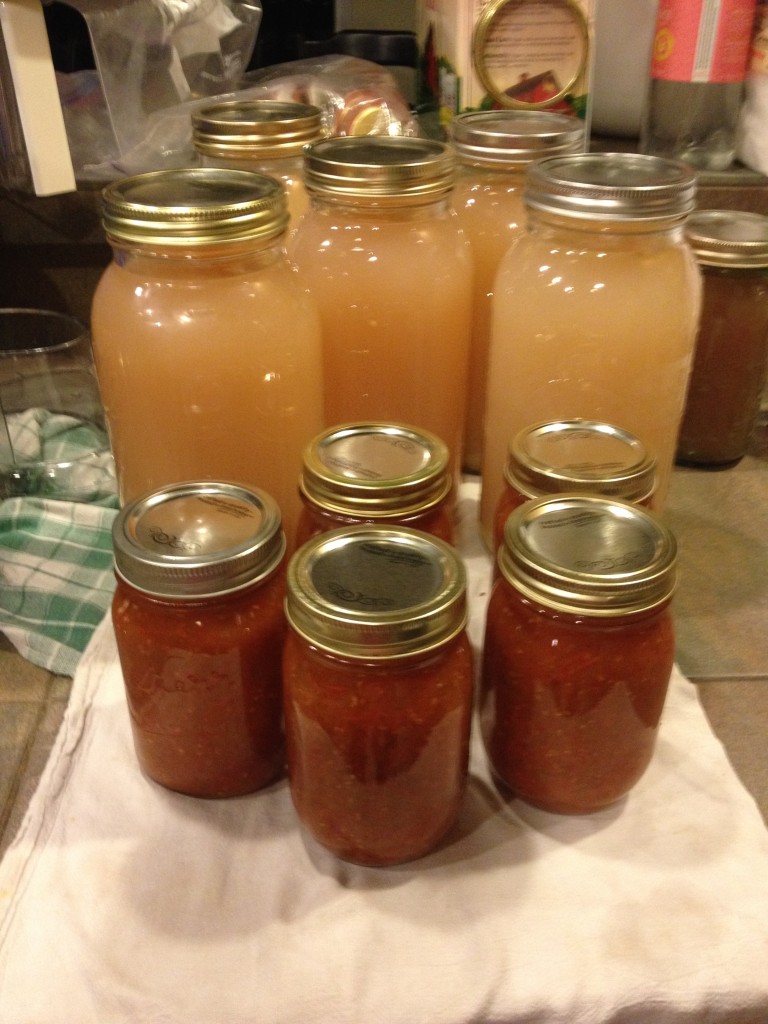 When the grapes are ready, and they are practically falling off the vine for ripeness, we simply have to make time to make homemade grape juice.
We pull out the shiny steamer juicer, the old black enamel water bath canner, and carry up the half-gallon jars to wash in sudsy water. We spread clean rags on the counter, tip the rinsed jars onto them, and gather new lids and old, clean bands.  Then we pick great, big bowls full of yellow-green grapes of unmatched sweetness and rinse them. Then off the grapes come from the stems, and we pour them into the juicer. And wait an hour. Or so.
Suddenly one of us notices that juice is dripping onto the rag-covered stool below the juicer! It's time!
We grab a jar and stick in on the kitchen stool below. Out pours the boiling hot juice at first, then the flow slows until it is just a drip. We grab our potato masher, lift the juicer lid, and press down on the now-steamed grapes, helping them burst and spill their precious juice into the pan. More juice flows out the rubber tube into the bottle. We press and watch, swiftly switching bottles as one fills and the juice continues to flow. Two huge bowls of grapes fills 3 half-gallon jars with juice, and we put heated lids on the jar tops, securing them with the bands. These grapes are so heavenly sweet we can hardly bear to save the juice for winter! So we sip a little from measuring spoons.
Into the hot water bath the bottles of liquid greenish-gold go. With the black lid back in place, we watch for the first signs of steam to escape.
Our first batch begun! And on goes the timer! 20 minutes to process (at our altitude), then back out onto the counter.
Come back an hour later, and you will see the magical transformation. White grape juice? It's a misnomer! Behold the wondrous pink hue of our liquid gold.
The reward of one year of waiting while the grape vine sleeps, then sprouts, then grows, then bears, and finally shares her fruit.
NOW winter can come! We will have hot grape cider to sip when we walk in the door from school….
Happy Canning,
Liz 🙂
(We canned the juice last weekend when it was SO HOT outside! The girls–and an added friend–didn't complain, knowing how worth it this hot stickiness is!)
---
---