Meeting Lane

I met Lane 21 years ago today.
We met in the university library computer lab. I was trying to print out the poem "Birches" by Robert Frost, which was actually a font sampler for an Honors class called "Document Design." (More details here.) I couldn't get the lab printer to print (too many fonts was overloading the printer memory), and he offered to help.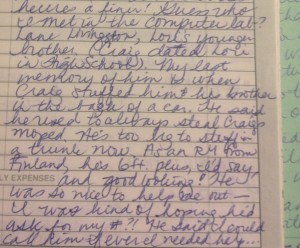 He got the printer to work, and I got the project done. Later, after some effort, I decided to thank him for his help by simply dropping off a little note. (After all, he had said that if I ever needed anything, to call…)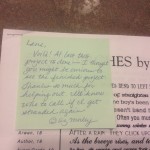 Seriously, if there is one story that could sum up the pattern of our lives together, that single event could be it. (Lane is nodding. I can feel it.)
I get a project in my mind that ends up being overly ambitious and requiring special help. I can't end up completing it without Lane's help. Thankfully, he is a total team-player: he believes in me and helps me find a way to accomplish it. Kind of like right now: trying to create a curriculum for our school music program while still doing my regular crazy stuff. I get overwhelmed and want to stop. He says, "You can do this! You are doing great! You can't stop now!"
To escape, I hide away in my room to write or sleep or cry or dream (of vacations in which I can read/sew/quilt/learn to paint/be in the warm sunshine/not have to settle arguments between children all day, have someone else cook the meals and do the housework). He will find me and ask, "Would you like oatmeal or Red River for breakfast?" and tells me to go get showered.
Fast-forwarding 21 years, we both can hardly believe we're almost to where our children are the ages we were when we met.
SCARY! We both had enough confidence for 10 people! Now we laugh at how little we knew, and we enjoy seeing how our oldest children have traded places with us, thinking they know it all–which is as it should be, or they would never have the courage to make the choices they need to in order to move forward with life and begin the amazing journey of college, work, missions, marriage and parenthood.
Like Pat Holland's dad told her, I joke that "the rocks in [Lane's] head [have helped] fill the holes in [my head]." So happy we found each other…
P.S. If there is one lesson I hope this teaches my children, it's this: it PAYS to say thank you.
Years ago I framed the project and summary page from my Document Design class final portfolio to give to Lane for a gift. The photo below shows the comment my teacher wrote.
---
---