New year, new bulletin board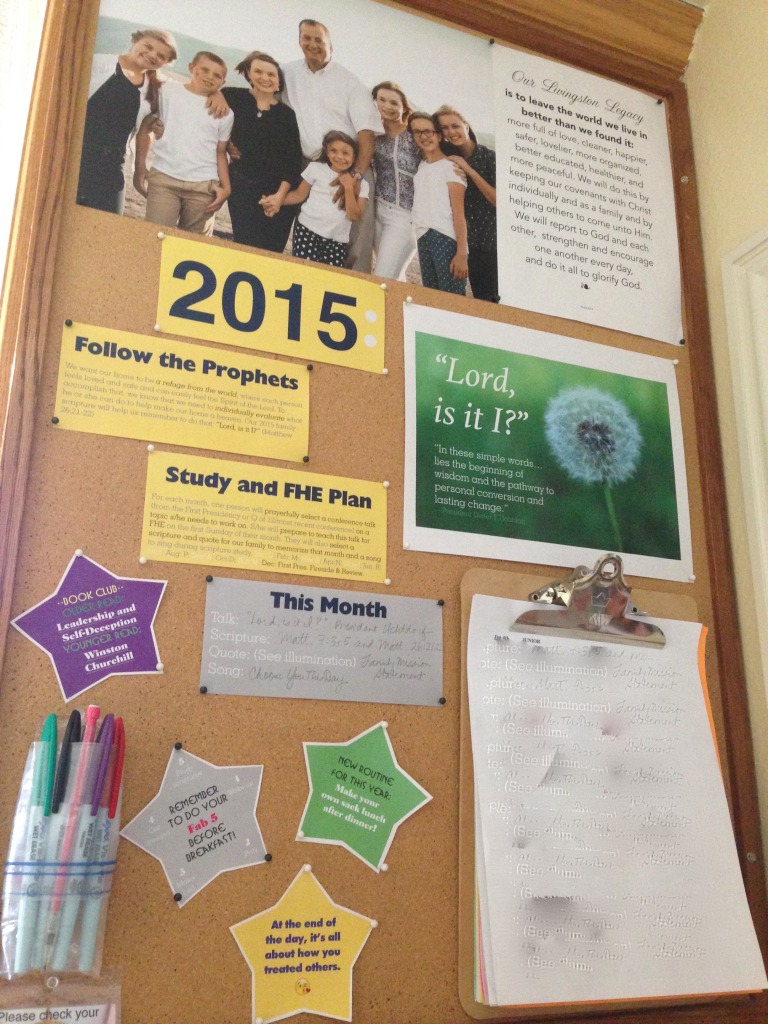 Something I really love to do as a mother: create visual aids to help communicate to my family what our goals are.
(I should say that something I have always loved to do, since I was a child, is decorate bulletin boards.)
I don't know how effective it is, but I love to do it nonetheless.
This year our family theme is "Follow the Prophets," with special emphasis from President Uchtdorf's talk, "Lord, is it I?" and after discussing it, we decided to postpone reading Something Beautiful for God for our January family book club older read and study instead Leadership and Self-Deception. 
We are making two small changes in our routines. First: we're working on making lunches after dinner. Each person is to make their own lunch, but we do it together. We hope that this will help us become so easily accustomed to doing so, that when they leave for home, we will not feel it a burden to make lunch for ourselves. Eating out is so costly and not always the healthiest choice. Sometimes it is very wasteful and more time-consuming that simply making and taking a lunch. So we want to nurture this self-reliance habit this year.
Second, we've invited the children to select general conference talks for FHE study and for family goal-setting, as well as the scriptures, quotes, and songs for memorization to go along with the talks. We'll see how that works out. The last time we made a change like this was to our scripture study, and we have really enjoyed having our children have more leadership and participation in family study because of it.
I love the New Year! New goals, new routines, new focus…and a NEW bulletin board look! 🙂
---
---