Mmmm: Oatmeal Pancakes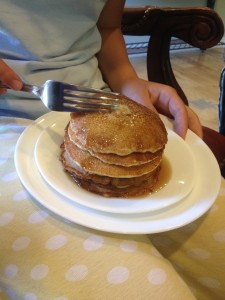 One day at scriptures recently, Eliza showed up with a stack of pancakes to eat while the rest of us got a whiff of something delicious and drooled.
When Lane and I were returning home from Miami, we sat on the plane next to a darling mother who loves to eat healthily, and I told her about my favorite pancake recipe. (These pancakes that Eliza made are not the recipe, but I just cracked up at this photo and had to stick it in to remember her.) It's oatmeal pancakes! I had never thought to put oatmeal in a pancake, but when I bought a recipe book years ago written by a nutritionist and her mother, I tried more than a few new recipes. And this one was a keeper. It's been a hit with our children and with company. We've even made mixes to give away for Christmas gifts to friends!
It's worth the effort to make the from scratch, when you have the time. (I used to make dry mixes of these and stick them in Ziploc bags in the freezer).
Happy Breakfasting,
Liz 🙂
---
---