Mmmm: Refreshing Summer Dinners and Desserts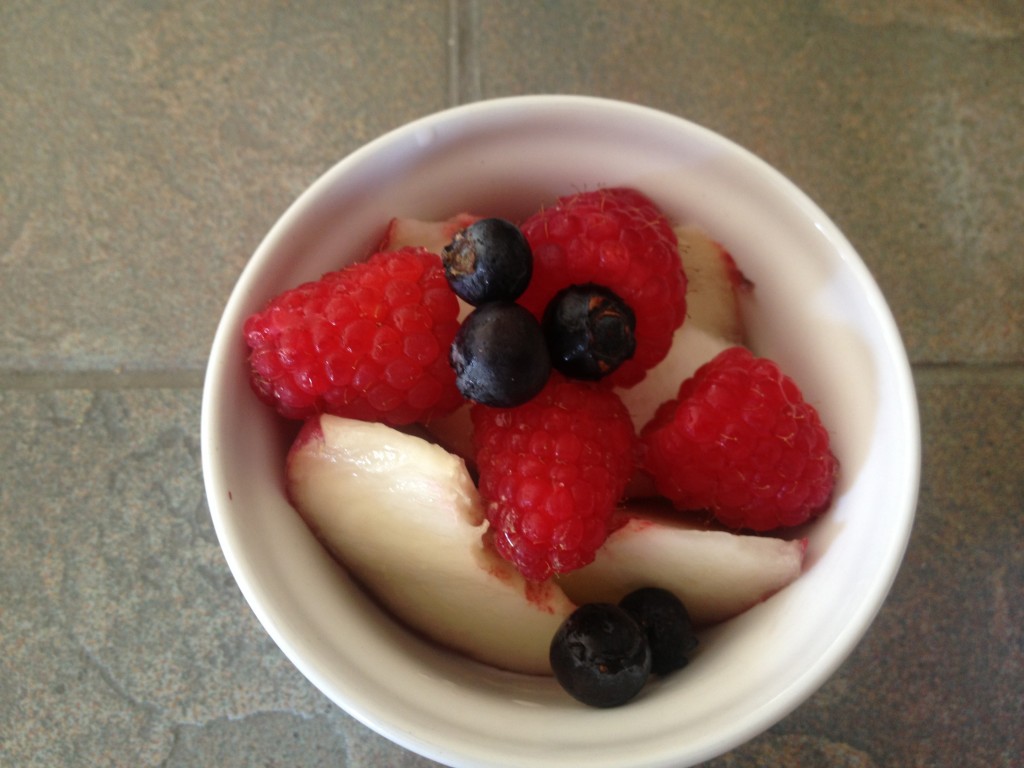 Summer might be the best time of the year for eating. I love being able to eat the fresh fruit and vegetables that are so abundant this time of year! Tonight's dinner was so yummy, I wish you could have been here to join us.
We had Cucumber Dill Salad; teriyaki chicken and jasmine rice; green beans with butter, lemon zest, and fresh nutmeg; and peas freshly shelled very reluctantly by Peter.  He really wanted to play a game on the computer, but much to his chagrin, it was his night to be my dinner helper. "See! I won't have any time left to play before dinner [because of shelling peas]," he lamented. "It isn't the end of your life," I replied. "Practically!" he mourned. Ah, drama. Gotta love it, 'cause there's plenty of it in our house!
The slices of white peach in the fruit cup shown above were SO sweet: if you haven't had a white peach, you should try one if can! We had the fruit cup with cream drizzled over the top and a warm cinnamon roll for dessert. I am happy as a clam after a dinner like that. Fun place settings, yummy summer fare, family I love eating it with me. That's my fave.
The other night we had another favorite meal: Thai Green Curry Shrimp, along with Mint Lemonade Freeze. (Recipe note: instead of almond milk, I used lactose-free milk, which I had on hand. It was good that way as well. So I am sure you could just use milk or almond milk or whatever you want in this freeze.) I would have served the drink as a dessert, but because we were heading off to see "The Sound of Music" musical and had to leave soon after dinner, I served it with the meal. This actually worked out well, the cool mint balancing the mildly spicy green curry.
Dinnertime can be such a great memory-making time. Even when I'm not in the mood to make dinner, and have to pray for an idea of what to make and the energy to make it, then a good idea comes and it all comes together. Then it's so worth it!
Happy Summer Dining,
Liz 🙂
P.S. I'm grateful for the mentors I've had in helping me get better at creating yummy family dinners: my mom and my dad, both excellent cooks; my mother-in-law; my sister, Bex, who makes more amazing dinners on a daily basis than anyone I know; and The Food Nanny and Chef Brad, who have really been a source of encouragement via their cooking shows that I started watching a few winters ago while running on the treadmill. If you're in a slump with cooking, watch one of their episodes and you'll get some inspiration!
---
---