Mmmm: What a change of scenery can do!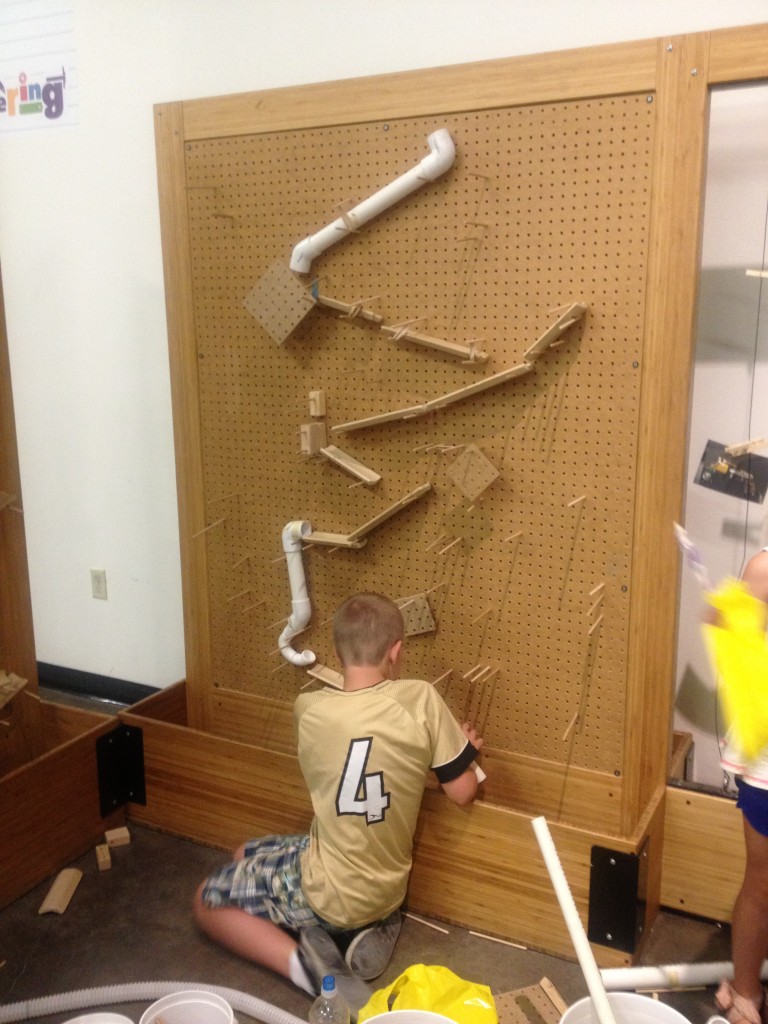 Wow, today was SUCH an improvement over yesterday! I told the children that we were going to get our jobs done, pack a picnic, and, with a few of their friends, be out the door at 11 am for Thanksgiving Point. That got everyone's attention, and we all got moving.
It still took us until 11:30 am to be out the door. Seriously, I do not estimate time well.
The hilarious part was that once we got to Thanksgiving Point*, where there are so many places to enjoy a picnic, the children chose a shady spot under three trees in the middle of the parking lot! LOL! But it was a great place close to the museum, and we ate our sandwiches, fruit, carrots, chips, and cookies and then had a cherry pit spitting contest. We saw a newspaper article about the world champion pit spitter (who knew?!) whose nickname is "BB Gun," and we thought we'd see who our champion might be. Pretty hilarious! (Lauren M. won.)
The museum has a new exhibit, "Tinkering,"** which is FABULOUS. We spent nearly all of our time there! So many cool things to try. We left a few hours later, happy and ready to go, although we want to go back for more discoveries another day. Hooray for summer!
We went to the library immediately after our museum trip, and I read to some children about the history of famous American summer foods: ice cream cones and hot dogs. These two wonderful books share those stories:


 (Ice Cream Cones for Sale! and Hot Diggity Dog)
Here are two others we read a previous week about the story of hot air balloons and Jacques Cousteau. I recommend both!
And then we came home to have a easy prep dinner: baked fish (20 minutes in a 350 degree oven with butter and lemon pepper on top), fresh corn on the cob, fresh green beans, and hot biscuits. Biscuits are easy and fast since they don't have to rise. Add a little butter and jam on top, and they are mouth-watering. And I'm not even from the South!
So I wanted to record this day because it just reminded me of a pattern that has been repeated hundreds of times for me as a mother: one challenging day doesn't mean that the next one can't be enjoyable and fun. Sometimes all it takes is an outing, a change of routine, a change of scenery. A little "picky-nicky" can do the job, or a museum visit, or a library trip, or all three. And then end the day with a perusal of the newest American Girl doll catalog (my daughters both dream as they flip the pages) and a chapter read aloud from Where the Red Fern Grows (yes, we are still reading it), and life just feels satisfying.
Good night,
Liz 🙂
P.S. Funny. You know who used to say to me, "Sometimes change can be as helpful as a rest?" Yep, my mom.
* Your child(ren) can earn a free ticket to the Dinosaur Museum at Thanksgiving Point (where the Tinkering Exhibit is) through the Orem Public Library summer reading program!
** You know what is ironic? This exhibit originated in the Exploratorium in San Francisco, where we used to go when I was a child! I LOVED trips to the Exploratorium!
---
---