Mmmm: Quiche Lorraine
I mentioned that cooking isn't my ultimate pastime, but I DO love to eat a home-cooked meal with my family. So that means I'm cooking. And meal-planning.
I meal plan because it saves me time, money, and emotional energy! "If ye are prepared ye shall not fear." I like to meal plan on Monday mornings–my foundation day–so that I can go shopping and spend less. It's so easy to overbuy  when it comes to grocery trips.
Just before last week, my 9-year old son asked me if we could have a week of international dinners. I nearly squashed the idea right off, since this time of year is akin to the Christmas holidays in busy-ness: soccer games, rugby practices, golf, dance, private music lesson recitals, school concerts–sometimes we have 3 activities for 3 of the nights in the week. OVERLOAD!
To boot, last week was when we had our school benefit concert in which I had a part, and so I was not wanting to go the extra mile in my meal planning.
But something made me pause and not say no just yet. We were having company for dinner last Sunday–some friends from Peru. They brought the most delicious purple corn and apple drink and melt-in-your-mouth shortbread-type cookies. So already we had a partly-Peruvian dinner. I decided I could give it a whirl without too much extra effort.
I pulled out my phone and the Children's World Cookbook and started planning. I had more ingredients on hand than expected, so it didn't end up costing a ton to do. We started the week with paella from Spain. I purchased some shrimp and mussels–one mussel per person, guessing that the experience of eating one mussel would be enough. It was SO much fun hearing everyone's reaction! I can't find my little scrap paper on which I wrote down what they said, but when I find it, I'm going to insert the quotes in this post!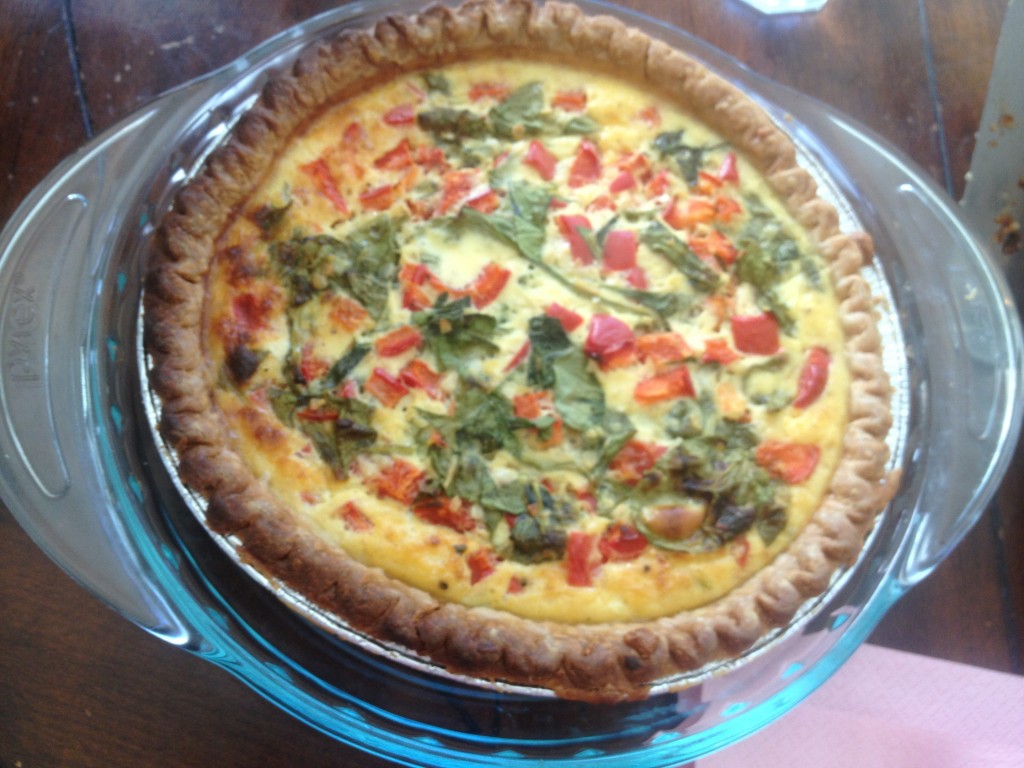 (My photos are from my phone and not going to win any awards. WYSIWYG. My family LOVED this quiche. SO easy. I have to make this again.) Tuesday we had American hamburgers and fries, Wednesday was French quiche (we were going to have salade niçoise, but I ran out of time) and French bread, Thursday was Indian curry with jasmine rice and naan, Friday was Danish abelskivers with lingonberry jam, blueberry juice, and Swedish chocolate (gotta love IKEA), and Saturday was Italian pizza with fresh basil. Because I was able to swing by Trader Joe's, we even squeezed in some English crumpets on Sunday morning.
It made the week SO much more fun! I was SO glad my son asked me and that I said yes.
Since my family loved the quiche so much, I'm including the recipe for Quiche Lorraine.
Bon appétit!
Liz 🙂
P.S. When have you taken a request from a child, done it, and ended up making a marvelous memory?
---
---