Mother-daughter moment in Midway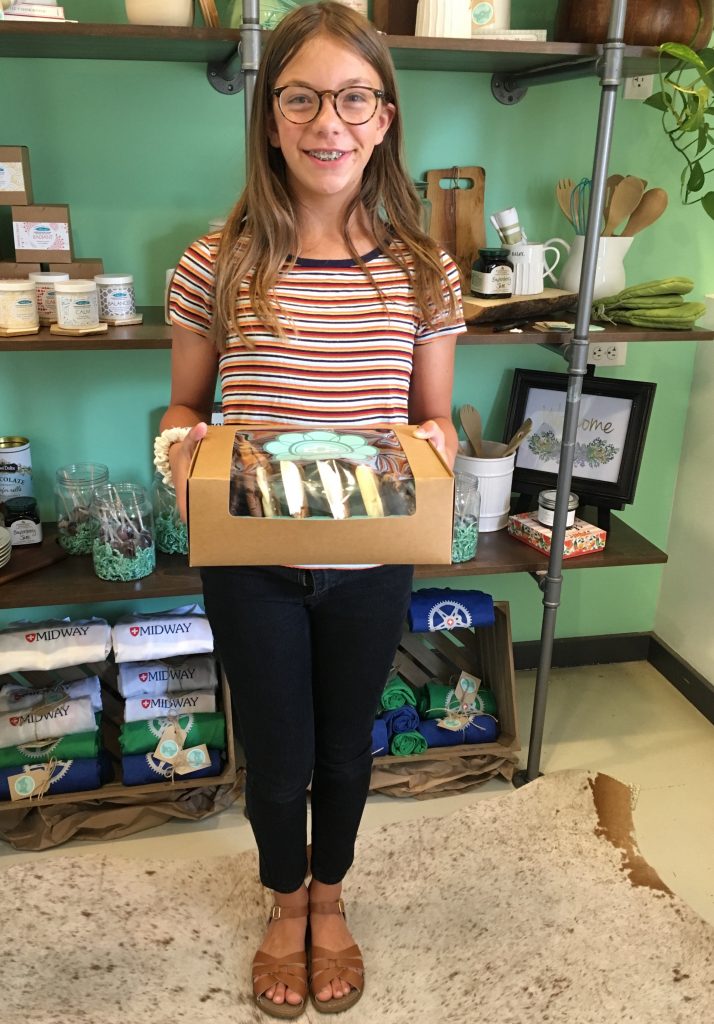 God has sweet surprises awaiting us as mothers. These "golden moments" often come as unanticipated, unplanned gifts along our way.
Lead company
Anna and I ended up being the "lead company" for our family vacation this past week. While others in our family had work and commitments to keep before they arrived, Anna and I drove up to Midway with the food from our fridge (and some from the grocery store), our game basket, a few books and magazines, and our luggage to arrive earlier. I brought our whole fruit basket from the kitchen counter and stuck it in the car. We ended up with a half-day together all to ourselves before the rest of the family arrived. This was a special treat that we hadn't expected!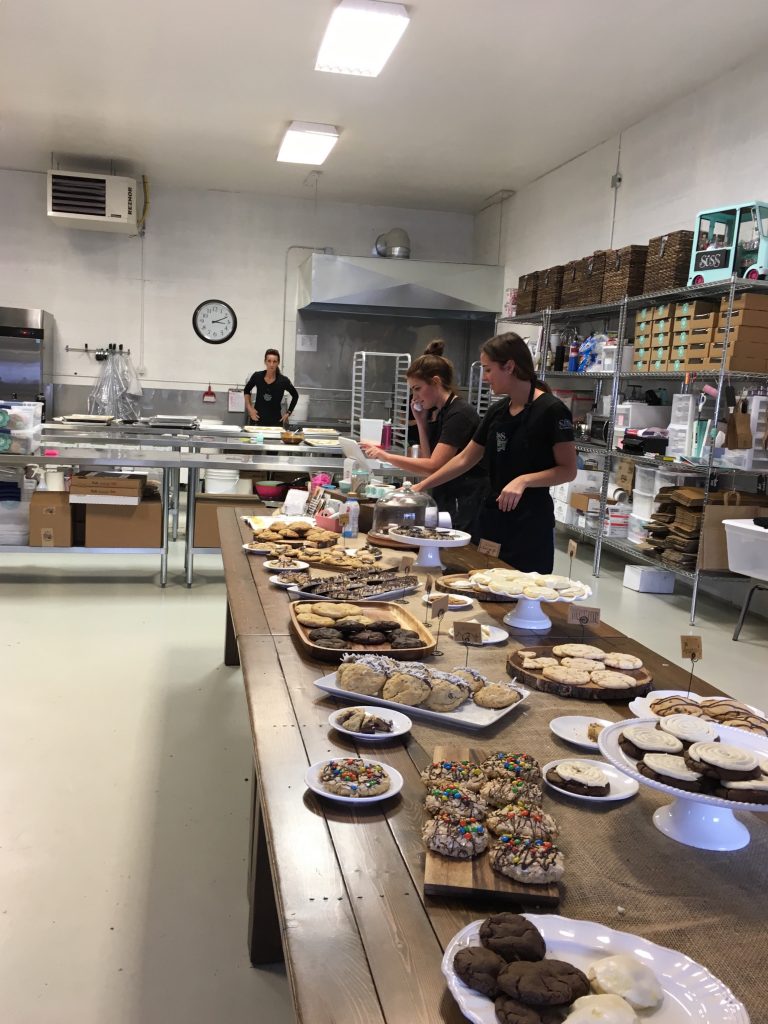 Süss Bakery
We were pulling into town when we drove past a cookie shop that someone had told me about once. We stopped to see what it was like. Wow! What a bakery! They had samples of every cookie that you could try, and they invited us to taste as many cookies as we wanted. Since we were both hungry, we happily accepted their offer! Talk about delicious cookies: after our tasting, we decided upon a dozen (one of each flavor) to bring back to share with everyone.
Setting up home
After we got to our hotel, we piled the Costco insulated bags, grocery sacks, suitcases, game basket, fruit basket, and box of cookies onto a luggage cart and hauled it to our room. It took both of us (one steering in front and the other pushing from the rear) to get it there! We popped the box of cookies into the freezer until Friday night (when Sarah would arrive) and started setting up "home." Anna arranged everything beautifully in the kitchen. (Somemtimes I bet it's nice, when you're the youngest, to not have everyone else around so you can do what others take over and do when they're there.)
Back to town
Once we were all done, we got back in the car and drove back to town. Midway is tiny and utterly charming. We stopped at the little grocery store to buy Anna's fruit drink and then visited a consignment shop, a quilt store, and an interior design studio before heading back to the hotel.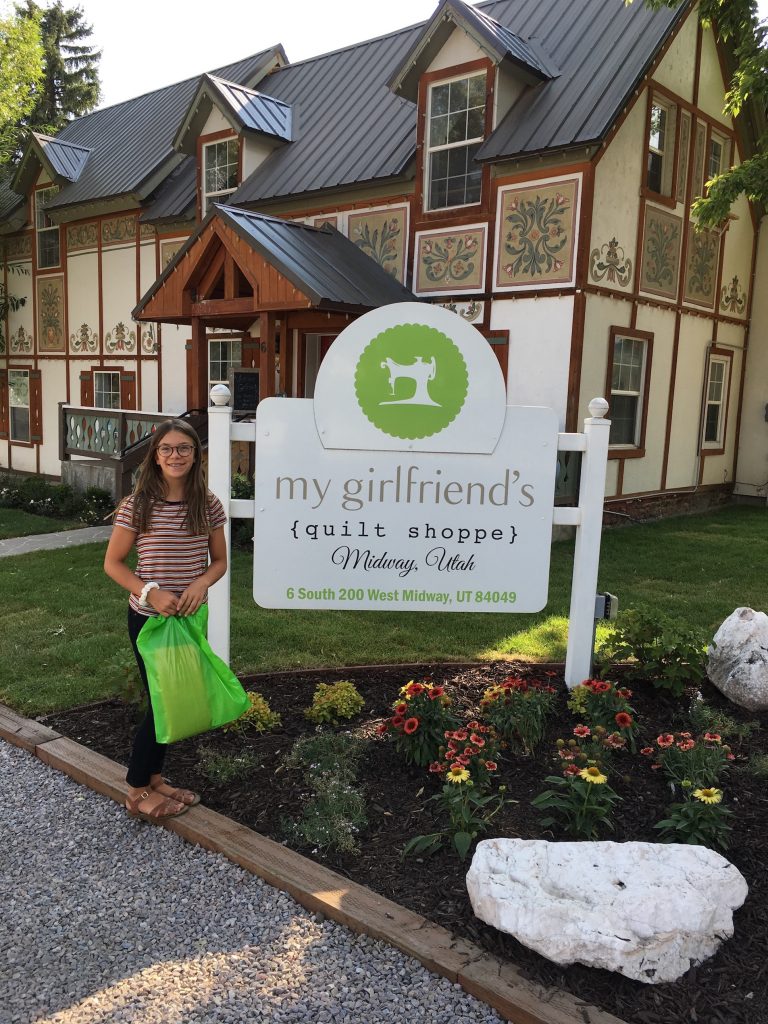 Girlfriend's quilt shop
We really loved the quilt store, oohing and aahing over the beautiful fabrics. A store like that is just heaven to me! All the brightly colored cottons, the rainbow of felted wools, the spools of jumbo ric rac, the bolts of ultra soft minkey and bamboo flannel, the gorgeous hand-pieced quilts on display, the hundreds of spools of thread…it's a dream! And another delight was getting to visit with the women working there! We selected some lightweight gauze to make swaddling blankets to give as baby gifts, two of which are for Anna to learn to sew on for one of her Young Women Personal Progress projects.
Dessert first
We went back to our place and got ice cream at the hotel bakery for pre-dinner dessert, and then ordered a hamburger and fries to share (the gelato was very generously scooped!). Anna cleaned up while I set up the computer so that we could watch the Face to Face broadcast while eating our dinner. We enjoyed watching the broadcast together while eating dinner (and some popcorn!) and then watching part of "Relative Race" (which was so touching!!) until the rest of the family arrived and we had family prayer and went to bed.
Putting away my phone
Anna commented to me how fun it was just to be the two of us, and my heart echoed her feelings. It is so nice to have one-on-one time with each child, and sometimes in the busyness of day-to-day life, I forget. I realized, as I was responding to some texts while we were together, that I wanted to put away my phone and listen to her talking to me, and that as I did, I was so grateful to get to her her thoughts, and to have this gift time to connect with her.
Critical years
Our children our growing up, and I have seen that time goes SO much faster than I could have anticipated. I only have 6 years left with Anna. It will go so quickly. These are critical years for us both, and I want to have times like these. I am so grateful the way the Lord helps provide nurturing times, golden moments that strengthen our family relationships, one child at a time.
---
---