A new prophet today!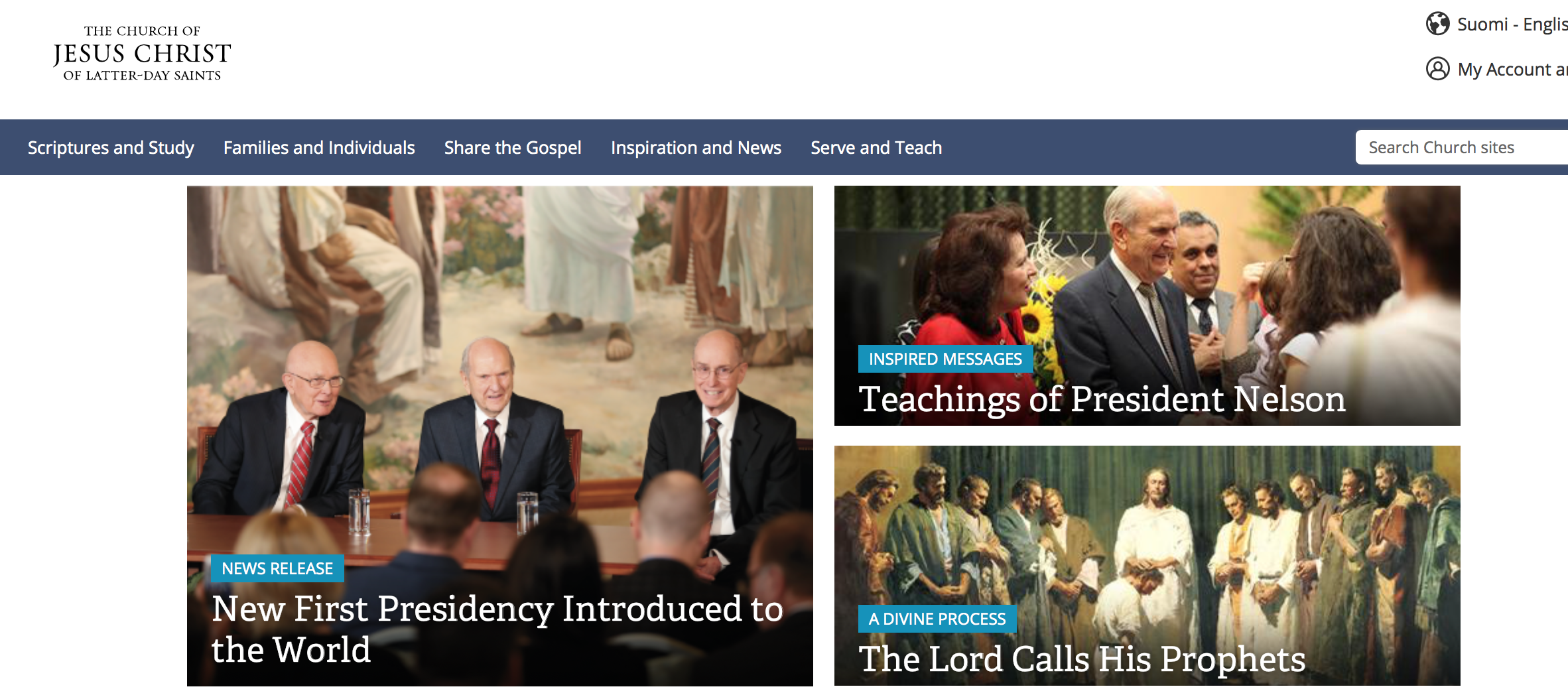 Today we got a new prophet for the whole world! It's not often that we get a new prophet! He's number 17 since the gospel of Jesus Christ was restored in its fullness to the earth through the Prophet Joseph Smith.
9 in my lifetime so far
There have been 9 living prophets (who served as presidents of The Church of Jesus Christ of Latter-Day Saints) in my lifetime now: President David O. McKay, President Joseph Fielding Smith, President Harold B. Lee, President Spencer W. Kimball, President Ezra Taft Benson, President Howard W. Hunter, President Gordon B. Hinckley, President Thomas S. Monson, and now President Russell M. Nelson. I don't remember the first 3, but I do remember some of their teachings that my mother taught me ("No other success can compensate for failure in the home"–Pres.McKay;  "The safety of the church lies in the members keeping the commandments. There is nothing more important that I could say. As they keep the commandments, blessings will come"–Pres. Lee). I do remember hearing and loving the voices and words of the last 6 prophets: Kimball, Benson, Hunter, Hinckley, Monson and Nelson.
News conference
I loved getting to hear the annoucnement and news conference this morning. I'm excited to play it again for our children later tonight at dinner! I felt the Spirit and love for these men that I already know and whose teachings have led me to my Savior for over 3 decades now.
A few teachings that have blessed my life
There are a few teachings from President Nelson and President Oaks that I remember from their days as early apostles that blessed my life back when I was a college student and a young wife and mother. Here are two talks in particular that really influenced me:
Lessons from Eve (October 1987, then Elder Nelson)
From the rib of Adam, Eve was formed (see Gen. 2:22; Moses 3:22; Abr. 5:16). Interesting to me is the fact that animals fashioned by our Creator, such as dogs and cats, have thirteen pairs of ribs, but the human being has one less with only twelve. I presume another bone could have been used, but the rib, coming as it does from the side, seems to denote partnership. The rib signifies neither dominion nor subservience, but a lateral relationship as partners, to work and to live, side by side.
Adam and Eve were joined together in marriage for time and for all eternity by the power of that everlasting priesthood (see Gen. 2:24–25; Moses 3:25; Abr. 5:18–19). Eve came as a partner, to build and to organize the bodies of mortal men. She was designed by Deity to cocreate and nurture life, that the great plan of the Father might achieve fruition. Eve "was the mother of all living" (Moses 4:26). She was the first of all women….
You can—you must—make a difference. You are vital to the Lord's team—one team with one purpose. Through your diversity, build strength in unity. Bind yourselves together in all holiness. Anchor yourselves to "the foundation of the apostles and prophets, Jesus Christ himself being the chief corner stone" (Eph. 2:20).
The Great Plan of Happiness (October 1993, then Elder Oaks)
Some Christians condemn Eve for her act, concluding that she and her daughters are somehow flawed by it. Not the Latter-day Saints! Informed by revelation, we celebrate Eve's act and honor her wisdom and courage in the great episode called the Fall (see Bruce R. McConkie, "Eve and the Fall," Woman, Salt Lake City: Deseret Book Co., 1979, pp. 67–68). Joseph Smith taught that it was not a "sin," because God had decreed it (see The Words of Joseph Smith, ed. Andrew F. Ehat and Lyndon W. Cook, Provo, Utah: Religious Studies Center, Brigham Young University, 1980, p. 63). Brigham Young declared, "We should never blame Mother Eve, not the least" (in Journal of Discourses, 13:145). Elder Joseph Fielding Smith said: "I never speak of the part Eve took in this fall as a sin, nor do I accuse Adam of a sin. … This was a transgression of the law, but not a sin … for it was something that Adam and Eve had to do!" (Joseph Fielding Smith, Doctrines of Salvation, comp. Bruce R. McConkie, 3 vols., Salt Lake City: Bookcraft, 1954–56, 1:114–15).
President Eyring has a gentleness that has instructed me greatly as a mother. He speaks often of the simplicity of the gospel, how the Lord teaches so "that a child can understand." He once taught that "the first, the middle, and the last thing to do is to pray" ("In the Strength of the Lord," May 2004). I taught that to my children; I hope it is written on their hearts as it is on mine.
I especially love this quote from that same talk:
In the Master's service, you will come to know and love Him. You will, if you persevere in prayer and faithful service, begin to sense that the Holy Ghost has become a companion. Many of us have for a period given such service and felt that companionship. If you think back on that time, you will remember that there were changes in you. The temptation to do evil seemed to lessen. The desire to do good increased. Those who knew you best and loved you may have said, "You have become more kind, more patient. You don't seem to be the same person."
You weren't the same person because the Atonement of Jesus Christ is real. And the promise is real that we can become new, changed, and better. And we can become stronger for the tests of life. We then go in the strength of the Lord, a strength developed in His service. He goes with us. And in time we become His tested and strengthened disciples  ("In the Strength of the Lord", May 2004).
I look forward to following the counsel given in the coming years by these inspired men who have been called of God to lead us during this time on earth. I know they are prophets of God. I'm grateful to be a member of The Church of Jesus Christ of Latter-Day Saints and to know that God loves His children and that Jesus Christ leads His church.
---
---