No bad days? My hope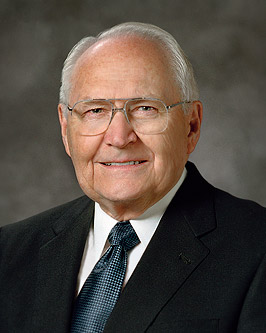 Our recently released bishop stood up during fast and testimony meeting to share a lesson he learned from Elder L. Tom Perry whose funeral was Friday. He (Bishop S.) said he was at a training meeting when someone asked Elder Perry how to help people suffering from depression. Bishop S. said Elder Perry's response was something like, "I don't know. I've never had a bad day in my life." Bishop S. said he wondered how that could be the case. He knew Elder Perry had lost his first wife to cancer just after being called to serve as an apostle, with 3 children to raise, then remarried and lost his daughter to the same terrible cancer his wife had. Certainly he had many other challenges as well. How could he feel that he never has had a bad day?
Bishop S. said he felt it was a question of attitude and faith in the Lord.
As someone who struggle with energy challenges and has dealt with depression and anxiety before, I stand in awe of that kind of faith and attitude. I would really like to have the mental fortitude to get up every morning and say, "Today is going to be a great day!" And then go forward and make the best of whatever I will face.
I'm not there yet.
This morning, after going to bed too late and waking up too early, I feel dizzy and tired. I wish I could go crawl into bed and sleep, sleep, sleep until I wake up feeling bouncy with energy!
Yesterday I did wake up after a rare good night's sleep at 5 am FEELING RESTED and had a wonderful start to my day: I read my scriptures in the beautiful morning quiet, I started laundry and had it drying before I even ate breakfast; I had a good run and got showered and dressed before I walked out to do my first carpool! Yowza! Those are my FAVORITE kind of mornings!
And today feels like I stubbed my toes and knocked my head against the door frame before ever stepping foot out of bed.
So it goes.
Ebbs and flows. Gotta keep moving forward with faith that even the mornings that start out this way can end up well.
Good things have happened so far today, despite the physical drag. Going to keep moving forward.
And before I close this post, I just want to say how grateful I am for wonderful L. Tom Perry. He has given so many talks that have influenced my life over many years. What an awesome, upbeat, fun man he is! I loved his booming voice.
One time he came to visit our neighbors, some relatives of his wife, Barbara. The children gathered on their lawn and sang a song for him and Barbara. Julia was amongst those children singing. He said to her after something like, "You're going to sing in the Mormon Tabernacle Choir someday, aren't you?" It made us all feel loved.
I especially loved his talks about his mother and how she influenced his life. "Clean in the corners" is one line I've always remembered, as well as the story about when she ate too many sweet rolls and didn't feel like praying. I'm so grateful that our leaders share stories from their home. It helps us learn from and relate to one another.
---
---