Nothing More Heroic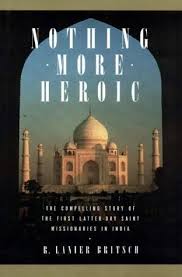 I was in the temple with my daughter, Sarah, when we had the opportunity to meet C. Terry Warner, a now temple sealer and as I knew him, author of some wonderful ideas. He helped found the group that published one of our favorite books, Leadership and Self-Deception. He was talking about a man who, originally from India, prepared and performed a great amount of temple work for ancestors in his homeland.
I mentioned to him that we have a Livingston ancestor who was an early Mormon missionary in India. He asked if I had read Nothing More Heroic by R. Lanier Britsch. I replied that I hadn't, and I went home and found a copy of the book and ordered it.
I brought it on our family vacation to begin reading it (Hooray for getting to read on vacation!). Wow! What an education! I'm learning about the experiences and great sacrifices that early members of The Church of Jesus Christ of Latter-Day Saints made in order to preach the gospel in India ("Hindustan") in the 1850's. I was delighted to discover, along the way, that I think we have another relative who served a mission to China back then, too!  I have to verify that it is our relative.
Here's a snippet from my readings thus far:
"I continued working at the Tithing Office and did most of my predatory work after hours. I sold my cow for thirty dollars and bought a pen, some new clothes, a watch, and some other useful items. We held several training meetings in which various topics were discussed, and plans were developed. Our leaders decided we should travel by wagon train by way of southern California, as had been suggested by Elder Willes in a letter form India. This plan required us to buy wagons, horses and mules (ox-drawn wagons were too slow), harnesses, and all that went with such travel. Of course, we would be camping along the way so we had to take cooking gear and utensils, good, blankets, tents, and everything one needs for minimal comfort on a long journey….
"During the next two weeks, we assembled ourselves into a wagon company, and on october 24th, we met at Peteetneet. While on our way, we stopped at the POint of th eMountaiin to take one last look at the Great Salt Lake Valley. Wanting to be as much like the Apostles of old, I sent my purse and my only money, four dollars, back to my mother. I was truly 'without purse or scrip.' So were my companions. The group…consisted of thirty-eight missionaries called to Calcutta, Siam, the Sandwich Islands, Hong Kong, and Australia. China-bound Hosea Stout was elected captain, Bishop N.V. Jones became chaplain, Burr Frost acted as sergeant of the guard, and I was asked to serve as clerk…
"…The trip to California took about six weeks" (pp.13-14).
The missionaries traveled to Southern California and then back up to San Francisco (via a ship). Then they boarded the Monsoon on January 27, 1853, traveled over 800 miles and disembarked April 26, 1853.
I'd love to share more later!
---
---