"Oh, yum!"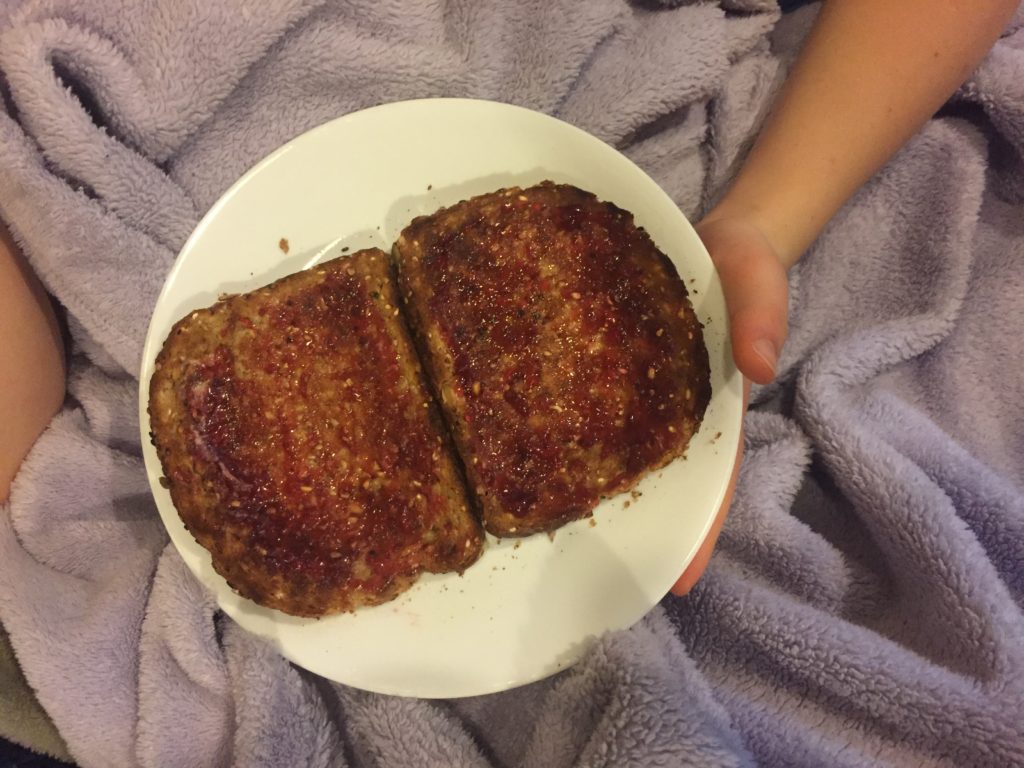 Just now I was making some toast with butter and plum jam for Eliza, who has been sick with a fever for three days and fainted in the bathroom earlier. I heard her yell, "Mom!" from upstairs and ran to find her locked in a dark bathroom. Thankfully, she was able to get to the door and I turned the light back on (it had been on the 1 minute timer setting and gone off automatically). She was green and weak, so I helped her lay down and got some Gatorade to sip through a straw as she lay down.
Sipping Gatorade
After she had a minute to sip Gatorade, she felt well enough to get up and move to the couch. The nausea she had felt passed and she was able to rest more peacefully. I gave her some vitamins and water. (Later today I found out that water and salt are good in this situation as well.) Soon after, she asked if she could have some toast or crackers. I went to get the toast and spread some butter on it and some homemade plum jam that my neighbor, Kay, had brought us for Christmas.
I carried the plate up to Eliza, who upon tasting it, said, "Oh, yum!"
It was quiet, so I suggested some music. I put on "Liebesleid" by Fritz Kreisler/played by Itzhak Perlman. "This is pretty," she noted. Yes, it is. A little lullaby.
It is so nice to be a stay-at-home mom to be able to care for family members.
Wonderfully cozy
While the bread was toasting, I set the table with yellow placemats and colorful bowls, a contrast to the thick blanket of snow covering our landscape just outside the window. January can be wonderfully cozy if we choose, because we have the opportunity to make wonderful memories of coming in from the weather to a hot meals with the people we love. Just setting a colorful table makes me look forward to that moment today.
There is such significance to eating dinner together and the way it benefits society in a very fundamental and impactful way. (To learn more, read this article from The Washington Post, "The most important thing you can do with your kids? Eat with them." Or check out the book The Surprising Power of Family Meals: How Eating Together Makes Us Smarter, Stronger, Healthier and Happier by Miriam Weinstein.)
7 benefits
By eating dinner together (and turning off digital devices), you could help your child:
Boost their vocabulary;
Get better grades;
Score higher on achievement tests;
Feel more loved;
Get better nutrition;
Be healthier, mentally and emotionally (including staying away from drugs and alcohol); and
Have better relationships.
With this thought in mind, I was thinking, while spreading the jam on the toast, how I have been blessed by the example of many great women who value family dinner. I have seen (and been fed by) those who know how to lovingly make a meal beautiful and delicious. My plum jam-making neighbor, Kay, is one of them.
Our Finnish "Grandmother"
Our Grandma Raili is another one of them.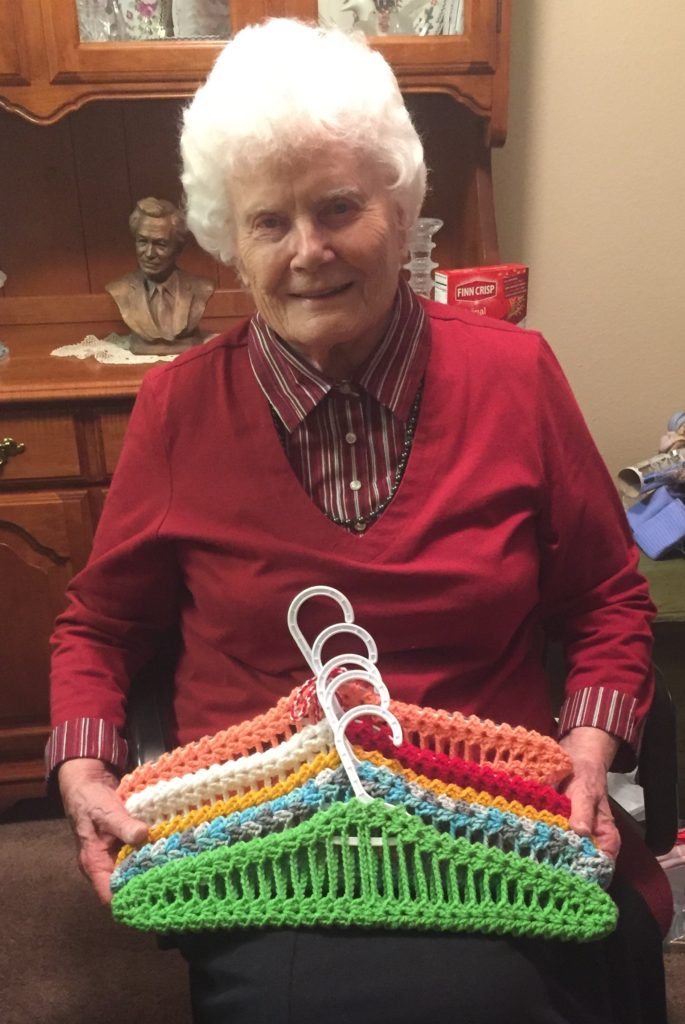 Yesterday I felt so blessed to finally get to visit our Grandma Raili, our related-by-love Finnish "grandmother" who has had such an influence in my life. She was supposed to have Christmas with us but had been terribly sick with the flu. So we brought our presents for her, and she gave us ours.
Gifts of hand and heart
Raili had lovingly crocheted covers for probably 30 hangers–and had me pick two for each person. Raili is one of those people who quietly goes about serving people in ways she does so well: letter-writing, lesson planning and teaching, crocheting, visiting. When we were dating, married, and raising our young family, she had us over for dinner. Oh! She is a good cook! Talk about pulla! Or rye bread! Or anything! It was all good. It is obvious that she cultivated this art as a stay-at-home mother. An invitation to her home for dinner was a well-anticipated event.
I enjoyed getting to record her reading James 1:5-7 to help our family learn verse 5. She read verse 7 because it finished the thought of verse 6. I am reminded that Raili was the first sister missionary called from Finland to serve full-time in her own country. I imagine she has those verses committed to memory already!
Service was joy
"I slept and dreamt that life was joy. I awoke and saw that life was service. I acted and behold, service was joy." (Rabindranath Tagore) I could say much more about Raili, and I'm sure I will in the future. I love the way Raili has nurtured me with her love, her food, her wise counsel. She has shown me the joy of service by her kindnesses.
---
---