On pumpkin pie and appearances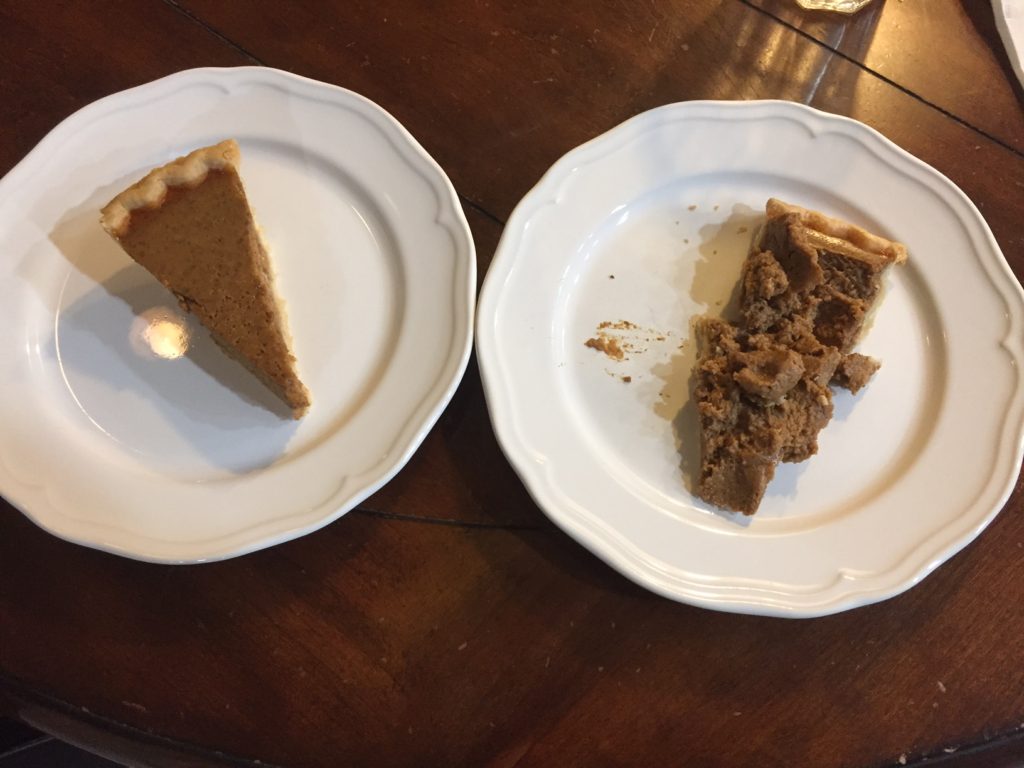 Two weeks ago, we had an FHE lesson on personal appearance. I had wanted to open the lesson with a visual that my children (and I!) would remember. We had had pumpkin pie for Sunday dinner the day before, and this idea of using two pieces of the same pie, each in a different state of presentation, came to mind.
I brought the two plates over (we didn't have any whipping cream, which would have been a bonus, both visually and culinarily) and said what my lesson was about. Immediately one of my children said, "I know where you are going with this!" 😂
When I asked my children which slice they would rather eat, all of them chose the pie that wasn't smushed except for the children who knew what my point was, and who prefer dressing in sweats or the clothes they slept in. 😂 We all had a good laugh together about that!
I talked about how I was having a conversation with some people earlier that previous week that had led me to consider our personal appearance. I decided that I had not been the best example of always going out in public well-groomed, and that I wanted to change that. So I shared a few thoughts about our personal appearance with my family and committed to doing better at being ready for the day before going out to appointments or shopping or carpooling, as much as possible. (Doing this has been SUCH a personal gift! I feel so much better about myself when I leave home showered and ready for the day!
First, I said that our value isn't based upon our outward appearance, but it does bless us in many ways to be well-groomed. The Lord taught us that while He doesn't judge us by how we look, the world does:
"But the Lord said unto Samuel, Look not on his countenance, or on the height of his stature; because I have refused him: for the Lord seeth not as man seeth; for man looketh on the outward appearance, but the Lord looketh on the heart" (1 Samuel 16:7).
I told our children that it helps us to remember that we represent not only ourselves and our family, but also the Lord and the church, and so we want to try to be clean and well-groomed. I shared this story from Susan Tanner that I have loved ever since I heard it:
"I remember well the insecurities I felt as a teenager with a bad case of acne. I tried to care for my skin properly. My parents helped me get medical attention. For years I even went without eating chocolate and all the greasy fast foods around which teens often socialize, but with no obvious healing consequences. It was difficult for me at that time to fully appreciate this body which was giving me so much grief. But my good mother taught me a higher law. Over and over she said to me, 'You must do everything you can to make your appearance pleasing, but the minute you walk out the door, forget yourself and start concentrating on others.'
"There it was. She was teaching me the Christlike principle of selflessness. Charity, or the pure love of Christ, "envieth not, and is not puffed up, seeketh not her own" (Moro. 7:45). When we become other-oriented, or selfless, we develop an inner beauty of spirit that glows in our outward appearance. This is how we make ourselves in the Lord's image rather than the world's and receive His image in our countenances. President Hinckley spoke of this very kind of beauty that comes as we learn to respect body, mind, and spirit. He said:
"'Of all the creations of the Almighty, there is none more beautiful, none more inspiring than a lovely daughter of God who walks in virtue with an understanding of why she should do so, who honors and respects her body as a thing sacred and divine, who cultivates her mind and constantly enlarges the horizon of her understanding, who nurtures her spirit with everlasting truth" ("Understanding Our Divine Nature," Liahona, Feb. 2002, 24; "Our Responsibility to Our Young Women," Ensign, Sept. 1988, 11)" (Susan W. Tanner, "The Sanctity of the Body," October 2005).
I also told our children how when I was a teenager, I heard Elder Perry say that our dress affects our behavior. That helped me not want to be sloppy in my appearance. I remember putting the quote from what he said on my clothing closet door. I found a quote that was similar to what I heard back in the 80's in a more recent talk and shared it with my children:
"Another basic necessity is our clothing. A simplified life that brings spiritual blessings requires the wearing of simple and modest clothing. Our dress and grooming send a message to others about who we are, and they also affect the way we act around others. When we are modestly dressed, we also invite the Spirit of the Lord to be a shield and a protection to us.
"Worldly trends in women's fashion are always inviting extremes. With their latest styles many fashion designers appear to be trying to make two or three dresses out of the amount of fabric necessary for one. Mostly, they are taking too much off the top and too much off the bottom of women's clothing, and occasionally they scrimp in the middle too. Men's fashions are also adopting extreme styles. In my day they would be called sloppy and inappropriate. I believe very casual dress is almost always followed by very casual manners" (Elder L. Tom Perry, "Let Him Do It with Simplicity," October 2008).
I mentioned that when we dress nicely, we act better, others take us more seriously, we will attract the kind of people we would want to attract (particularly if we are in a single stage of life!), we can perform better, and we feel calmer because we are ready to meet whatever comes. I shared how when I met Lane, we were both dressed nicely! I always loved that about him, that he was well-groomed but not overly trendy or calling attention to himself.
I know that taking care of my personal appearance is a blessing in my life.
Later I found this video, which would have been a great addition to this lesson:
This video clip is great because it is only the verses about being the temple of God. Super short!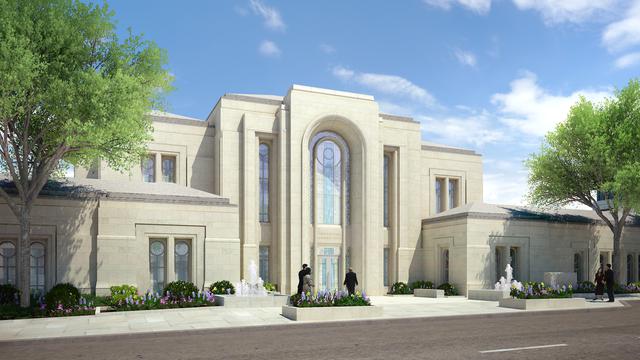 I love how the Lord's temples are beautifully kept both inside and out! Are there any lovelier man-made places on earth than the temples? What a great example for helping our personal temple (our body) in the best shape we can keep it. A challenging job, but a blessing for sure.
---
---