Our house is a zero (and a trench coat miracle)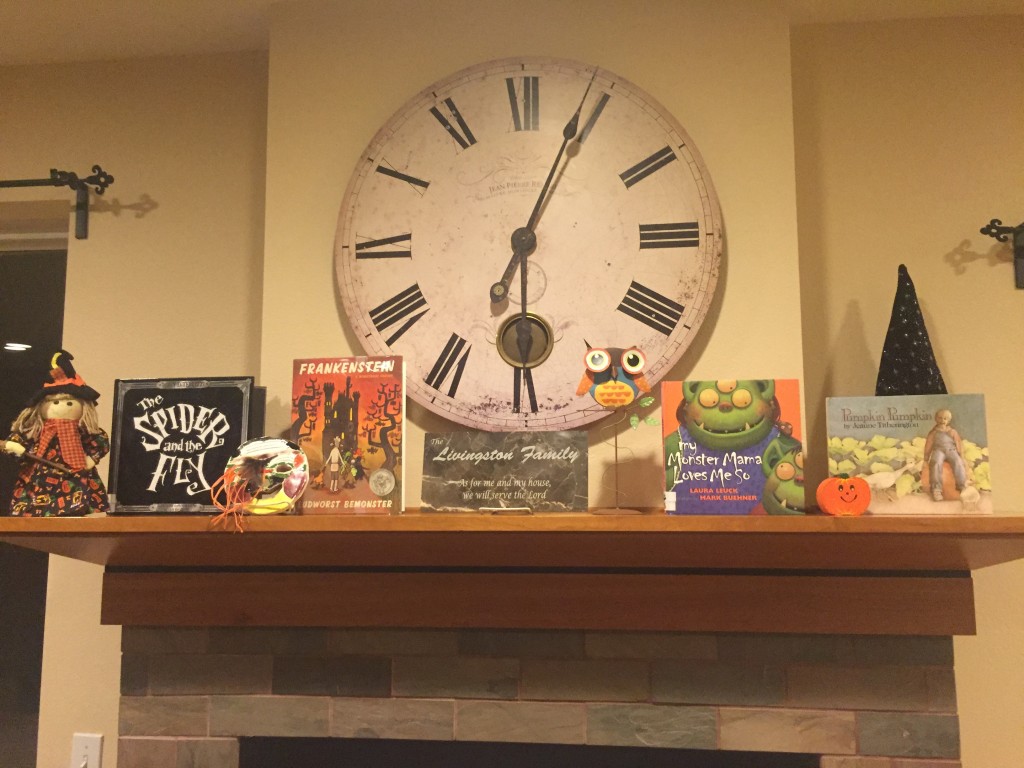 Anna told me, with an air of gravity, "Mom, A. and I were judging houses on their Halloween decorations. Ours was a zero."
I got a good laugh at that! I am officially the Halloween Grinch, but I love fall. So we have a fall wreath, uncarved pumpkins, and fall-colored decor inside. I hadn't put out any Halloween decorations at all this year. And I wasn't missing them!
But Anna was. So she got the fall decoration box out and pulled the festive books off the bookshelf, and went to work on the mantle.
It made me smile.
I love that girl.
Here is the best part of this year's Halloween "observance" at our home: Anna really wanted a trench coat for her costume. I told her I wasn't going to spend money on one this year, but that we had plenty of costumes and resources already that she could choose from. She wanted so much to dress up with her friends, so when a birthday gift card arrived from Grandpa's family, she immediately got online and began searching. She had to find a trench coat that was affordable within the gift card amount. She found one that would only be something like $1.28 more than the gift card, but it was from China. And it wouldn't arrive until mid-November. I checked out expedited shipping, and that was $10 more. My grinchiness subsided slightly, and I told her I would pay for it, and she could exercise faith that perhaps Heavenly Father would answer her prayers–if it were possible–and get it here early. (With expediting, it was supposed to arrive next week.)
Anna has been praying faithfully for that coat to arrive early. So how could I be surprised when it arrived yesterday from China, 4 1/2 days after she ordered it?
I was reminded once again of how Heavenly Father "delights to… bless you" whenever it is possible to do so.
---
---