Over and Over by Charlotte Zolotow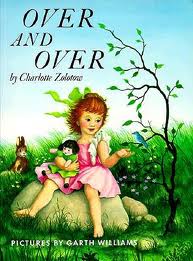 When Lane was a child, his mother read this book to him. I think when we got married and had Sarah, Lane's mother gave us a copy. It has been read and enjoyed so much that it was falling apart. I was delighted to find a library bound edition to replace it in our home library and got one to share as our flagship book in the Raising Amazing Children Friendship Library Project!
"Once there was a little girl who didn't understand about time. She was so little that she didn't know about Monday, Tuesday, Wednesday, Thursday, Friday, Saturday, Sunday. She certainly didn't know about January, February, March, April, May, June, July, August, September, October, November, December. She was so little she didn't even know summer, winter, autumn, spring.
"What she did know about was all mixed together. She remembered a crocus once, but she didn't know when. She remembered a snowman and a pumpkin, and a Christmas tree, and a birthday cake, a Thanksgiving dinner and valentines. But they were all mixed up in her mind."
Told in the simple but beautiful way that Charlotte Zolotow has of telling a child a story, the little girl travels through the celebration of each season and holiday with her family.
We loved reading this story as parents and children because it helped us all remember the sweet feelings that celebrating together brings, and let us look forward to the next celebration that would come.
Note: When the little girl is at the beach, she only has a swim bottom on, as is common in some countries. She is bent over, so that only her back shows. But I wanted to point this out in case it would be a concern to you as a parent to read it. I don't recall any child saying anything, but if s/he did, I probably would have said, "In some countries, little girls only wear swim bottoms. But in our family, we wear whole piece swimsuits."
If you receive this book from a friend as part of the RACFLP, we'd love to hear what you think! Please comment below. If you'd like, please tell us in which state or country you live. If the comment form doesn't work, you are welcome to email me: liz (at) raisingamazingchildren.com. Thank you!
---
---