Paperboy, Journal girl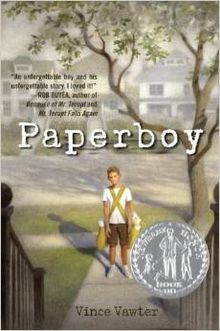 Yesterday afternoon and this morning I wasn't feeling well, so I took to bed and when I was awake, I read Paperboy. Sometimes I'm grateful for feeling under the weather because it seems to be the only time I can get some reading done. I have a goal this year to read one book a month. I didn't read one in January (I did finish Aunt Sass, which I started reading aloud in December–a tiny book that I was determined to finish!), so I have been really hungry to read a book. A good book.
I found Paperboy at BYU Bookstore and gave it to Peter for Christmas. He read it and really liked it. I wanted to find out what it was about, and I did. Here's what I want to say: it contains some beautiful messages, but it is NOT a children's book. The story is about an 11-year old boy who takes over his friend's paper route for one month in Memphis, TN, in 1959. The boy is an excellent pitcher in baseball, so he loves throwing the papers onto customer's porches. But when it comes time to collect the money on Friday nights, his stuttering problem makes life harder. Even more challenging than stuttering comes the added relationship development with people on his route, including an alcoholic woman, a retired scholar/seaman, a deaf boy who stares at the TV every day, and a homeless junk collector. His African-American nanny, Mam, helps him navigate these challenges, but much of his character development occurs internally. There are references to abuse, murder (and other violence), infidelity, racism, and birth out-of-wedlock. There is some swearing. Paperboy's story is told via his typewriter, a tool to relay the words that otherwise do not come, as Shakespeare would have said, "trippingly on the tongue." (What an irony with that word!)
Here are some quotes I loved (note that there are not commas in his sentences because he didn't like commas–you'll have to read it to understand why):
"I know a kid is supposed to respect grown-ups who make the rules and also respect God who knows how everything is supposed to work but I could get over the feeling that neither one of them was doing a very good job… Thinking about somebody hurting Mam and then remembering all the stupid rules that Mam had to live by just because of her color made going to sleep a hard job. I guess I had a Vengeful Heart because I could feel it busting like when the stuffing came out of an old baseball " (p.140-1).
I like these lines because it reminds me how hard it is for a child (or an adult!) to reconcile un-Christlike behavior with what his heart tells him is right. As children, we certainly have a feeling of what is supposed to be. We know people should be nice to each other. It feels right. When we see injustices such as abuse or racism or a multitude of other situations, it really hurts. It can be easy to blame God for other's wrong choices on earth. I think it's important to remember that. As adults, it's important to be able to see a situation from a child's eyes, especially if we ever hope to bring comfort to a child who is confused or in pain.
"My father on the birth certificate might have been Unknown but the tall man throwing ball with me in his white shirt with his necktie stuffed between the buttons was my father as far as I was concerned. He got his shiny dress shoes muddy when he stepped in the flower beds to get a ball. He always tried to do about everything in the world for me and he didn't even have to if you wanted to be official about it" (p.211).
Being adopted certainly poses some challenges for relationship building when a child is old enough to understand about being adopted. I really admire children and parents whose hearts are open and willing to love one another across blood lines. It is certainly a terrible injustice in life to feel that you are an unwanted child.  Every child needs a parent who will love them as honestly and deeply as they would if they were genetically theirs or not. I love the line from TFPTTW: ALL HUMAN BEINGS—male and female—are created in the image of God. Each is a beloved spirit son or daughter of heavenly parents, and, as such, each has a divine nature and destiny… Children are entitled to birth within the bonds of matrimony, and to be reared by a father and a mother who honor marital vows with complete fidelity."
"I thought about TV Boy as I walked from house to house and felt bad about getting mad at him the week before. Just like I couldn't help it that I stuttered it wasn't his fault that he couldn't hear or talk. Being able to hear is nice but I wanted to tell him that he wasn't missing anything by not being able to talk.
"I decided TV Boy would make a good friend. He wouldn't have to hear my bad talking and he could teach me how to say things with my hands instead of my mouth. I was pretty sure I would be good at that kind of talking because my baseball coach always said I had good hands."
When Paperboy (aka Victor)  sees TV Boy sitting with his eyes glued to the screen week after week, he makes a judgment call that he rescinds when he learns that he is deaf and practicing lip reading. I love how he describes that transformation from judgment to mercy. Haven't we all had an experience like that? I especially love his empathetic expressions and how he turns from anger to friendship. I've had experiences like that. If we look at others with a heart that wants to understand, we discover that we each have a story, and we can find empathy for people that we might otherwise not want to know.
There were a lot of great places in this story, but one I really love in the author's note: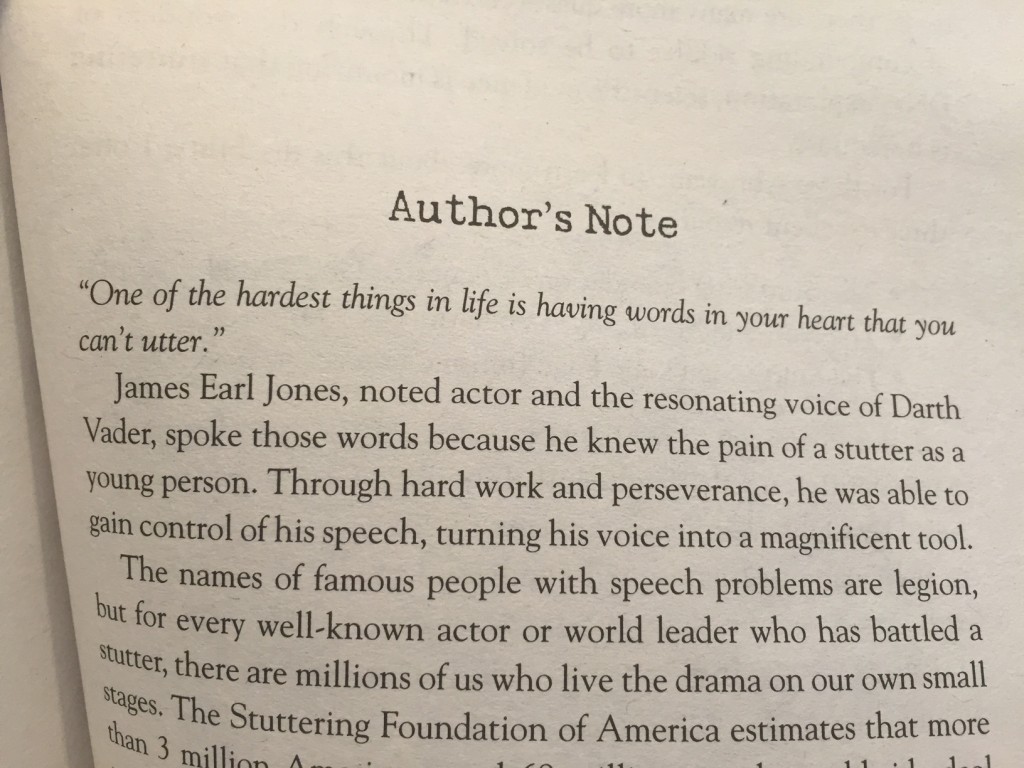 I didn't know James Earl Jones had dealt with the challenge of stuttering! Wow! His words spoke to me on another level, too. This morning in my scripture study, I read this from the Sunday School Book of Mormon Class Member Study Guide: "Encourage family members to frequently write about their feelings" (Lesson 7: I Know in Whom I Have Trusted). I was reminded of how many times growing up I poured out my feelings in my journals. When you can't say what's in your heart, it helps to be able to write it down. It was one of the ways I dealt with the challenges that I faced. I have many journals! It can be so therapeutic to write. A friend of mine shared with me how she was able to work through dealing with an abusive situation by writing down her feelings and what she would like to say if she could. Writing helps! I'm sooooooooo grateful I can write.
I also loved discovering (in the author's note) that the story is the author's memoir! Vince Vawter has dealt with stuttering his entire life. What a wonderful gift for him to share his story with the world!
One thing I'm grappling with right now is foul language in books. I don't like to read cuss words in a good book. I wish authors would just leave them out! Sometimes there is a book that is outstanding, such as Little Britches: Father and I Were Ranchers, in which I can understand why the author included the language in context. When Little Britches  became a "cow poke" (when he was 10!)  he was around a lot of swearing. He said, "Father never swore, and I know I wouldn't have ever have said it out loud, but before I really knew what I was thinking, '[–]' went through my head. (p.204)….It seemed like everything around the place started  off with '[–].' I told myself I wasn't even going to think it, and then I'd be sure I didn't say it sometime when I wasn't thinking" (p.207).
This reminds me of a story I heard once during Sarah's harp lesson era. Someone recounted a story of practicing with a young woman who swore every time she made a mistake. She didn't even realize she was doing it, as it happened with such frequency over time. When she was in a competition and performing and made a mistake, out came the swear word. She wasn't able to help it because it was simply a habit.
I go through my books and cross out the swear words so that my children can enjoy the book without the words being repeated in their minds. But I weigh carefully whether or not the book is really worth reading if it has more than a couple of profane expressions. I'll add that is growing more challenging as people add more inappropriate language–not just swear words, but also crude language. And I don't want a lot of garbage in my children's heads while they are on my watch. I'm praying for authors today who will choose not to include foul language in their stories, to help the rising generation (and those who love a good book, like me!) to be able to enjoy their work without profanity.
---
---