Psst! Hot scones in a microburst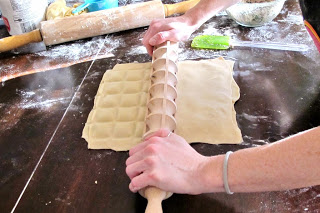 This morning I was getting breakfast ready during the usual early rush to get children fed and out the door. I was listening to a talk from general conference as I worked, when I heard this comment:
In all events, a mother can exert an influence unequaled by any other person in any other relationship. By the power of her example and teaching, her sons learn to respect womanhood and to incorporate discipline and high moral standards in their own lives. Her daughters learn to cultivate their own virtue and to stand up for what is right, again and again, however unpopular. A mother's love and high expectations lead her children to act responsibly without excuses, to be serious about education and personal development, and to make ongoing contributions to the well-being of all around them. Elder Neal A. Maxwell once asked: "When the real history of mankind is fully disclosed, will it feature the echoes of gunfire or the shaping sound of lullabies? The great armistices made by military men or the peacemaking of women in homes and in neighborhoods? Will what happened in cradles and kitchens prove to be more controlling than what happened in congresses?" (Elder D. Todd Christofferson, "The Moral Force of Women")
It reminded me of Eliza's interview of my friend, Marjan, last night.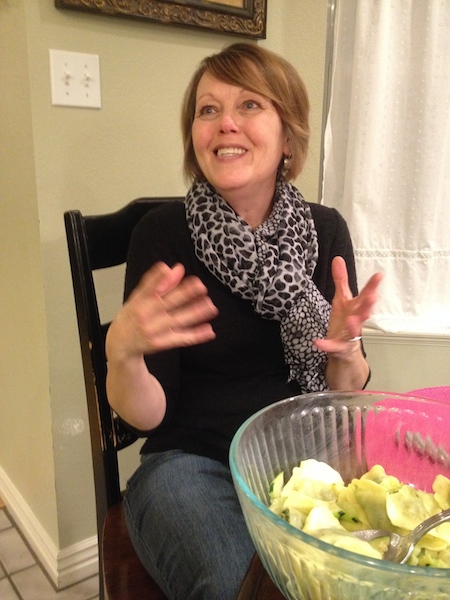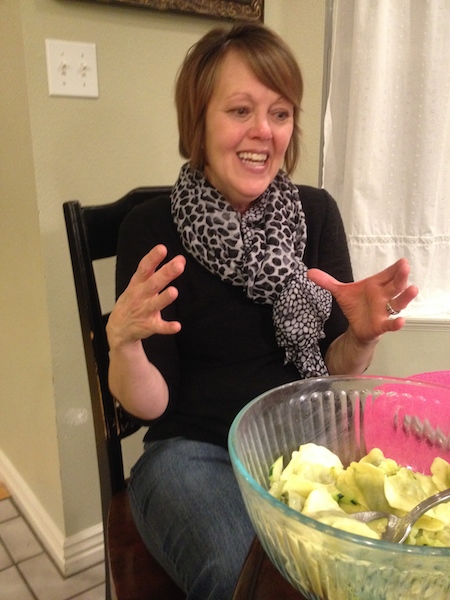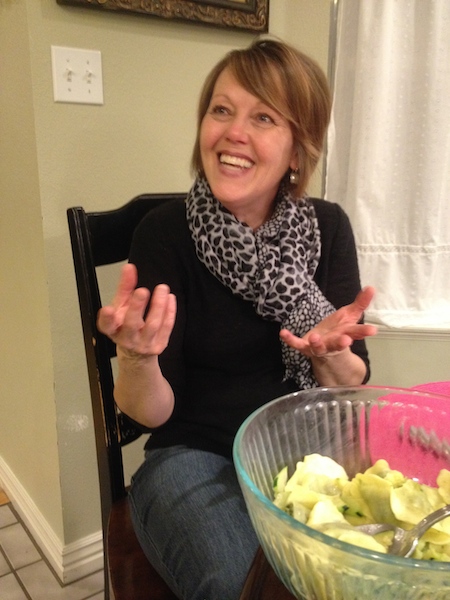 Eliza wanted to ask Marjan some questions about her catering business for a Young Women's goal. So over to our home came Marjan, joining us right at the end of dinner.
She sat down by a bowl of ravioli and started telling us about how her Scottish-immigrant grandfather had worked in the coal mines in Price, Utah, where many European immigrants came for work. Her grandmother had learned, from the Italian immigrant women, to make homemade raviolis: preparing the pasta dough, grinding the sausage together with spices, rolling out the door first with a smooth rolling pin and then with a ravioli-marking one, carefully portioning out the spiced-sausage filling, and covering and re-rolling it. Then she would cut and crimp and dry the raviolis before cooking them.
It took hours.
Her mother learned the same recipe, and when she let Marjan, as a child, choose what she wanted to eat for her birthday, she always chose ravioli and homemade German chocolate cake.
Marjan teared up, saying how she had no understanding back then of the work her mother went to just to make her birthday special. This means even more to her now that her mother has passed.
And her mother taught Marjan how to make the raviolis, who still has her grandmother's ravioli-making rolling pin.
So that was the beginning of the answer to Eliza's first question: where did you learn how to cook?
Eliza also asked: "How did you start catering? Were you trained?"
"No," Marjan said. She simply had to learn as part of her job as a P.R. person for a well-known, lecturing prosthodontist who would put on 2-day seminars for dentists who traveled to learn from him. And she was in charge of figuring out how to feed them.
Her work caught others' attention, and word-of-mouth became her advertising. That was years ago!
"How does your work help others?"
"Feeding the hungry!" I suggested, laughing. We talked about the significance of weddings, bridal showers, family gatherings, church events–and how good food adds to making something special.
I reminded her of how she was in charge of feeding 700 youth and parent volunteers at our Stake's youth pioneer trek a few years ago.
Imagine: bussing hundreds of youth and leaders out to the middle of a prairie in Wyoming only to be met soon after by a microburst storm that brought winds (were they 60-80 mph?) that ripped up tents and sent food-service trays galloping down the land like they were tumbleweeds? I remembered seeing the food committee members hanging onto the rails of the food canopies just to keep them there, while, as Marjan remembered, the pelting, horizontal rain drenched her to the skin and poured off her pioneer dress like a shower.
She got a message over the walkie-talkie: Could she do hot scones at 9 pm for the youth?
That's when she was sobbing. It had been a nightmare. Could she do scones?! Were they kidding?
A friend spoke softly to her: think of what it will mean to those freezing, wet youth right now.
So out came the dough from the coolers, and at 9 pm we ate hot scones. FIVE THOUSAND hot scones. "Because," as Marjan related, "when you eat a scone, you can't just eat one…."
I could only guess how Marjan's grandmother felt, watching her at that moment. She wouldn't have known that showing her daughter how to cook might lead to her granddaughter to be able to feeding 700 freezing, tired, Pioneer-reenacting folks 5,000 hot scones.
Last night I heard Sister Beck's words in my mind as I considered the ways we nurture that impact the lives of those around us: "That is influence. That is power."
Happy Ravioli-making,
Liz 🙂
P.S. And for the record, I wish I had made the ravioli in the bowl. My dad taught me how, but those are from Costco, and Eliza was the one who cooked them for us! 🙂 I'll teach my children how to practice their instruments and let Eliza cook all she wants…
P.S.2 Here is that fabulous talk, "Mothers Who Know," for those of you who would love to hear it again…
---
---