Psst! How Do I Know When to Say No?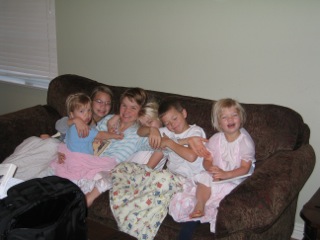 (Arms full of the most important people to serve in the whole world:
my own family.)
I love the way life brings different thoughts and events together to teach me of something.
That just happened this morning.
Today I was feeling overcommitted by a service opportunity when I had the chance to walk and talk for about 20 feet with a young mom in the school parking lot.
The overcommitment realization came to a head this morning.  I was asked to serve on a committee. I said that I couldn't, but that I would be happy to try to help sell 10 tickets to the event for which the committee was formed. It was for a cause about which I am passionate: standing for the family.
But when the emails started to come about the event, and all I could think about was what I wasn't accomplishing, and how guilty I felt for not doing it, I recognized that even the smallest thing I thought I could do can be too much.
I have learned that there is a point when we are serving more than we have capacity. One of my favorite scripture reads, "I can do all things through Christ which strengtheneth me" (Phil.4:13).
For me, the key phrase is "which strengtheneth me." I think of that phrase in two ways: one, Christ can strengthen me to do everything He needs me to do. But He has told me that I don't need to run faster than I have strength. I simply need to be diligent, not slowly wearing myself down to a raveling.
The other way I think of it is that when my service strengthens me as well as those I am serving, I know it is appropriate. When I can't sleep, and I feel guilty because I can never get done what I committed to do, or by doing it, I cannot take care of the necessities that are my first responsibility (feeding, clothing, and nurturing myself, my husband, and my children), then I have overstepped my bounds. It no longer strengthens me.
I LOVE the talk one of my sisters shared with me this week that I had forgotten: "The Caregiver" by President Henry B. Eyring. In this marvelous discourse, he explains, "Remember that when the Lord lets us encounter someone in distress, we honor the good Samaritan for what he did not do as much as for what he did.* He did not pass by on the other side even though the beaten traveler on the road was a stranger and perhaps an enemy. He did what he could for the beaten man and then put in place a specific plan for others to do more. He did that because he understood that helping may require more than what one person can do.
"Even though extended and loving service to people is richly rewarded, you have learned that there are physical, emotional, and financial limits to what is possible. The person giving care long enough can become the one who needs care.
"The Lord, who is the Master Nurturer of people in need, gave inspired counsel to weary caregivers in these words delivered by King Benjamin and recorded in the Book of Mormon: 'For the sake of retaining a remission of your sins … I would that ye should impart of your substance to the poor, every man according to that which he hath, such as feeding the hungry, clothing the naked, visiting the sick and administering to their relief, both spiritually and temporally, according to their wants.'"
The young mother I walked and talked with (this morning in the school parking lot) had three little children in tow after dropping off her kindergartener. She was carrying her baby in a baby carrier in one hand, and had a young child helping push another young child in a stroller, with her other hand. I wish I had taken a picture of them.
It reminded me of me back when Sarah as in kindergarten. I had 4 children under 6 years old, and it was the beginning of years of having 3 little children at home while the older ones were in school. I wanted to say to that young mother who doesn't know me, "Way to go. Just keep watching over yourself and those little ones. What you are doing is SO important! It's more important than anything you could do right now!"
It is really GREAT to be a mother of young children and be learning in the intense crucible that that stage of life is. There is so much to learn! And the learning keeps on going, such as this morning for me.
I don't carry babies or push strollers any more. That will come again in the not-too-distant future. But I am so grateful I did. I would not exchange that experience for ANYTHING.
And what I am doing for my children in this later stage is still as vital. I know it. And other things, as important as they are, can wait for a few more years until I am in another stage.
Young moms who are serving your families, you are doing so much. I hope you know that! Your work of nurturing is SO important! I see it now more than ever. I see it when I interact with so many beautiful children at my elementary school. Every single child there needs a mother who loves and nurtures them in healthy ways. You can do it. You have the ability.
You will be able to nurture sufficiently–maybe not as perfectly as you wish or imagined–but enough for what your family needs–if you learn to say YES to those things that the Lord wants and NO to the things that are too much. I'm still learning how to do that!
I don't even know if anyone who needs reassuring will ever read this post. But just in case someone does find this who needs it, I'm writing it for you. I hope it helps!
Happy Serving,
Liz 🙂
* emphasis added
---
---