Psst! Choosing positivity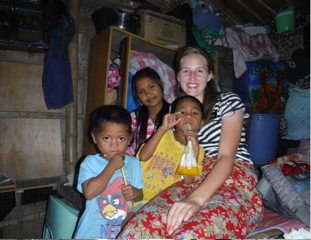 I opened up an email from my sister-in-law this week to see the bright, smiling face of her daughter who is currently serving a mission in the Philippines.
Her bright attitude matched her radiant smile. Listen to these wonderful words:
Things happen to us all day, everyday that push us to choose to be sad, frustrated and offended. People call you funny names, the people you love so much tell you not to come back to their home, . . .we miss our family, your companion did this, your kabahay said that…the list is endless.
Letting these things negatively affect us, however, is not worth it. God gave us agency and part of that is our agency to choose our attitude. Why choose to be sad when you can be happy? Frustrated when you can show patience? Offended when you can choose to forgive? God sent us here to experience joy." (Email dated 6 Jan 2014)
Her words just injected me with a ray of sunshine. Can you imagine how that simply wonderful attitude is blessing those children surrounding her in the photo and the rest of the people she's meeting each day?
Talk about making the world a better place through service. Her service includes her contagious positivity.
Way to go, Alyssa! And way to go, Dave and Lori!
I have the best nieces and nephews and siblings (including in-laws, of course) ever!
If you're trying to have a positive attitude so you can model that for a child, way to go! It will make a difference in your life, their life, and others' lives that you may never even meet in this life.
Happy Choosing to Be Positive,
Liz 🙂
---
---