Psst! Deaths by a buffalo stampede and Indian arrows didn't kill their faith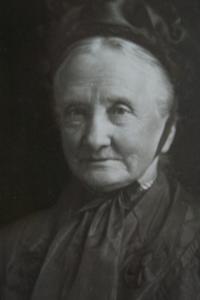 (This is the first time I've ever seen this photo of my great-great-great grandmother, Mary Ann Cato Dana, thanks to Family Search today! She left England and crossed the plains in the Jesse B. Martin company in 1857, when she was nearly 24. I wonder what she was like. We named our daughter, Eliza, after her daughter Eliza, who is my great-great grandmother.)
Family Search is SO awesome!
Last week we had an FHE (family home evening) in which we watched a little video about how to find ancestors, logged in, and found ancestors who didn't have their temple work done within 15 minutes!
I went to the temple last weekend to do work for someone in MY family tree! That was the first time in my life I've ever been able to do that!
And last night, we checked out a new feature that allowed us (me and Lane) to log in and see which of our ancestors were pioneers, and which of those pioneers had stories connected to their trail crossing. It was amazing!
I learned that my great-great-great-great grandmother, Lucinda Box Barney, came across the plains when she was 13. During the trip, her mother was trampled to death by stampeding buffalo, and later, her husband was shot to death by Indians when he was holding and singing to their little baby girl, who was my great-great-great grandmother, Melissa Veresta Barney Blain. Lucinda wasn't able to attend her husband's funeral or ever locate his grave! Can you imagine?*
Finding out about my ancestors and what they endured for their faith in Christ humbles me. My life seems so easy compared to theirs. I know my life would have been so different if they hadn't made the choices they did. Where would I live? What would I believe? Would I have had the gospel? Would I be addicted to something instead of being healthy because I wasn't taught the Word of Wisdom? Would I have gotten a college education? Who would I have married? Would I have the chance to be a mother?
There are so many ancestors I want to thank for their choices, determination, hard work, and service someday.
Today, I'll just say thank you in advance until I get to do so in person.
And thank you to the folks at Family Search for their wonderful service and hard work!
Happy Story Discovering,
Liz 🙂
*This is the story as recorded on her page in Family Search:
"Lucinda Box was born 7th Of November 1838 White Water, Indiana. She was the daughter of John Henry Box and Elizabeth Haynes. They came to Utah in 1851 when Lucinda was 13 years of age.
"One night when they camped, her mother went down to the creek, a short distance from camp to get some water. A terrible wind came up and caused a herd of buffaloes to stampede. She was unable to get out of their way, was knocked down and trampled.
"Before she died the next morning, she asked Lucinda to take care of her smaller brothers and sisters. They wrapped her body in a piece of cloth and buried her in a shallow grave. As it was necessary they continue on their journey. No more time was spent on the burial than necessary; Lucinda sat in the back of the wagon and watched the grave as long as she could see it. She had two brothers, Martin and Andrew, one sister Malinda.
"When they were approaching Payson, Utah, something went wrong with their wagon. Apparently they were alone at the time and her father had to walk for help. The Indians were all around at this time, and the children were quite frightened. Their father put the sides down on the wagon and told Lucinda to stay inside and keep the little ones quite until he returned. She told of how frightened she was, but no one came around.
"They settled in Payson, Utah. On 25th of December 1856 she married Charles Thomas Jefferson Barney. They had four children, three daughters Melissa Versita [Veresta as shown on her gravestone] and twins Ella Jane and Lillie Malinda and one son Henry.
"On December 10, 1862 her husband was sitting by a window holding Melissa on his lap singing " I'll Hang My Harp in the Old Willow Tree" when he was shot by the Indians. He died within a few hours after being shot.
"Melissa was cut some by the glass but not seriously injured. Lucinda sent her brother Andrew, who was staying there at the time for help, he told of how frightened he was to go.
"Because Lucinda had four small children, and the weather was cold and the snow deep, she was unable to go to the funeral or grave site. Some friends told her approximately where the grave was. She never did find it. The Sunday before Charles was killed he went to church saying it seemed that he just had to go. During the meeting he arose to his feet and spoke in tongues. The Bishop asked if anyone could interrupt what he said, on lady raised her hand, but refused to tell anything, saying she couldn't repeat it, she just cried.
"Lucinda went back to live with her father. In her later years she lived Spring City, with her older daughter Melissa and her family. Lucinda was large in stature and a very neat and well refined woman. She died in Spring City on the 9th of August 1925 at the age of 84 years and nine months. She was buried in the Spring City Cemetery."
---
---