Pumpkin Moonshine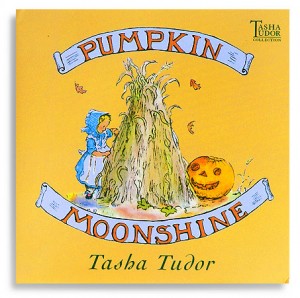 I love fall! When Halloween comes around, I have just a few Halloween books simply for the fun of it. I prefer celebrating fall to Halloween. So much more goodness and beauty in fall!
I found this darling book last month that celebrates both fall and Halloween: Pumpkin Moonshine by Tasha Tudor. "Pumpkin moonshine" is what they used to call Jack-O-Lanterns, apparently. This darling story, published originally in 1938 by Oxford University Press, tells the story of "little Sylvie Ann," who is trying to get a great big pumpkin home from the farm so she can carve it.
Tasha Tudor is a beloved illustrator from books from my childhood, so when I saw this book on sale at the Storytelling Festival, I snatched it up. Someday I'll read it to one of my grandchildren…
Click on the book for a more detailed review from RaisingJane.org.
---
---