Ramanujan and Ratings: Reviews of "The Man Who Knew Infinity"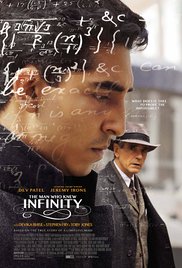 A mathematician from India comes to Cambridge University and claims that the equations he has created come from God: will anyone believe him?
Our family (ages 11 + up) watched this compelling biopic during spring break, and Lane and I really loved it. Some of our children loved it, while others just liked it. I was inspired by yet another pioneer that I have never heard of who sacrificed much and dedicated their life to doing what they felt inspired to do. There are so many untold stories of people who have contributed to our global knowledge base and quality of life! Srinivasa Ramanujan became a fellow at Cambridge and made lasting contributions to mathematics, after all the ridicule and persecution he received for his race, his ideas, and his culture.
I would not recommend this movie for families with young children. There is some persecution violence, a little swearing, and it would most likely not keep their attention.
If you want to show your family a movie, but would like to get some background on the film content before viewing it,  I recommend these two resources: Common Sense Media and Kids-in-Mind. Here is the  review of this movie on commonsensemedia.org.
And here is more good news: Common Sense Media also reviews children's books! So you can get a sneak peak into appropriate content before checking out or purchasing a title for your child! 🎉🎉🎉
---
---