Remembering Doug today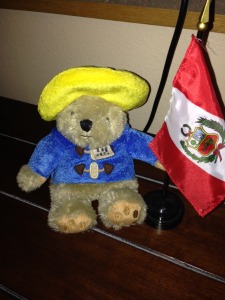 (We forgot to take a photo today! Unheard of at my mom's house!)
We had a great Memorial Day today.
We were going to go clean the church this morning which, in all honesty, I was trying to get up enthusiasm to go do after a sleepless night and an aching body. Then, right at 9 am, we got a phone call from the man in charge telling us that another man in our congregation had come in early this morning and done nearly all of the cleaning–of the ENTIRE building–making it so that we didn't need to come today.
WOW.
Talk about grace.
I wanted to cry: I felt so relieved!
It also meant I would be able to respond to Elder Livi when his emails came in instead of being gone. Nate sent some wonderful recordings that just made my heart "grow three sizes." I love hearing from my children, particularly our son who is 1400 miles away.
We headed over to my mom's for a hot dog BBQ to remember my step-dad, Doug, who loved a good hot dog. I've never had a J Dawg before, but he loved them, and my mom had bought some J Dawg sauce just for the occasion. My brother-in-law fried up some onions and made his fresh guacamole, so I had a delicious hot dog smothered in onions, guac, and salsa, with a little J Dawg sauce.
After our lunch and some visiting, my mom gathered us together in the family room to remember Doug. First, she shared a story about when Doug and his parents were sealed as a family in the Cardston temple by Lane's great-grandfather. I didn't know this was the story she would share, but was grateful, because I had recently had a prayer to be able to find that story and read it again. My mom answered my prayer!
Then she shared a very fun recording of Doug recalling some stories from his youth about the Watkins man who visited his parent's farm when he was little, selling soap that burned your eyes and salve that burned your chest and stuff you were supposed to drink to not give you colds but tasted awful! It was so fun to hear his voice again and hear these stories from his childhood.
Last of all, she took a framed letter from her wall (To my beloved Children and Grandchildren) and asked Lane to read it aloud. I loved hearing his counsel again and appreciated remembering how hard he tried to live those words. He was such a good man. He wasn't perfect, but neither am I, and I learned so much from him. Just today I was saying to a friend how thankful I am that my mom married him because he loved her so much, and I wish every woman could be greatly loved by her husband.
We all went to the dollar theater to see "MacFarland USA" after that, except that I went with Eliza and my darling little niece to see "Paddington" (since Eliza and I had seen "MacFarland USA," and my niece was really too young to see it). It was a silly show, but she loved it. I loved thinking about Elder Livi in "darkest Peru" and the Paddington Bear that sits by his Senior Portrait at home.
And now we're heading to bed to get back to the routine again…for one more week.
I can't wait for school to be out!
---
---